My brunch at Ottolenghi's NOPI Restaurant in Soho, London
Tucked away in a side street in Soho is NOPI, one of Ottolenghi's two restaurants in London (the other is in Islington). Along with his two deli outlets in Notting Hill and Belgravia, the restaurants form a thriving food business based on the delicious things he's cooked on his TV shows.
NOPI (stands for North Of PIcadilly) looks nothing from the street, all you notice is the four simple letters of NOPI on the wall outside well above the entry. Stroll by and you'd miss this understated restaurant in Warwick St, a small street running parallel to Regent Street. Yet it's just a short block away from the busy touristy Piccadilly Circus and the shopping mecca of Carnaby Street.
A casual brunch at NOPI in Soho
I had a morning free on a recent trip to London and booked myself into NOPI for a quick brunch before heading to the airport. The online booking form was a breeze and even emailed me a reminder. There was no need to book however, on this Monday at 10am, there was only one other table occupied although four more filled up during my hour's visit there.
I half-expected NOPI to be closed on a Monday as many places are but no, it was open and happy to take my booking. Having become a fan of his from his cooking series shown on SBS in Australia, I was enticed by thought of those yummy vegetable dishes, yoghurt-based sauces and Middle Eastern cooking.
I have his book Plenty which showcases his food philosophy with stomach-stopping wonders such as Roasted eggplant with a walnut and coriander salsa and Orange and radish salad with dates and fennel seeds AND Roasted chicken with Jerusalem artichoke and lemon. He's an Israeli chef but his vibrant recipes explore Turkish, Tunisian and Moroccan flavours as well, which is why they have such appeal I'm sure.
The décor and ambience
Once inside, NOPI is larger than I expected with tables extending back in a long room next to the 4 or 5 tables at the front looking out onto the street. This is where I settled.
The décor is elegant and calm with subdued touches of the Middle East in the form of brass jugs by the door, shiny coat hooks and hanging copper lights dotting the table scape. A bright and lively artwork hung on one wall above the warm terracotta floor. Round loaves of freshly-baked bread were stacked on display near the entrance.
You can't miss those starched white tablecloths ready for business whether it's breakfast, lunch or dinner. This warm restaurant is open seven days a week from 8am until 10pm. It's a tall order to fill, yet fill it, it does.

The menu
The breakfast menu was bold and full-flavoured but had fewer Middle Eastern specialties than I'd expected. (The lunch and dinner menus may be more exotic and less European in nature.) There were only eight items to choose from for breakfast but something for every dietary preference - the usual toast, granola, eggs plus a bacon sandwich as well as teas, coffees and juices but I noticed interesting variations on the menu. These are the Ottolenghi trademarks like the black rice pudding with coconut, banana and mango or the Shakshuka (eggs braised in a spiced tomato base topped with smoked labneh (which I later realised was the popular signature dish and one I'll have to come back for).
I ordered a tea (can't face coffee in the morning) but was a little taken aback when it arrived as a tea bag. In London and no tea leaves? At breakfast? Surely they could manage this as the rest of the service was so nice.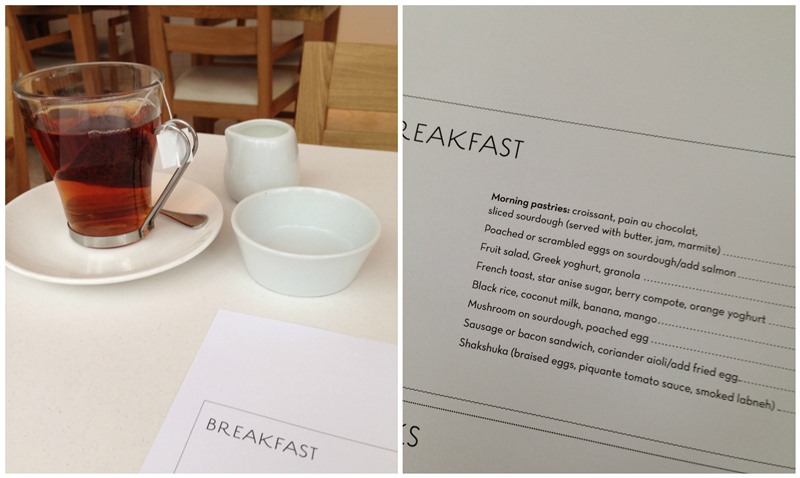 The meal
Being a muesli lover, I settled on the home-made granola with fruit salad and Greek yoghurt followed by a half serve of the French toast with berry compote and orange yoghurt. Both were excellent. Though in hindsight maybe I should have strayed from my brekkie comfort zone and gone for Shakshuka - maybe next time
The granola was beautiful, crunchy with roughly-chopped nuts scattered through. Just enough yoghurt and lots of fresh fruit, not a miserly portion.
The French toast half was well done with two accompanying pots of compote and yoghurt so you could dollop on as much or as little as you wanted. I admit it did get the better of me! Served on a gorgeous dark, triangular plate.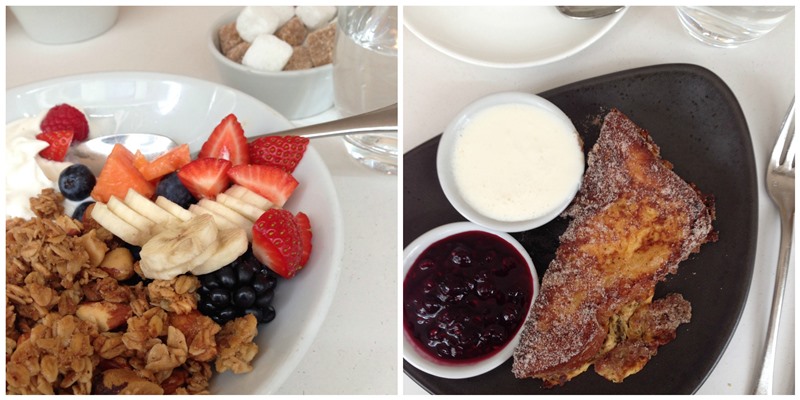 The staff
Staff were attentive and gracious enough to look after my suitcase and charge my iPhone while I was there. I started chatting to one of the wait staff about my blog site and when he discovered I was a blogger from Sydney (and I knew that Ottolenghi is coming here for Good Food Month in October), he invited me down to the kitchen and I met up with head chef Scully Rameal. Lovely guy - he's coming to Sydney too with Yotam so we were instant mates! It was after 11 by then and the kitchen staff had plated up the lunch dishes of the day about to do a tasting.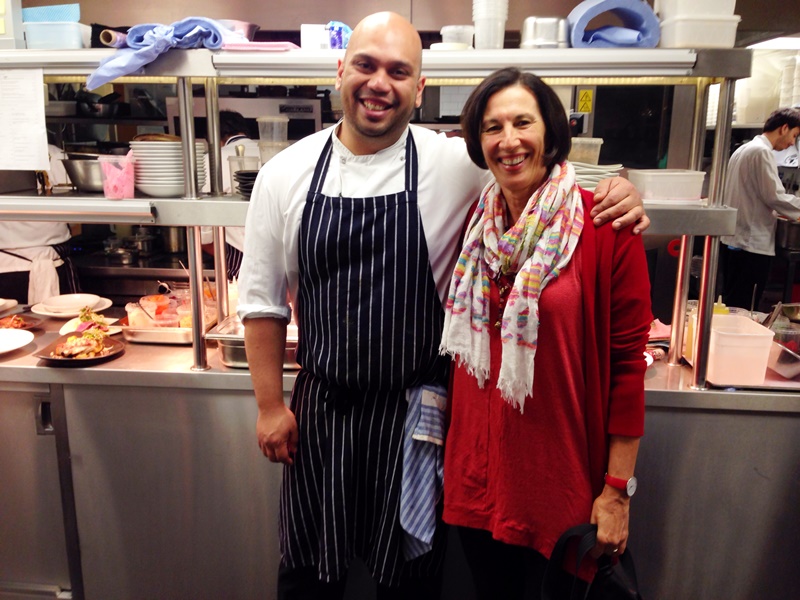 Bottom line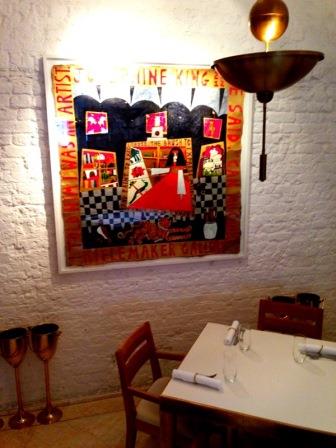 Great food, interesting decor, pleasant service. A little pricey but to be expected for where you are and what you get (my granola was 6.5GBP). I'll be back and next time for lunch or dinner.
Ottolenghi has put Israeli/Middle Eastern/Mediterranean fusion food on the culinary world map and I'm looking forward to seeing him in Sydney in October at Good Food Month.
If you want to eat there
NOPI Soho 21-22Warwick St London W1B 5NE +44 (0) 20 7494 9584
Ottolenghi's delis, catering and eateries.