Super foods, the ultimate health foods – the benefits of Blueberries
Blueberries are the nutrition powerhouses of the fruit world. They are not only low in kilojoules or Calories but also taste sweet and divine. They make the healthiest snack straight from their punnet container and let you whip up quick desserts with yoghurt or ice-cream. Enjoy them when in season.
Number One for anti-aging activity
Researchers at the USDA Human Nutrition Centre rank blueberries, especially wild blueberries, as high in antioxidant activity when compared to other fresh fruits (Including other berries) and to vegetables.
Anthocyanins
Anthocyanins are the natural plant pigments that gives the berries their blue-red colour. They act as antioxidants and slow down the aging of the brain. Importantly they have been shown to boost memory and brain function as we age, as well as protect our eyes from cataracts and glaucoma.
Anthocyanins have been shown to enhance the effects of vitamin C, improve the strength of capillaries and stabilize collagen (the underlying substance of all body tissues). Plus they improve blood circulation and protect the heart.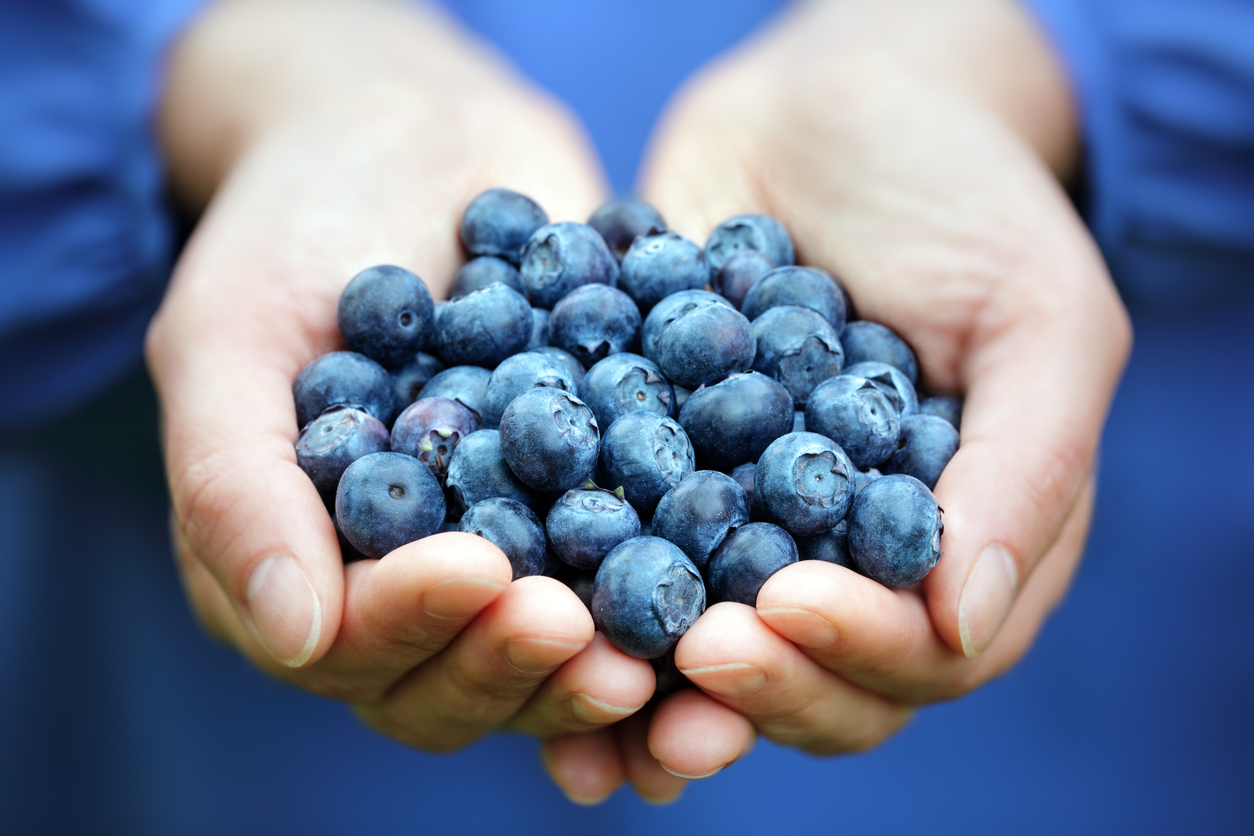 What's in blueberries?
Nutritionally blueberries are in a class of their own which is why I've classified them as a super food.
Like other berries, they are all good-to-excellent sources of vitamin C - half a small punnet (75g) supplies 10mg of vitamin C which is 25 per cent of your average daily requirement - and dietary fibre (both insoluble and soluble fibre like pectin) which adds to their super food status.
They also offer beta-carotene (which gets converted in vitamin A once in the body).
They offer vitamin E.
They supply lesser amounts of a number of essential minerals like manganese, potassium, magnesium and phosphorus.
They also supply certain B vitamins such as folate (which helps prevent birth defects in babies) and niacin (which releases energy from food).
A weight loss plus!
All this for very few kilojoules/calories. Half a punnet supplies a mere 165 kilojoules (39 Calories) so makes a guiltless indulgence for anyone concerned about weight-loss or counting fat. And it's low GI. Add a squeeze of orange juice and serve with berry yoghurt or low-fat ice-cream and you have the ideal light dessert, low in kilojoules and light on fat - not to mention absolutely yummy!
Nutrition stats
Per serve:
Half a cup or half of a 150g punnet (about 75g) of fresh blueberries supplies: a trace of protein, a trace of fat, 8.3g carbohydrates, 7.7g sugars, less than 1g starch, 1.5g dietary fibre and 165 kilojoules (39 calories).
Per 100 g fresh:
Trace protein, trace of fat, 11% carbohydrate, 10.3% sugars, 0.5% starch, 1.8% dietary fibre and 218 kilojoules (52 calories).
Easy ways to enjoy blueberries
Eat a handful as a fruity snack or to finish a meal.
Sprinkle over your morning muesli.
Sprinkle over yoghurt or ice cream.
Fresh or dried blueberries add a tangy colourful flavour hit on breakfast cereals.
Add fresh or frozen blueberries to a blender with low-fat milk, yoghurt, a small banana (if you want it really thick) and whirl to make a smoothie.
Make a quick mixed berry clafouti - a kind of custardy dessert where fruit (traditionally cherries) is mixed with a batter - using blueberries, egg, flour, milk and a little sugar.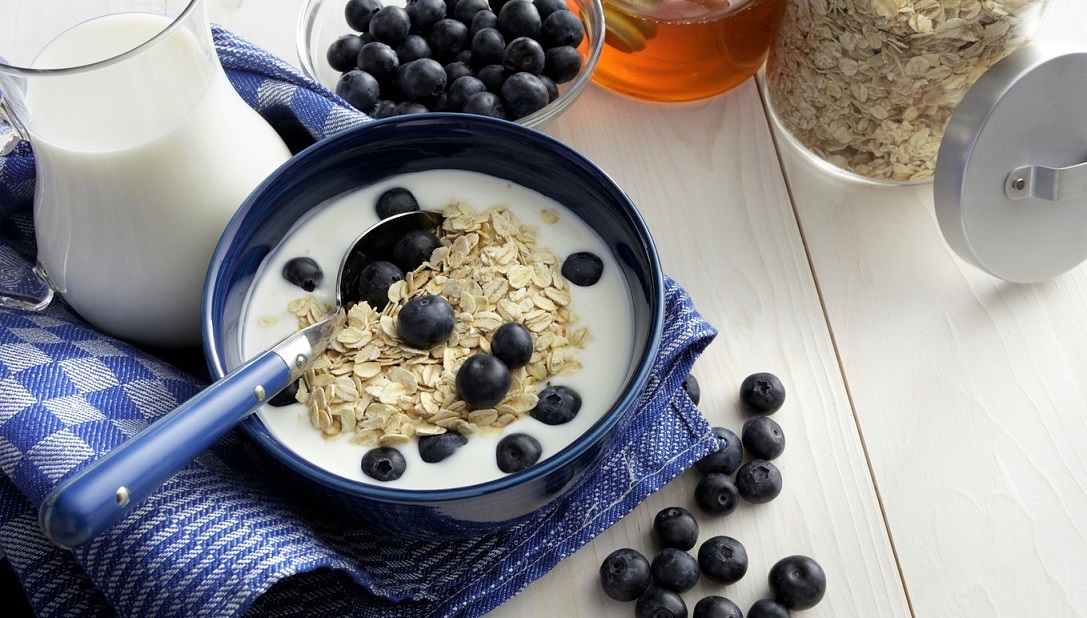 Blueberries always on hand
When fresh blueberries are out of season, free-flowing frozen blueberries make a nutritionally-sound substitute. You still get the berries' powerful antioxidants.
Just wild about wild blueberries!
Interestingly studies of wild blueberries (which don't grow in Australia) show they are higher still in antioxidants. So if you're at the supermarket, look out for the frozen mixed berries which contain a mix of regular blueberries, wild blueberries, raspberries and cranberries (brand name Creative Gourmet).
---
More on blueberries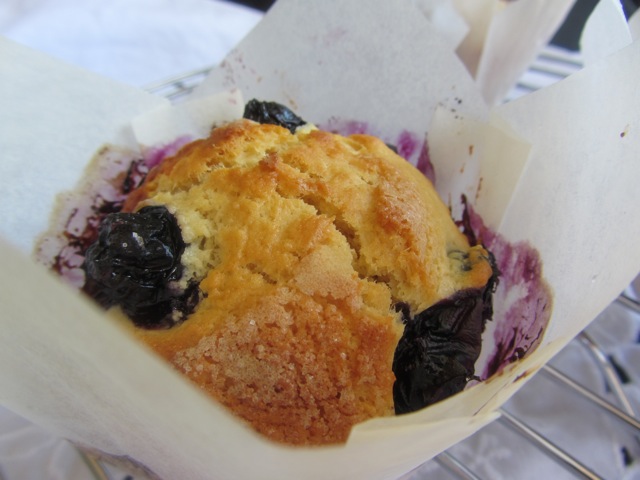 Fresh blueberry muffins
Bake these delicious blueberry muffins made with fresh blueberries from Bizzy Lizzy's food and recipe blog www.bizzylizzysgoodthings.com.
Lizzy also describes the delights of picking fresh blueberries from a small farm in the 1980s.