Raw cacao and fruit balls
Ready In: 20 mins + 1 hour in the fridge
Prep Time: 20 mins
Cooking Time: nil
Serves: Makes 24
I've been swept up with the trend to cacao balls or power balls, round snacks (think mouthfuls) with the wonderful rich flavour of dark cacao. Imagine rich dark smooth chocolate but healthier. Here's one version we came up with jam-packed with almonds, prunes, seeds and figs. With the coconut fat (butter), they need an hour in the fridge to become nice and firm.
Ingredients
1 1/2 cups of your choice of dried fruit – choose from prunes, dates, soft dried apricots, goji berries and/or figs, all pitted and roughly chopped
1/2 cup walnut OR use cashews, pepitas or Brazil nuts
1/2 cup almonds
1/2 cup raw cacao powder
2 tablespoons desiccated coconut
1 teaspoon cinnamon
2 tablespoons coconut fat or 3 tablespoons tahini
Extra for coating:
Raw cacao powder, chopped pepitas, goji berries, desiccated coconut, chopped almonds OR sesame seeds
Nutrition per serve
Per ball: 429 Kilojoules (100 Calories), 7g fat (including 3g saturated fat), 8g carbohydrate, 2g fibre, 14mg sodium. Read our nutrition rating system.
Directions
Place the dried fruit in the processor first, then the rest of the ingredients leaving the coconut fat until last. Blitz until smooth and a glossy mix. If needed, add 1-2 tablespoons of hot water so that the mix forms a soft ball. The mix should be firm and sticky, but not mushy.
We suggest you wear disposable gloves for this next step:
Using a tablespoon for measuring, roll the mixture into balls about the size of a walnut. Then toss the balls in your choice of coating – we used cacao powder, goji and pepitas. Leave one hour in the fridge to firm up. Store covered in fridge or in the freezer for later consumption.
Note: We used prunes and figs which resulted in a mild barely-sweet flavour. If you are after more of a sweet kick, use dried apricots, prunes and/or dates.
Recipe developed by dietitian Airlie Lacy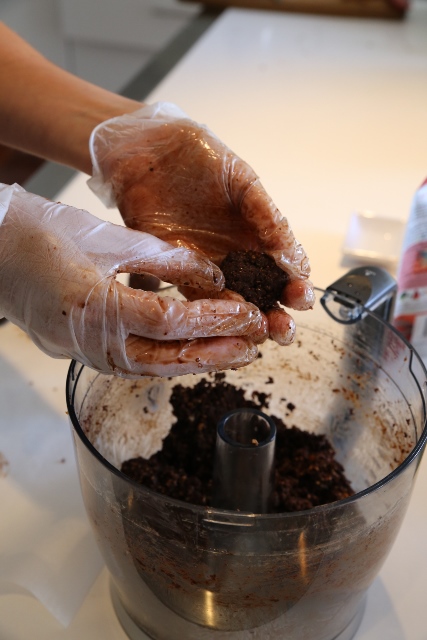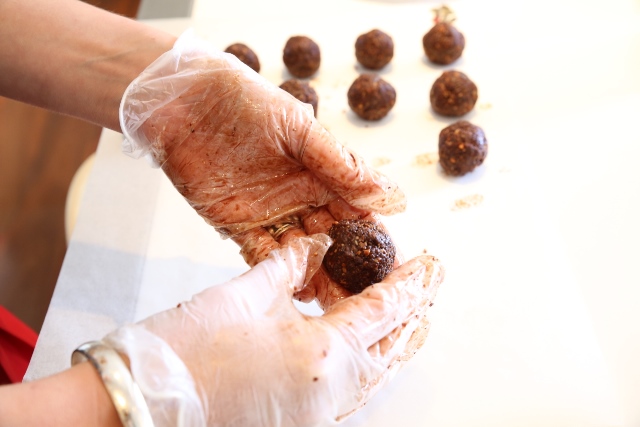 Variations
Want more protein? Add in 1 tablespoon protein powder into the processor with the cacao powder.
No prunes? Use up whatever mix of dried fruit you have in the kitchen – any combination works well in the balls as they all get blended up and mixed with the nuts and cacao powder.
No walnuts? Swap them for unsalted raw cashews or pepitas or Brazil nuts or a mix of any nuts.