Product Snapshot: Vaalia Whipped Probiotic Raspberry Yoghurt
It seems what's old is new again with Vaalia recently bringing out a whipped yoghurt. This whipped yoghurt is more like mousse in texture. I can't help but wonder whether it's just a good cost-saving tactic by the manufacturers to add air to yoghurt so they need less, well, yoghurt. Time to find out what it's really like...
When I was younger I used to love aerated desserts- like the old Fruche Whisp. The concept is quite simple really: air is beaten into yoghurt as it's setting, just like you would beat air into egg whites to create a light, aerated meringue. The mixture doubles or triples in volume as the air takes up space. These Vaalia Whipped yoghurts weigh only 90g, which is a lot less than most other tubs this size which weigh anywhere from 140 to 170g. So I'm estimating that somewhere around half the tub is air.
The result is a light, mousse-like texture that doesn't feel heavy, unlike some creamy yoghurts and dairy desserts, and takes me back to my childhood. I tried the Raspberry flavour, though I also spotted Lemon and Vanilla flavours on the supermarket shelf.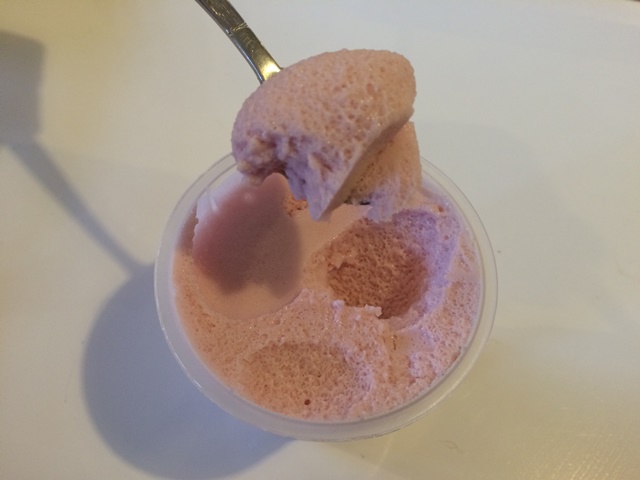 The taste
On first taste I found the Raspberry a little artificial in taste, but after skimming the ingredients list, I found there were actually no artificial flavours added. It was likely the juice concentrate that lent that artificial note while it intensifed the flavour. It does contain added sugar, listed third on the ingredients list in descending order of weight. However, with total sugars around 12 per cent (which is not dissimilar to many other flavoured yoghurts), most of this is naturally-occurring lactose from the milk in the yoghurt (first and second ingredients) and some is also naturally occurring fructose from the raspberries (fourth ingredient).
I could quite easily get through a tub in a matter of minutes. I can't say that it was filling, but as a low-kilojoule (Calorie) snack or dessert, it would certainly help to satisfy a sweet and creamy craving.
Pros
Nice light, mousse-like texture that doesn't feel 'heavy'.
Contains three live probiotic cultures: Lactobacillus Acidophilus, bifidobacterium and lactobacillus GG - friendly bacteria that are great for your gut.
Low kilojoules (Calories) with just 347kJ per serve (we usually recommend looking for snacks with less than 600kilojoules or 150 Calories .
Source of calcium, with one tub providing 14 per cent of the recommended dietary intake (RDI).
Would work nicely as dessert, especially topped with fresh fruit.

Cons
While a source of calcium, one tub is NOT equivalent to a serve of dairy (which typically contains one third of your RDI). It's actually less than half a serve of dairy, so you can't count it as one of your three a day.
Raspberry flavour comes off as a little fake tasting, due to the juice concentrates that intensify the raspberry pulp mixed through the yoghurt.
Contains inulin (a prebiotic and form of dietary fibre), which can cause stomach upsets in those with irritable bowel syndrome.
Nutrition stats
Here's how the numbers appeared on the back of the label.
| | | |
| --- | --- | --- |
| Nutrient | Per 90g serve (1 tub) | Per 100g |
| Energy, kJ | 347 | 385 |
| Protein, g | 3.7 | 4.1 |
| Fat - total,g | 2.4 | 2.7 |
| - saturated, g | 1.8 | 2.0 |
| Carbohydrate - total, g | 11.1 | 12.3 |
| - sugar, g | 10.7 | 11.9 |
| Calcium, mg | 113 | 126 |
Ingredients
From Ingredient List on back
Milk, skim milk, sugar, raspberry pulp (4%), water, milk solids, inulin (dietary fibre), emulsifier (472b), gelatin (Halal), thickener (1442) (from tapioca), natural flavours, food acids (331, 330), juice concentrate (black carrot and blackcurrant), live yoghurt cultures (inc. L Acidophilus, Bifidobacterium, Lactobacillus GG).

My verdict?
These Vaalia Whipped Yoghurts don't have quite enough calcium to be able to count as a serve of dairy, and have added sugar in similar quantities to most other flavoured yoghurts, but could be a good, low kilojoule, (Calorie) alternative to other creamy mousse desserts, with gut-friendly probiotics and a satisfying airy texture.
Thanks to guest reviewer, Megan Cameron-Lee, APD - http://thedieteticdegustation.blogspot.com.au