Product Snapshot: Edgell Lentil Salad
There's a new convenient meal option on the market. What's more it's just screaming out for pride of place next to the tinned tunas, microwavable rice tubs and baked bean pots as part of a quick and healthy lunch fix. Why? Because it's healthy and it's ready to eat! There's no heating, draining or decanting needed. This new Edgell bean salad is a complete, balanced meal in a single ready-to-eat bowl. Intrigued? So was I...
A new range of bean salads
Edgell have recently released a new range of bean salads. Dressed and ready-to-eat, with a range of flavours, they include:
Lentil salad: brown rice and chick peas in a mild curry spiced dressing
Cannellini bean salad: with risoni and red kidney beans in a balsamic dressing
Chick pea salad: with buckwheat in a lightly spiced honey and lemon infused dressing
Red kidney bean salad: with sweet corn, quinoa and black beans in a smoked paprika dressing
A winning concept
This is a winning concept because they're all shelf-stable, already-dressed, contain a balanced legume/grain mix in a plastic bowl - perfect for an on-the-go meal. The entire range has been given a 4.5 out of 5 Health Star Rating (pretty good), thanks to the high protein, fibre-rich nature of legumes and wholegrains, plus the use of healthy oils and only small amounts of added salt.
Taste testing the lentil salad
I tried the lentil salad, which had a pleasantly mild curry smell and taste, with chewy brown rice, lentils, chickpeas and spinach, flavoured with curry powder, turmeric, cumin, chilli, garlic and coriander. I had no difficulty getting though the tub and felt satisfied afterward. Surprisingly at room temperature, the salad tasted fine, but on a hot day, I can imagine it would be nicer chilled.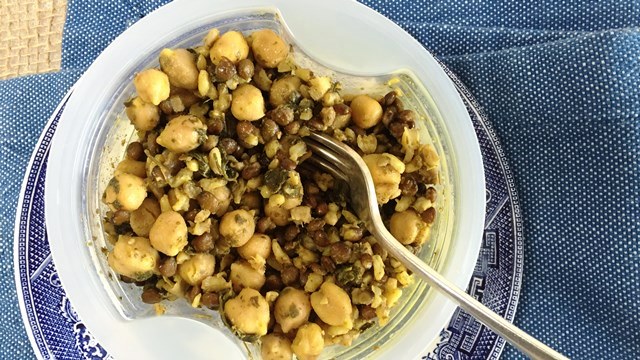 The one thing I did miss was the crunch you usually get with fresh salads, and the brown/beige colour and flavour could get a little 'same-same'. However, there's nothing stopping you from adding some carrot or tomato for lunch or using it as a side dish for a quick dinner of grilled meat and salad.
Pros
Handy, ready-to-eat, container in the shape of the bowl with no need to microwave
Shelf-stable with a long best-before-date so no need to refrigerate and it can sit in your desk drawer or stay in your handbag until lunchtime. It would also be great for camping or road trips
It's not full of preservatives, and uses whole ingredients
Nice, mild curry flavour that doesn't overpower
Could work as a light meal or side dish
Vegetarian, but still a balanced meal containing protein, carbohydrates, healthy fat and veg!
High in hunger-busting protein, with nearly 13g per serve, thanks to the chickpeas and lentils
Very high in fibre, providing around 40% of the recommended dietary intake (of 25-30g per day)
The use of healthy mono- and poly-unsaturated fats in the form of sunflower and olive oil
Two low-GI carb exchanges per serve (so nice and portion controlled for diabetics).
BPA-free container
At around $3.20 a pot it's quite a cheap lunch too!
Cons
You will need to BYO fork, because that isn't included
The brown/beige colours of the chickpeas, lentils and brown rice look a bit bland and the spinach doesn't quite keep its bright green colour
There's a nice chewy texture but no crunch of a usual salad (the crunch wouldn't quite keep so well)
While the plastic tub looks similar to those containing many other heat-able meals, it isn't heatproof nor microwave-safe. So if you wanted a warm salad, you would have to decant it into a microwave-safe dish first.
Ingredients
Here's the list from the pack:
Chickpeas (41%), lentils (24%), brown rice (16%), vegetable oil (sunflower, olive), spinach (3.5%), ginger, spices (1.5%) [curry (mustard), cumin, turmeric, chilli], garlic, salt, coriander, soy lecithin, lemon juice.
Nutrition stats
| | | |
| --- | --- | --- |
| Nutrient | Per serve (200g tub) | Per 100g |
| Energy, kJ/Cals | 1520/363 | 761/181 |
| Protein, g | 12.8 | 6.4 |
| Fat total, g | 18.6 | 9.3 |
| Fat saturated, g | 2.2 | 1.1 |
| Carbohydrate, g | 31.0 | 15.5 |
| Sugar, g | 1.6 | 0.8 |
| Dietary Fibre, g | 11.2 | 5.6 |
| Sodium, mg | 378 | 189 |
My verdict?
A healthy, easy, quick lunch option for those days when you just don't feel like making something. I think they're a great new addition to the convenience meal options and I plan to keep some in the pantry myself!
Thanks to Megan Cameron-Lee, APD for this Product Snapshot
Save
Save
Save