Product Snapshot: Loving Earth Coconut Sugar
Coconut is shaping up to be the foodie ingredient of the decade with coconut sugar being touted as the next big thing in natural sweeteners. So when I spotted a pack of the Loving Earth brand at an About Life health food store, I thought I'd check it out and see how it compares with regular brown sugar. Here are my reactions to its taste, nutrition and sustainability.
Pros
Lovely aroma – when you open the pack you get a big sniff of toffee with caramel overtones. Decidedly nice. It adds a delicious caramel or burnt sugar flavour to porridge, tea, chia puddings, smoothies or any dish.
In appearance, it looks like a gritty castor sugar with grains about the size of coarse beach sand. It's dry-ish and flowable, not moist and soft like brown sugar.
Interestingly it takes the shape of whatever bowl it's poured into.
Claims to be high in minerals e.g. magnesium, zinc, iron and potassium – but this really doesn't contribute much when you're only consuming a spoon here and there.
Cons
It's not that sweet. You get a yummy burnt sugar taste followed by a salty later-note which I found unpleasant. Not dissimilar to blackstrap molasses which I am also not fond of. Perhaps this saltiness is due to the high sodium or the high mineral content. I can't tell.
At 225mg per 100g, it's quite high in sodium (salt) for a sweetener. Compare honeys at under 20mg, brown sugar 21mg, white sugar 0 and only molasses higher at 324mg. If you're on a low-salt diet then this isn't for you.
It has lots of lumps, both big and small, which is not a huge problem but does mean you have to squish it down to get a smooth sugar that you can sprinkle smoothly over porridge. For baking, you'd definitely have to sift it first.
High food miles. This product is imported from Indonesia where coconut palms grow happily so is not locally grown nor helps Aussie farmers.
Expensive – I paid $10 for a 500g pack which converts to $20 per kilogram – almost ten times as much as ordinary CSR brown sugar which costs $2.40 for a large kilo bag.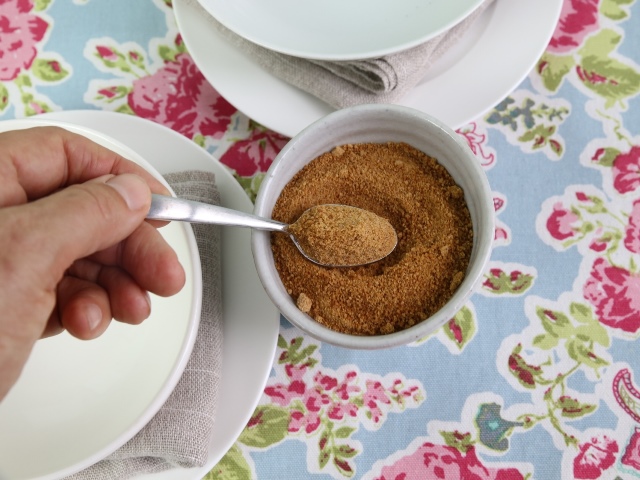 Loving Earth Organic Coconut Sugar
Nutrition figures
Nutrient
Per 4g serve
(level teaspoon)
Per 100g
Energy, kJ
62.7
1567
Protein, g
0.00
0.00
Fat Total, g
0.00
0.00
Saturated, g
0.00
0.00
Carbohydrate, g
4.0
100
Sugars, g
3.0
75
Sodium, mg
9.0
225
Ingredients: Organic coconut sugar. Product of Java, Indonesia. Figures taken from 500g pack.
The bottom line
At the high price, this Loving Earth sugar is not something you can afford to use in bulk. A teaspoon in your herbal tea or on top of your porridge oats won't break the bank but I can't see families using it every day nor many of us being able to bake crumbles or cakes where the recipe calls for one whole cup of it.
Nutritionally it's no better or worse than brown sugar except for it's sodium content (read my post on coconut sugar in general). There may be more minerals (magnesium, zinc, iron, potassium) but a spoon here and there isn't going to lift your mineral intake hugely. You'd be better off eating more green vegetables, lean meat, fish and whole grains for your minerals.