Product Review: COYO coconut yoghurt alternative
COYO coconut milk yoghurt has been on my radar for a while. Being advertised as dairy free, vegan, soy free, gluten free, lactose free and with no added sugar, it's no surprise that it's the new favourite amongst lactose intolerant individuals, vegans, 'sugar haters' as well as a whole swag of alternative health seekers including lovers of coconut. Whilst I am none of these things, I am still interested to see what the hype is all about.
Guest review by Daisy Coyle
Does COYO really taste like 'heaven in a mouthful' as the package claims? Is it worth its spot on the shelves? Or is it just a mediocre product that we'll never hear of again once the coconut fad is over?
Taste 8/10
I'll start with the bad news. There is one big flaw I see with this product and that is its inconsistent texture, which I found more than a little unappetizing. This odd texture was the first thing I noticed when I opened the lid. The majority of the yoghurt in the tub had an attractive smooth silky texture, however, around the rim of tub was a thick, hard, crusty layer of yoghurt. I immediately checked the Best Before stamp thinking it was past its date. But it was not expired and I have bought more COYO since that initial experience and all the tubs were the same.
Some of the yoghurt around the rim is impossible to stir through as it's so hard. Because the rest of the yoghurt is so lovely and smooth it's a risk to try and blend the hard bits through. So I ended up throwing those hard bits around the rim away. This is a major drawback for me as its wasteful and this product is not cheap. This is something the manufacturer needs to sort out quickly.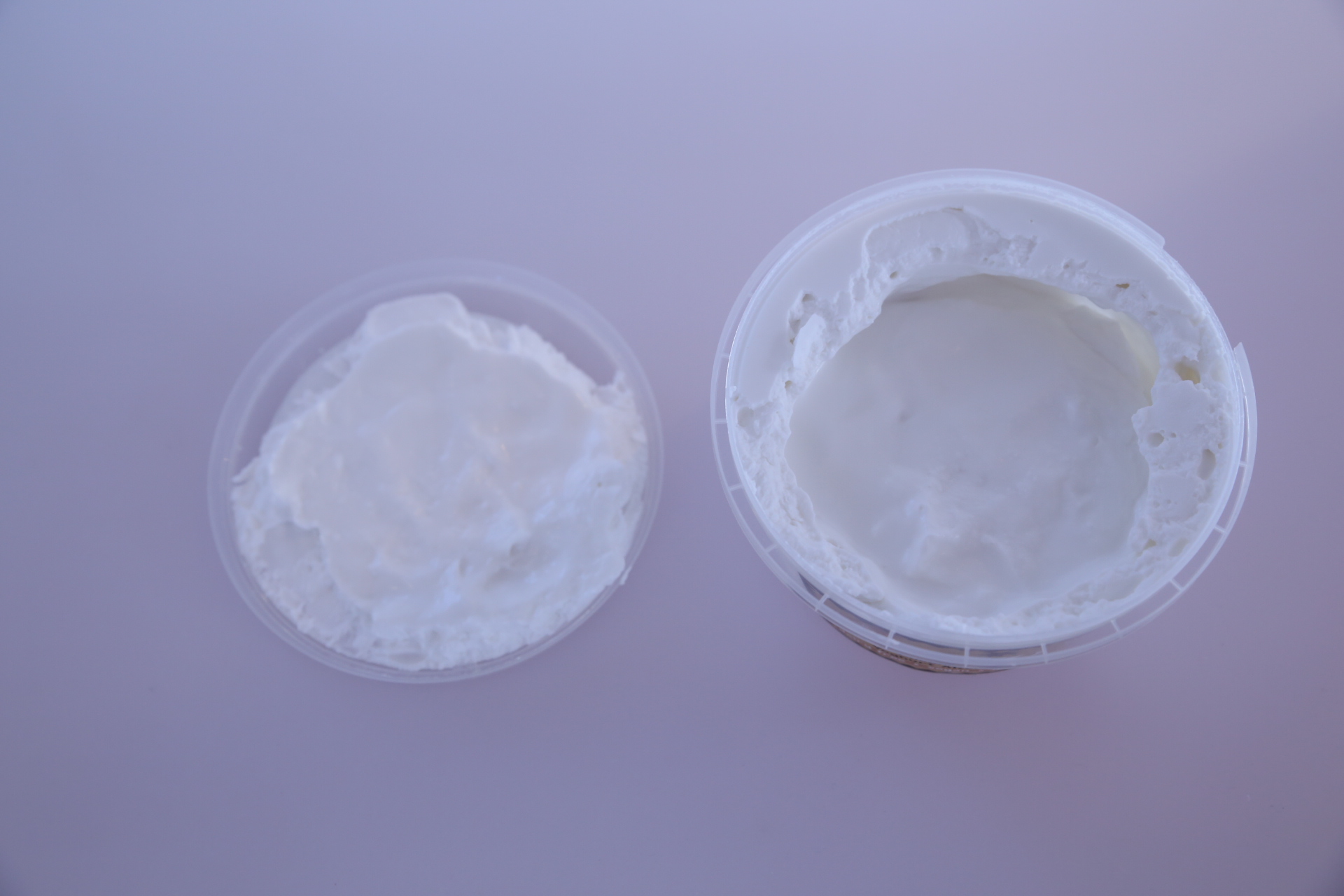 Eating the yoghurt for the first time was really an unusual taste sensation. The coconut flavor is definitely present, however, not overpowering. It is more of an undertone masked by the rich creaminess of the yoghurt. It really has a delicate balance of flavours. COYO does taste a lot like coconut cream but it has the tang of a typical yoghurt without being too tart. The tang gave it the edge that most creams do not provide. In saying that, if you are not a fan of normal yoghurt you will most likely not be a fan of COYO.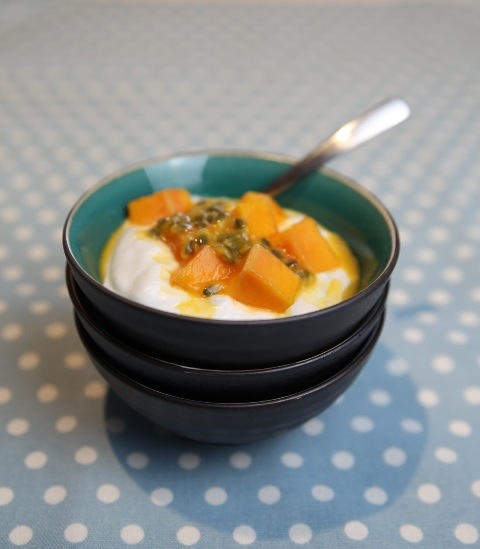 The thing I liked most was the clean, silky, thick texture once I had removed the thick crusty rim from the edges of the container. Somewhere between a Greek yoghurt and whipped cream. It was not as dense as Greek yoghurt nor was it runny. And its texture was slightly mousse-like, like whipped cream. In short, I liken it to aerated Greek yoghurt.
With its rich creaminess combined with the yoghurt tang as well as beautiful texture and strikingly off-white colour, I feel it would be perfect to serve as a substitute for cream with a fruit based dessert or as icing to a carrot cake.
Sustainability 7/10
COYO is Australian made and owned which is a plus. There is no mention of whether or not they import any of the ingredients such as the coconut milk. I would like to know more e.g. I assume the coconut milk is imported and I'd like to have this verified.

The packaging is minimal – it is simply a clear plastic container with a lid. The whole unit is recyclable including the lid which is good.
Convenience 8/10
COYO is readily available. Whilst it's not stocked at the major supermarkets, it can be purchased from most health food stores and independent grocers. The manufacturers have a store locator on their website if you'd like to find the closest supplier to you.
It is not a cheap product. A 250gram tub retails for $7-8 while it costs $11-$12 for the larger 400 gram larger container. Seeing as it does contain a moderate amount of saturated fat and the serving size is only 100gram (less than ½ cup and less than the average yogurt serve), I would like to see this come in single serve portions so you can control portion size. Like all yoghurts, there's nothing to cook, just open and serve.
Nutrition 14/20
Being such a unique product, COYO is really hard to compare on a nutritional basis.
COYO has a recommended smallish serving size of only 100gram – way less than most yoghurts at 150g tubs or even 175g cartons.
Nutrition

per 100g

Gippsland

yoghurt full-fat

Gippsland

thick cream

COYO

Energy, kJ
524
1363
691
Protein, g
4.6
2
1.5
Fat, total, g
6.8
35
16.6
Fat, saturated, g
4.5
22.7
12.9
Carb, total, g
13
3.2
4.5
Carb, sugars, g
13
3.2
0
With its smooth texture and appealing flavour it is very easy to overeat. In fact, I nearly ate the entire 250gram tub in one sitting and I probably would have if I wasn't aware of its high fat and kilojoule count. We are used to eating yogurt in larger amounts so mentally it is hard to stop consuming COYO after a few tablespoons.
It worries me that COYO is marketed as a yoghurt alternative as I fear people will assume it has a similar nutritional profile to dairy based yoghurt - which it does not. Unlike yoghurt, COYO contains no calcium, it is low in protein and it is contains over double the amount of total fat and saturated fat. Overdoing COYO will do your body no good!
On the other hand, it contains no sugar, as it is sweetened with xylitol (a no-kilojoule alternative to sugar often used in sugarfree gums). If you eat yoghurt daily and are happy with your current dairy based brand, I wouldn't suggest switching to COYO. However, if you enjoy a bit of yoghurt occasionally, perhaps with fruit or with muesli then maybe give COYO a go.
COYO side by side with cream
In comparison to cream COYO is nutritionally superior. It's a great substitution if you can't eat dairy or if you are cooking for people with dietary needs for a dinner party. It contains half the amount of kilojoules (691kJ vs 1363kJ) and half the amount of fat (16.6 vs 35). Yes cream does provide key nutrients that COYO doesn't such as vitamin A but we don't eat in it huge amounts anyway so the final count is small.
Paired with fresh tropical fruit or served on top of some apple pie is COYO's best usage in my opinion. Remember, it's definitely a food to be eaten in moderation.
List of ingredients
(from the label)
Organic coconut milk (98%), xylitol, starch (tapioca, pectin), live vegan cultures including Lactobacillus casei, L.rahamnosus, L.acidophilus, L.bulgaricus, Bif.bifidum, Bif.lactis, S.Thermophilus.
Overall score 3 1/2 apples

Total = 37/50
Bottom line
I love this product as a rich, creamy indulgent treat. But as I can eat lactose, it will not replace my low fat Greek yoghurt which I find more satiating. It also contains more protein and less fat than COYO which is important for me as I eat yoghurt everyday for my breakfast. So whilst COYO won't be added to my weekly shopping list, I will definitely buy it again as a substitute for cream or to have on occasion for breakfast when my Greek yoghurt addiction wears off!