Product Snapshot – Tassal Salmon Bacon
Do you love to have bacon as part of your weekend big breakfast? Perhaps you've heard that bacon is quite high in saturated fat and/or salt and you've wondered if there are any healthier but still tasty, alternatives? Tassal has had the brilliant idea of making salmon bacon from smoked salmon.
If you're a dedicated bacon lover then you're probably wondering if a piece of smoked salmon really can taste like bacon? And is it really healthier? Nutritionally, how does it compare? How does a dietitian rate it? Our Foodwatch dietitian guest reviewer has done the hard work for you. Take a look.
So how does Tassal salmon bacon taste?
Salmon bacon vs real bacon rashers
Personally, I think Tassal salmon bacon still tastes more like smoked salmon than real bacon. Although it does have its own unique wood smoked flavour, perfectly cooked bacon has a savoury, crispy texture and rich pork flavour which can't be replaced. Similar to cooked bacon though, if you don't eat it straight away, it will become softer and less pleasant.
Tassal salmon bacon vs regular cooked smoked salmon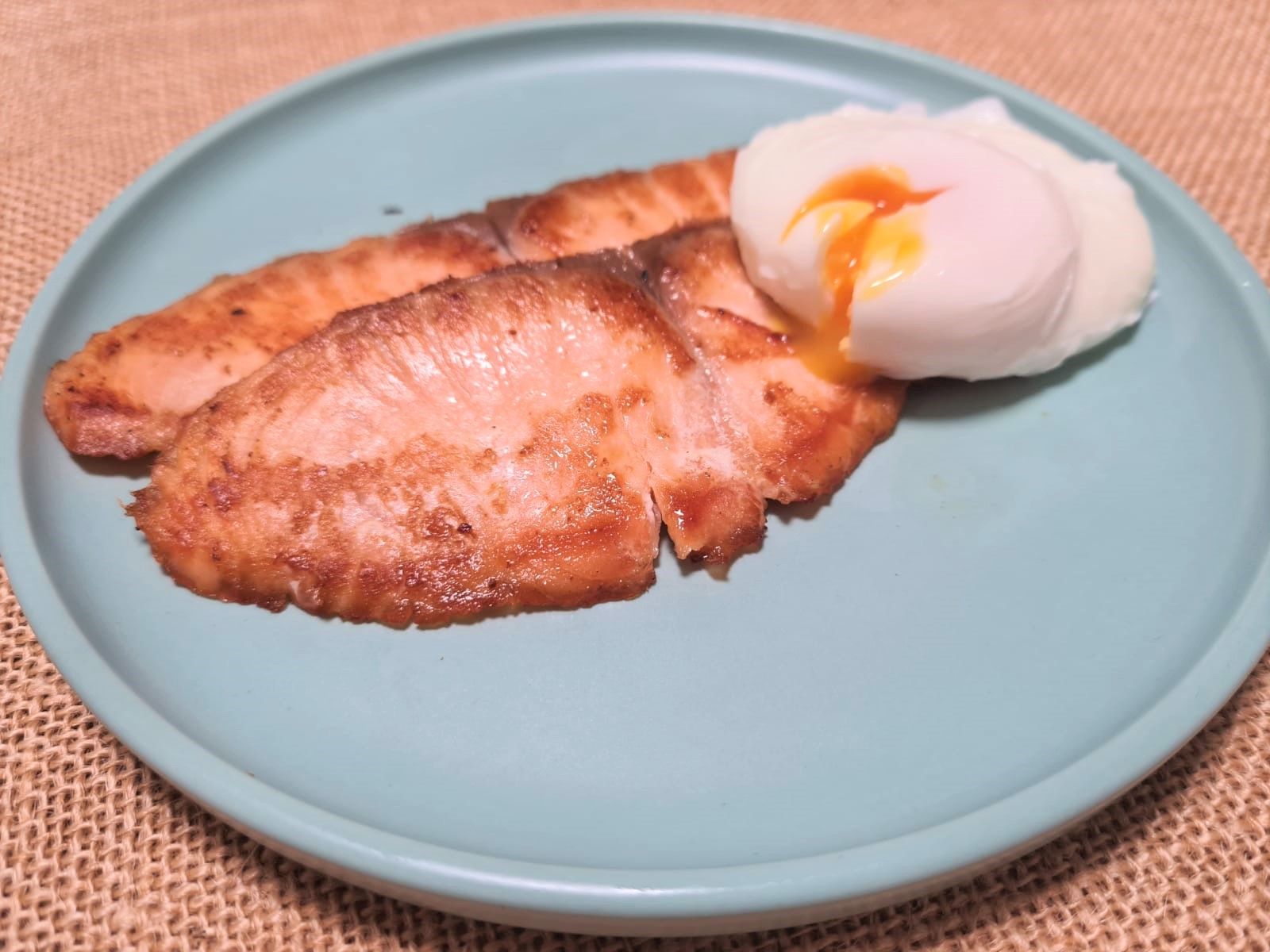 Interestingly, after being pan-fried with a little cooking oil, I couldn't notice any difference between the salmon bacon and regular smoked salmon in terms of the taste and texture. The salmon bacon has everything that a piece of smoked salmon has: crispy surface once cooked, oily texture from the salmon flesh and a strong salty sensation.
The only difference between them is that Tassal salmon bacon is slightly thicker than regular smoked salmon, which guarantees a softer inside when cooked as per the instructions.
How does Tassal salmon bacon compare nutritionally to bacon?
| | | | | | | | |
| --- | --- | --- | --- | --- | --- | --- | --- |
| | Energy (kJ) | Protein (g) | Fat (g) | Sat fat (g) | Carbs (g) | Sugar (g) | Sodium (mg) |
| Tassal salmon bacon, 100g | 832 | 25.5 | 10.1 | 1.9 | 1.3 | <1 | 943 |
| Regular Tassal smoked salmon, 100g | 873 | 23.6 | 12.7 | 2.4 | <0.1 | <0.1 | 1130 |
| Middle bacon rasher, 100g* | 1310 | 15.4 | 28.2 | 11.0 | 0.3 | 0.3 | 1274 |
*Data collected from AUSNUT 2011-13 Food Nutrient Database
Looking at the data, we can see that the salmon bacon has more protein, much less total fat, less saturated fat and slightly less sodium than middle bacon rashers. Although to be fair, salmon is also very high in omega-3 fatty acids, which hasn't been shown in this table.

Ingredients
Let's now look at how the salmon bacon compares to regular smoked salmon and to bacon in terms of ingredients:
| | |
| --- | --- |
| | Ingredients |
| Tassal salmon bacon | Tasmanian Grown Atlantic Salmon (97%), Salt, Acidity Regulators (262, 325), Sugar, Natural Woodsmoke |
| Tassal regular smoked salmon | Tasmanian Grown Atlantic Salmon, Salt |
| Middle bacon rasher | Pork (95%), Salt, Dextrose, Mineral Salts (451, 450), Sugar, Water, Antioxidant (316), Preservative (250), |
Tassal regular smoked salmon has only two ingredients, which is always best - the least number of ingredients means it's closer to nature. However, Tassal salmon bacon has a quite straightforward list too. Acidity Regulators 262 sodium diacetate and 325 sodium lactate are safe to eat, and only a very tiny amount sugar (less than 1g per 100g) has been added, which is almost nothing.
Unlike traditional bacon, which is classified as a processed meat, Tassal salmon bacon doesn't contain nitrates and nitrites (preservative 250), which is a winning point for those who worry about them.
Pros
Much less saturated fat than middle bacon rashers
25% less sodium than middle bacon rashers
More protein than middle bacon rashers
Crispy when pan-fried
Fewer preservatives than bacon
It is a good source of omega-3 healthy fats
It has less saturated fat than bacon
Cons
The taste and texture are much closer to regular smoked salmon (once pan-fried) than to bacon.
It still has a significant amount of sodium, like regular smoked salmon
Much more expensive than bacon
Availability
Currently only at selected Coles stores.
My verdict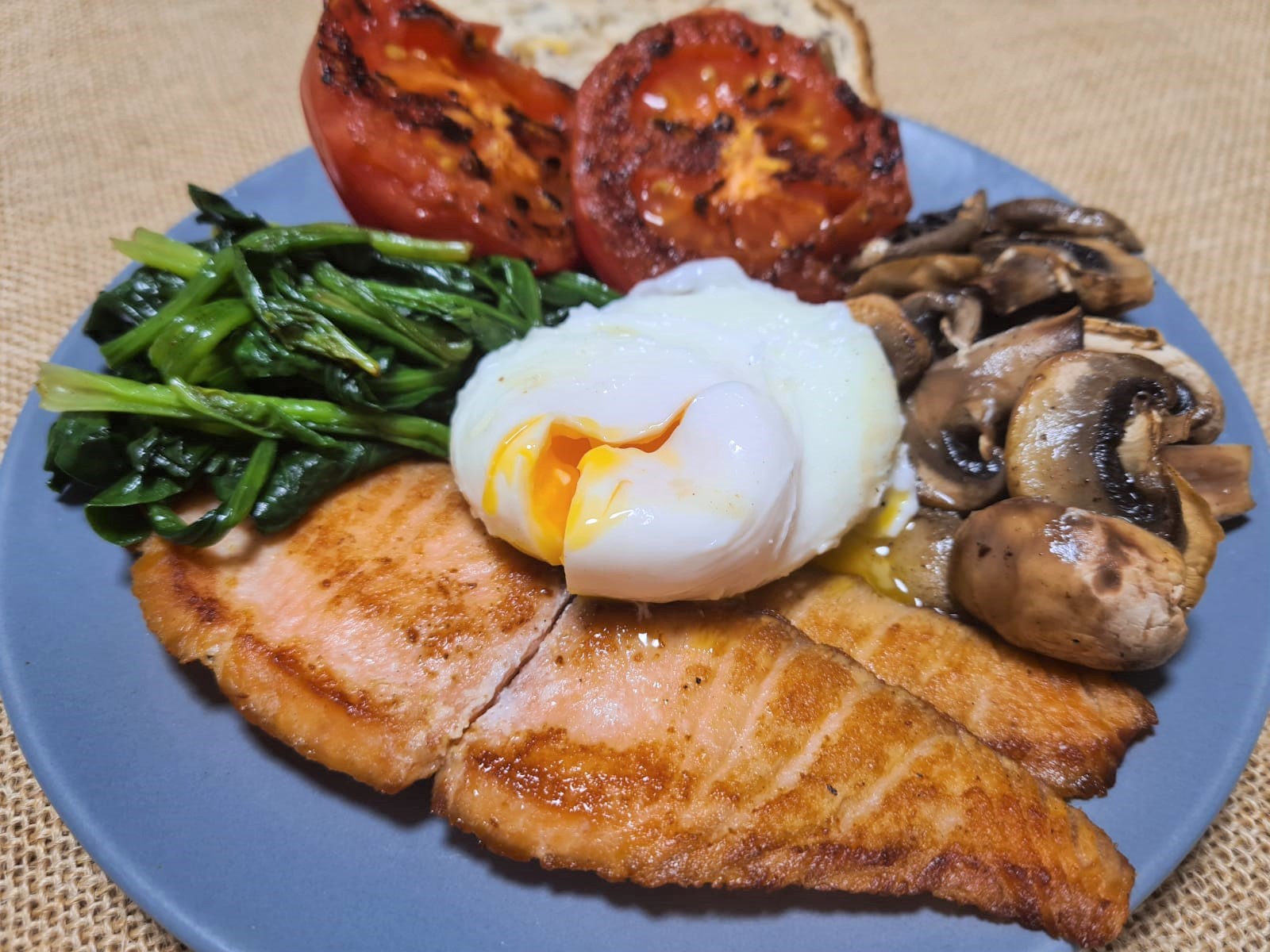 In my opinion, Tassal has just made another smoked salmon instead of a bacon alternative. However, it's still a healthy option and could be included as part of well-balanced meal. When I have it, either as part of a big breakfast or in a sandwich, I tend not to add any salt or sauce, as the salt from the smoked salmon is sufficient. Check out the super breakfast I cooked last weekend. I hope it inspires you to make your own healthy big breakfast with Tassal salmon bacon. Let me know what you think! I'm very intrigued to hear your thoughts.
This product snapshot was written by Accredited Practising Dietitian Tuo Tao from Eat Savvi.