My 5 best foodie experiences in Corsica
I spent a few nights in Corsica when travelling on one of Maeve O'Meara's Gourmet Safari tours in 2014. As you can imagine, it was a great foodie experience heightened by the fact that I'd always hankered to see Corsica, home of the great Napoleon Bonaparte. With its rugged coastline, towering cliffs and dense maquis bush, Corsica proved to be everything wild and wonderful as well as the source of many fine foods and local produce as you'll see...
1. Classic fish soup in Bonifacio Corsica
Bonicafio, a heavily-fortified historic city at the southernmost end of the island of Corsica, is known for its delicious fish soup. With its superb natural harbour and long jagged coastline, I can well imagine how much fish and seafood was once caught and consumed in days gone by.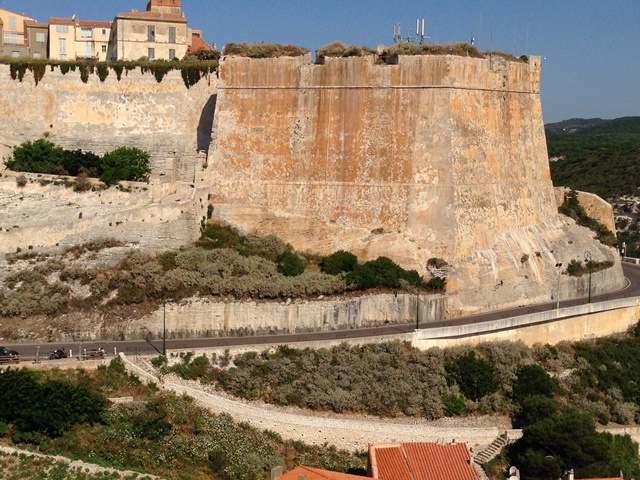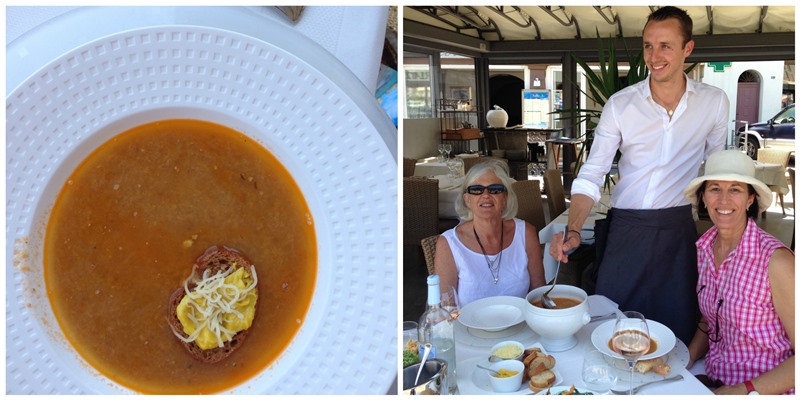 The soup we sampled was interesting as the chefs not only throw bits of fish into the soup pot but odds and ends of clams, crab and other seafood too and then purée everything at the end. Yes everything! Even the heads and bones are ground up in the processor. It's been likened to the Bouillabaisse of Marseille but with fennel in place of saffron - and different types of fish. The result is a soup that's deliciously fishy but with a certain gritty quality to it. It's not smooth like a pumpkin or pea soup but excellent nonetheless. We ate it served with a toasted round of French bread which we topped with the traditional rouille (paste of chilli and red capsicum) and grated Parmesan. With a glass of the local pale rosé, it would make a stunning lunch, or a starter before dinner.
2. Lunch at Pero Longo winery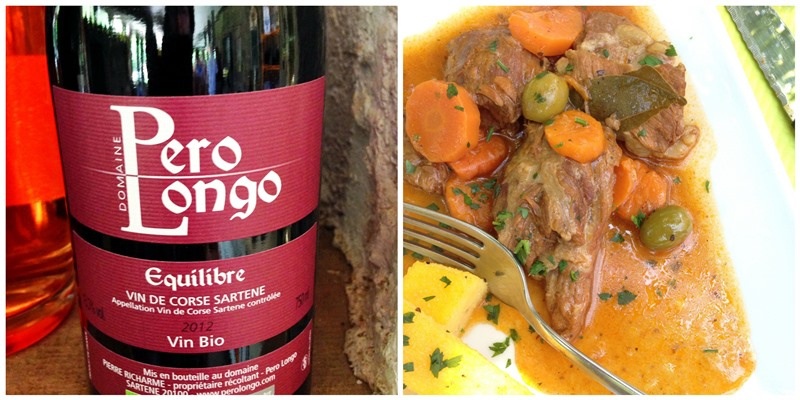 We stopped at Pero Longo winery for a wine tasting and talk by the vigneron Pierre Richarme on how he started making his bio-dynamic Vin de Corse. The winery is near the historic village at Sartenne which is also worth a stop. We dined al fresco under the trees as it was a surprisingly hot day - more than 30deg C. I hit the jackpot by selecting a slow-cooked veal with green olives and carrots for my lunch. A perfect match with the 2012 red wine Vin de Corse Sartene.
3. Wonderful local produce of wild Corsica
Honey is special in Corsica as it carries the grassy flavour of the fragrant maquis, the dense undergrowth that dominates this mountainous island. Of course there are several types of local honey (meil de Corse) that sport the mark of AOP or Appellation d'Origine Protegée, formerly known as AOC (Appellation d'Origine Contrôlée). Corsican honey was granted the AOC in 1998, the first honey in the world to be granted this status.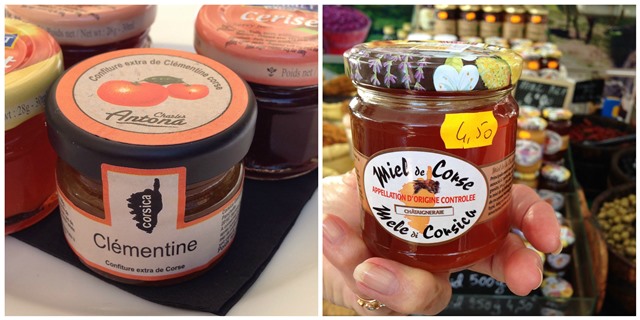 Similarly I spotted local myrtle jam and marmalade made from clementines (mandarins) with a bitter citrus tang. Lovely on a hunk of fresh bread in the afternoon.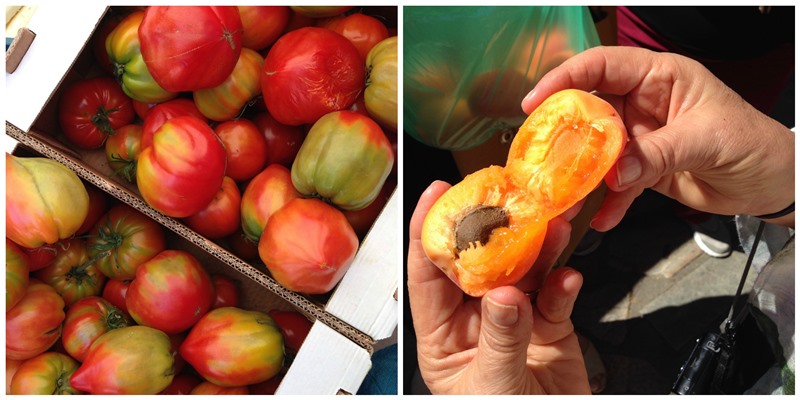 Check out these magnificent ox-heart tomatoes and succulent ripe apricots. Divine.
4. Meeting a local foodie expert Rolli Lucarotti
It was a real pleasure to have a knowledgeable cook and lovely, gracious lady as our guide to Ajaccio and the local food scene. Rolli Lucarotti is an English lady who has lived in Corsica for 40 years and is the author of a comprehensive cookbook "Recipes from Corsica". She was a consultant to Yotam Ottolenghi when he visited Corsica to film segments for his TV cooking show. She shared her knowledge and love of Corsican produce with us. Even though I vowed to buy NO more cookbooks, I ended up getting a copy of her thorough recipe book which she happily signed for me on the night of our final long table dinner in Ajaccio.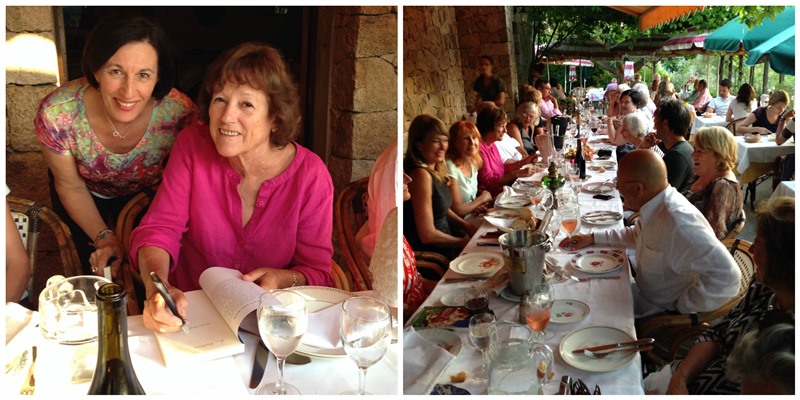 5. Checking out the produce markets in Ajaccio
Together with Rolli Lucarotta we strolled around the open-air markets in the city centre and gaped at huge tubs of olives and vats of glacé fruit e.g. citron confits. There were all sorts of whole nuts, seeds, peppers, dried herbs, as well as sweet strawberries and fresh apricots in season. Not forgetting beaut ox-heart tomatoes and white asparagus. There were oooh's and aaah's every few minutes.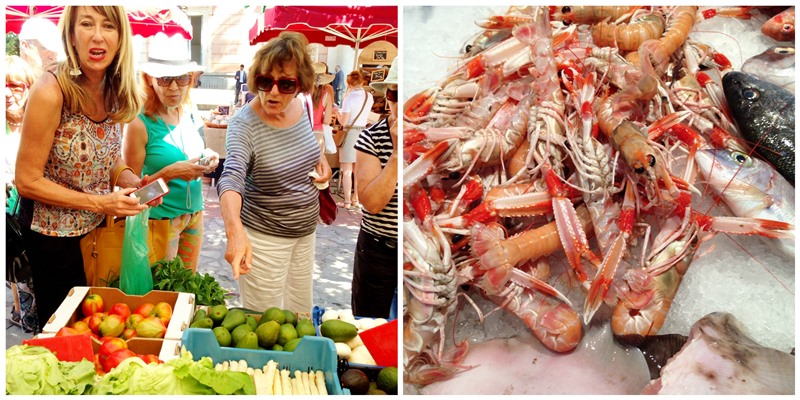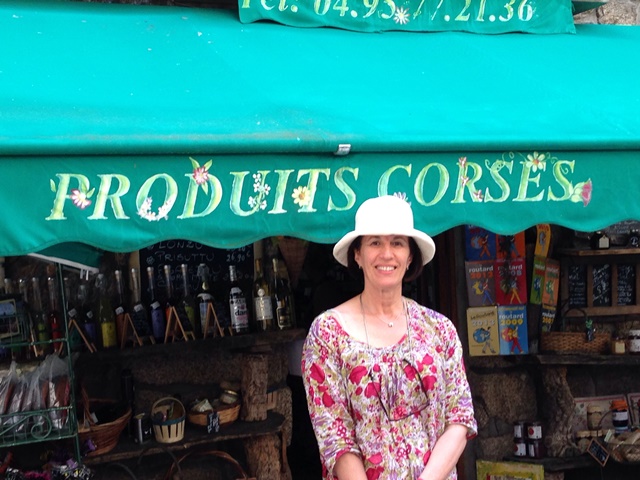 My verdict?
Corsica is a fascinating place to visit, especially for the foodies among us. The stunning local produce and bustling markets; the intense flavours and the wild and beautiful countryside settings make it a holiday to remember.
References / External articles