My lunch at Tanya's Raw Food Café in Chelsea, London
A 100% Raw Food Diet isn't for me but I do love how the raw kitchen methods make any veges and salads seem so attractive and enticing. Often I'm gob-smacked by the tantalising no-cook dishes that emerge as main meals such as zucchini noodles, marinated raw vegetables, interesting salads, tangy salsas, pesto sauces, guacamole, fermented vegetables, cold-pressed juices and green smoothies. Oh and not forgetting those sweet, raw, cacao bombs and raw cheese cakes.
Tanya's Raw Food Café is just the place to experience this tantalising raw food variety. Here you can eat big (as in volume) yet not overdo the kilojoules/calories thanks to luscious salads, mains and vegetable-based juices.
On a recent trip to London, Tanya's was recommended to me so I headed there for a solo lunch. It's located in a "conservatory-style" room on the ground floor within MyHotel at Chelsea, yet it has a warm and inviting vibe to it.
As you enter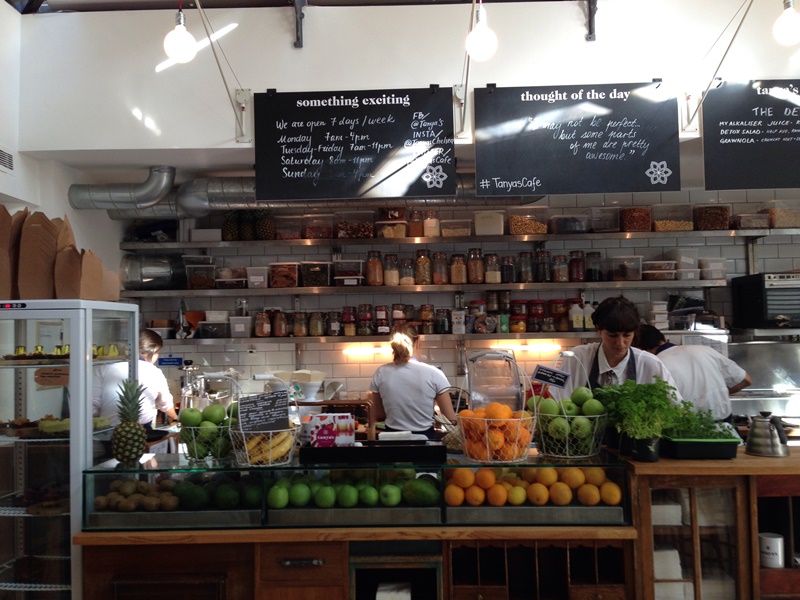 To one side is an open counter, behind which five chefs busily create these amazing raw food dishes. Opposite, there's a full-wall mesh with hanging pot plants and herbs. There are communal tables studded with pots of herbs and everywhere you look are messages of happiness and inspiration – tucked into pots, on the serviettes, and on the Menu board. For example, "Everything is going to be OK." It's a friendly space that is pleasant, well-lit and welcoming.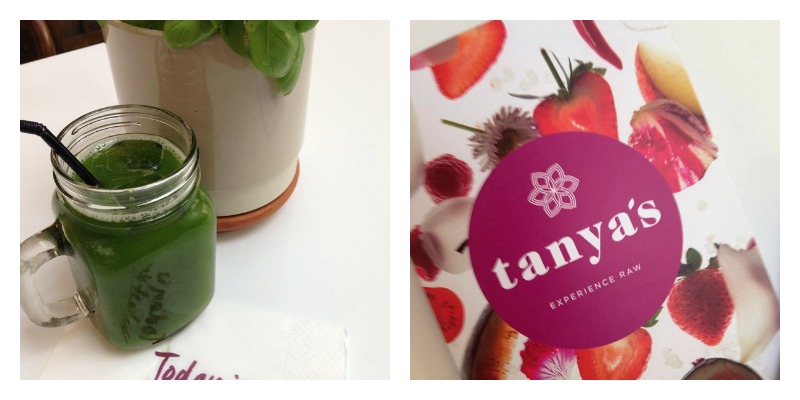 I ordered a green juice called My Alkaliser which was served in a glass mason jar (natch) with a handle. It was made from kale, spinach, green apple and lemon cucumber with ice. Surprisingly it did not separate and was refreshing with just a hint of sweetness. At 330mL, it was a sensible size, not like the impossible 600mL buckets you often see. So far, so good.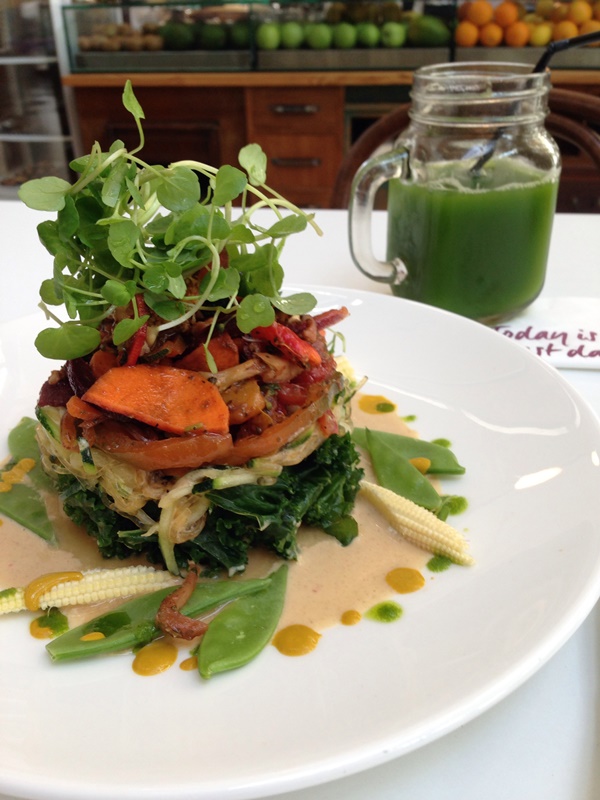 Next I decided on the Thai Curry Noodle Salad which turned out to be a spectacular 'tower' of kelp seaweed noodles mixed with marinated veges, topped with baby watercress on a bed of kale leaves, and with a drizzle of tahini around. Wow! What can I say? It looked sensational and tasted even better - easily kept me filled up until dinner. The ladies next to me ordered it along with the Pad Thai, made with grated raw veges in a sauce of coconut and almond milk with spices. Both looked mouth-watering.
I didn't sample any of the desserts (I was too full) but they looked 'heavy' and oil-rich (from nuts, avocado and raw cacao) in the usual no-cook way. Think avo cheesecake slice.
Service with a smile
The service was friendly and prompt. The restaurant was almost entirely full of women, all slim and well-dressed, with some in gym gear. They've discovered the yummy raw-food dishes here as I had. My hunch is they were aware of those veggie benefits: you can eat until you're more than full and not pile on the weight.
I met the lovely Tanya herself and had a chat about how she set up the eatery and the early teething problems. She's very warm, friendly and dedicated to the Raw way of life. She uses the slogan "Better Raw" which I can't agree with 100 per cent (as cooking food has its own benefits e.g. making proteins more digestible) but it's short and catchy.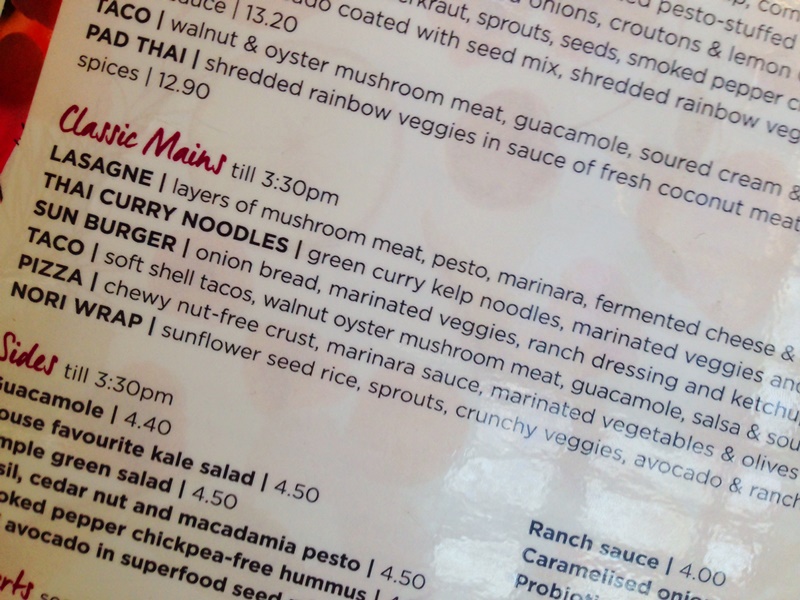 There's no meat, fish, grains or legumes on the menu although I promise you won't miss them. Not with delights such as 'Pizza' made with a thin, "chewy, nut-free" crust topped with tomato, marinated veges and olives or 'Lasagne' using layers of mushroom meat, pesto, marinara tomato sauce, fermented cheese and courgettes (zucchinis).
However, I did spy hot coffees made with a choice of almond, hazelnut or hemp seed milk. Strange offering for a raw food café but then the allure of a hot drink in cold London weather may be too much even for rawists! Plus hot teas which were mostly herbals (mint, floral, chamomile) but English Breakfast and green tea were also there, mercifully in winter. You could also opt for a mug of liquid chlorophyll with hot water and lemon!
My verdict?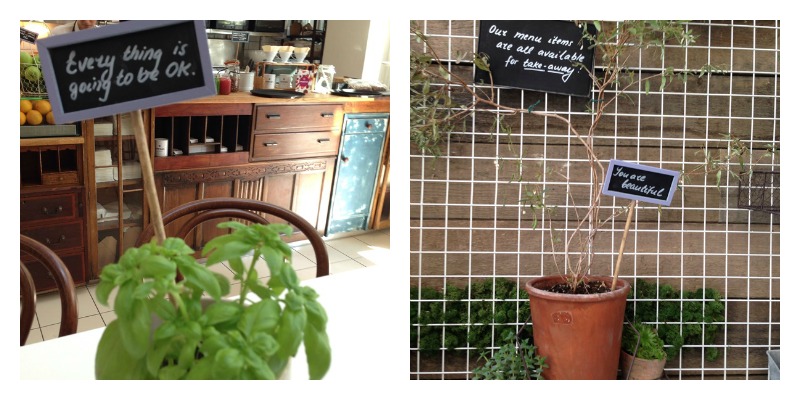 A feel-good place to eat where you can get your fill of vegetables and salad presented in a really creative raw-food way!
While I don't believe you have to eat raw 100 per cent of the time (cooking has benefits too – read my post on the Raw Diet Principles), Tanya's is definitely worth a visit and the bonus is that it will boost your nutrient and fibre intake.
I couldn't eat raw three times a day, but having breakfast and lunch this way is definitely easy. I calculate that these two meals would give you about 40 per cent (by weight) of raw intake for the day. A winner for me !
Contact details
Tanya's Café at MyHotel
35 Ixworth Place Chelsea, London SW3 3QX
PH: +44 207 225 7538