Product review: Alpine Breads Super Natural (Protein) Sourdough
I'm a big bread fan, as many of you know. Bread is my favourite carbohydrate, way above rice, pasta or potato, and I'd hate it if I couldn't eat it. Having worked in the bread business, I appreciate how much effort goes into baking each loaf. Naturally I jumped at the chance to taste-test a little-known bread (did I need an excuse?) and put it through the Foodwatch review system. Here's how we rated the Alpine Breads loaf sold under the label of Super Natural Protein

This post has been sponsored by Alpine Breads
I have tasted Alpine Breads before but being based in Sydney, I don't often see them at stores or supermarkets. Their breads are well known in the southern state of Victoria (where they're baked) but less here where I live in Sydney in New South Wales. That said, it is one to look out for when you're out shopping as I found it to be very, very good.
Taste: 9 out of 10
Alpine Super Natural Protein bread has a great taste and aroma. From the moment you peel back the outer seal, a wonderful wheatiness hits you. You immediately think: "this is the way bread should taste".
Each slice is the perfect thickness, not too thick nor too thin. Personally I dislike too-thin slices as they 'squish down' to nothing in a sandwich so all you taste is the filling – not the bread.
You get a square slice, not a giant wide slice that never fits the toaster, which is an advantage over those impossibly-wide breads.
It toasts beautifully with a soft interior and golden exterior that's crisp as good toast should be. It teams well with everything, whether savoury (cheese, peanut paste, yeast spread) or sweet (honey, sliced banana).
Yes there are grains in the slice (see image) but they're not heavy and dense in the way a Burgen slice is. The texture is substantial but surprisingly light.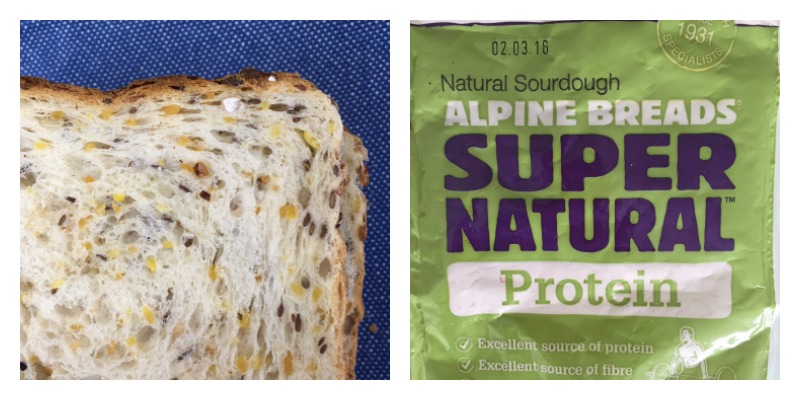 Nutrition: 17 out of 20
There are solid ingredients here – seeds, lentils, linseed and buckwheat; soy grits (which are cracked soy beans); plus you get sprouted grains from kibbled barley, kibbled rye, kibbled mung beans, lentils and soy.
Kibbled just means cracked so the grains have been broken open then allowed to germinate and then stopped. This is the same as the activation process used for the wildly-expensive activated almonds, for example.
The sourdough process itself is fascinating. And one that will continue to grow in popularity for its ability to break down proteins and starches that could otherwise trigger bowel problems. The longer fermentation of sourdoughs is a major advantage, according to gluten experts.
Talking to Andrew Bertalli, I learned that the bakery has been in the family for four generations and they have been using the same sourdough since then. Andrew firmly believes this Protein loaf is "the best bread I have ever made". End of story.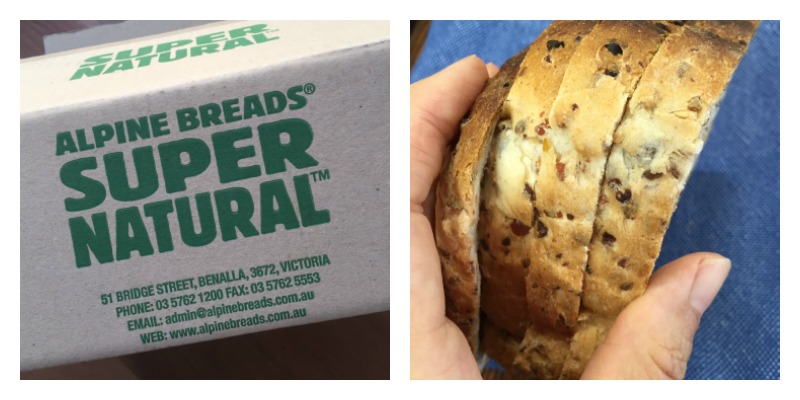 List of ingredients
These are the ingredients in this 680g loaf of grainy bread:
Wheat flour, water, mixed seeds (15.5%) [sunflower, linseed, lentils, buckwheat], soy grits (12%), sprouted mixed grains (6%) [fermented rye sour (rye flour), kibbled barley, kibbled rye, kibbled mung beans, lentils, kibbled soy], wheat gluten, iodised salt, yeast, emulsifier (481).
I was curious why yeast was an ingredient in what is a "sour dough" loaf. I was told that "Extra yeast and gluten is needed as well as the slow sourdough method to give the final bread enough aeration and a risen structure."
Another query I had was why emulsifier 481, which is Sodium Stearoyl Lactylate or SSL, was present? Although it is an approved and common emulsifier, used in bread making to strengthen the dough during processing and to keep the crumb soft during storage I was surprised to find it in a loaf called "Super Natural".
Iodised salt is required in all breads (except organic) to help boost the whole population's intake of iodine which has fallen in recent years.
Wheat flour is white flour which is not the whole grain flour I like but serves as a stronger 'base' to hold the seeds and sprouted grains.
Key nutrients
Alpine Super Natural Protein has a top nutrition profile with a positive nutrient density from all the seeds, whole grains, legumes and fermented rye (rye sour).
It gives you starchy carbs for fuel with important B vitamins to release those carbs into energy once in the body. Like all breads, carbohydrates are its key nutrient.
Does it really have more protein? Yes at 16 per cent, it has around 1.8 times more than a comparable multigrain loaf. You'll ingest almost 13 grams of protein from two slices of bread, which is around the same as from two eggs. This is why Alpine bread is attractive to sports people. Not only do you get more protein, but it's combined with carbohydrate in the one food, making it easy to re-fuel those muscles.
On the flip side, it has a little less carbs (only 31 per cent) compared to regular bread which has some 40 per cent and compares favourably with the 29 per cent of the new Helga's Lo-Carb breads.
You get 25 grams of carbohydrate packed into one serve of bread (which is two slices). You get at least 30 grams from other breads, more if you choose a thicker slice.
Its fat content is higher than usual, at almost 6 per cent, thanks to the addition of the seeds like sunflower and linseed which naturally contain a lot of fat. The same can be said of similar breads with seeds such as Burgen.
It's great for fibre, having close to 10 per cent fibre (or 8g per serve) to help maintain healthy digestion, add prebiotics and prevent constipation. This is quite impressive, being almost double that of other multigrain - and a real winner for me.
It's low in sugars.
At 340mg, its sodium (salt) is lowish so you won't get a hit of sodium from this loaf. Anything under 400 mg per 100 grams is good news.
Nutrition Information:
Serve size: 80g which is 2 slices
| | | |
| --- | --- | --- |
| Component | Per serve | Per 100g |
| Energy kJ/Cal | 864/206 | 1080/257 |
| Protein, g | 12.9 | 16.1 |
| Fat Total, g | 4.5 | 5.6 |
| Saturated, g | 0.7 | 0.9 |
| Polyunsaturated, g | 2.0 | 2.5 |
| Monounsaturated, g | 1.8 | 2.2 |
| Carbohydrate, g | 24.6 | 30.8 |
| Sugars, g | 4.0 | 5.0 |
| Dietary fibre, g | 7.9 | 9.9 |
| Sodium, g | 272 | 340 |
Source: Alpine Super Natural Protein bread label.
Who would this bread be suitable for?
Alpine has targeted sports people in the past with their one-liner, Eat like an athlete. It's a great loaf for athletes and body builders who require carbohydrate for replenishing energy stores and protein for muscle growth and repair. You get both packed conveniently together into one delicious food – bread! I can also see it appealing to dieters wishing to eat more protein and less carbs but still feel satisfied with a slice of bread.
Convenience: 8 out of 10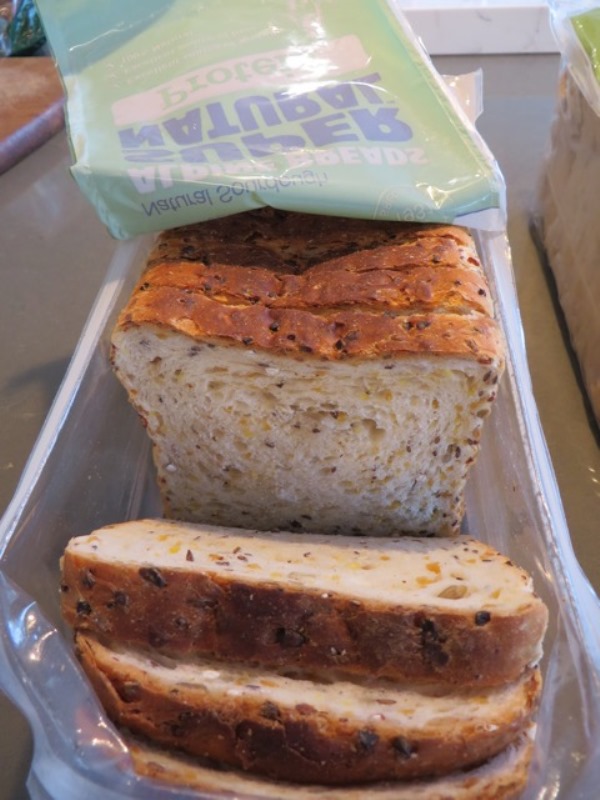 Like all breads, this Alpine bread is convenient. It's ready to eat, can be consumed fresh or toasted, and it lasts well.
I found the packaging interesting and different, being a moulded outer pack made of stiff plastic shaped around the bread which serves to stop the bread becoming squashed and misshapen. Not the usual plastic bag that makes the bread sweat.
I did wish there was some easy way to seal it. However, once I used up a quarter of the loaf, it was easy to slide the top film over and tuck it in under the rest of the bread like a pillow. It freezes well.
Sustainability 7 out of 10
The major ingredients in the bread (wheat flour, spelt flour, seeds, grains) are all sourced in Victoria and prepared in the bakery in Benalla.
The plastic outer packing is not recyclable due to the need for an air barrier around each loaf. But by using this thicker, denser material, it gives Alpine breads a longer shelf life, which allows the breads to reach people in other states who want them for health reasons. So you don't waste as much packaging in the long run. Alpine told me that all their packaging is sourced in Australia.
Alpine's Spelt breads for irritable tummies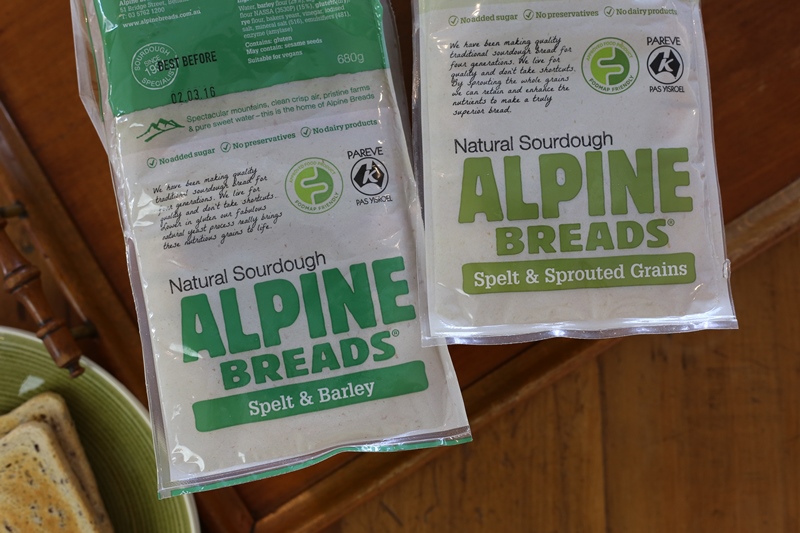 Alpine also bake two spelt-based breads which sport a green FODMAP-friendly logo. They were nice but not as delicious as the Protein. However if you have given up bread because you find it gives you indigestion, these may be a welcome addition and worth a try.
These are part of dietitian Sue Shepherd's accreditation program with organic spelt flour being used as the main wheaten flour with its lower content of fructan FODMAPs so may be easier to digest for people with IBS. Note: it is NOT suitable for anyone with coeliac disease as it contains gluten from the spelt or barley.
These spelt breads also undergo a lengthy soaking and fermentation process which breaks down much of the gluten protein and releases bound phosphorus. So these breads are rich in proteins, minerals and enzymes. Coupled with their low-gluten starches, they are easily digested.
Background: The FODMAP Friendly logo is used on packaged foods so that it takes away the "guess work" when reading ingredients lists. It is a convenient way to identify foods that are low FODMAP as they are laboratory tested. Read more here.
Overall score 41 out of 50 or 4 apples
More details at www.alpinebreads.com.au
The final word
I'd definitely buy this Protein bread again. It's delicious and nutritious and I'd bet that kids will munch on it without a murmur. It adds variety and packs in the extra seeds and legumes which regular breads don't have. At the moment, the trouble is finding it, though I know Alpine are addressing their delivery and distribution issues so expect to spot it soon when out shopping. It's one to put on your shopping list. You can also now buy direct from their website.
Thanks to student dietitian Marthury Jeyalingam for help with tasting and typing.