Product review: Lactose-free yoghurts side-by-side
Ever felt overwhelmed when browsing the yoghurt section in your supermarket? There's so much to choose from - natural, flavoured, fruit, probiotic, Greek, dessert-like and kids yoghurts to name a few. But what about those who are lactose intolerant and who can't digest the natural sugar lactose found in milk and yoghurt? Is there a yoghurt for them too?
Guest review by dietitian Hannah Gilbert
Choices for the lactose intolerant
People with lactose intolerance have three choices when it comes to navigating the yoghurt supply.
1. Stick to your tried and true standard yoghurt if your intolerance is only mild. These yoghurts are suitable as much of the lactose has been "eaten up" or pre-digested by the yoghurt cultures and turned into lactic acid.
2. Buy a lactose-free yoghurt. These are made using a special enzyme which breaks down the lactose into simple sugars (glucose and galactose), which can be easily digested in our gut.
3. Forget dairy and choose plant-based yoghurts. These have a very different flavour and cost more.
Here I review two lactose-free yoghurts that are readily available in supermarkets - I compare strawberry and berry flavours from Vaalia and Liddells so they're a fair comparison.
Taste:
Vaalia lactose-free strawberry yoghurt (10/10)
Delicious, thick, creamy taste with the added texture of strawberry pieces. It tastes lovely on its own, but would be even tastier with muesli and stewed fruit for breakfast.
In total, there are three flavours in the Vaalia lactose-free range – strawberry, passionfruit and French vanilla.
Liddells lactose-free wild berry yoghurt (7/10)
Pleasant taste, though a little too smooth and creamy for me. This yoghurt also had a thinner consistency, with minimal, if any berry pieces.
There are three flavours in the Liddells lactose-free range – wild berry, apricot and plain.
Nutrition:
Yoghurt is a nutrition powerhouse. It contains protein (helps keep you fuller for longer) and over ten essential nutrients including calcium (for strong bones), vitamin A (for healthy eyesight), vitamin B12 (for healthy blood) and riboflavin (helps release energy from food).
Vaalia lactose-free strawberry yoghurt (8/10)
This yoghurt is low in fat (only 1.3% fat according to its claim), yet is a rich source of protein and calcium (255.5mg of calcium which is 25.6% of the 1000mg daily target). It does have a slightly higher fat and saturated fat content than that of an average low fat yoghurt, but not hugely so (see table below). The yoghurt does have the added benefit of containing three probiotics ('friendly' bacteria), which promote intestinal health, including the well-research LGG. The yoghurts come in two sizes: 2 x 175g snack packs and 1kg tubs.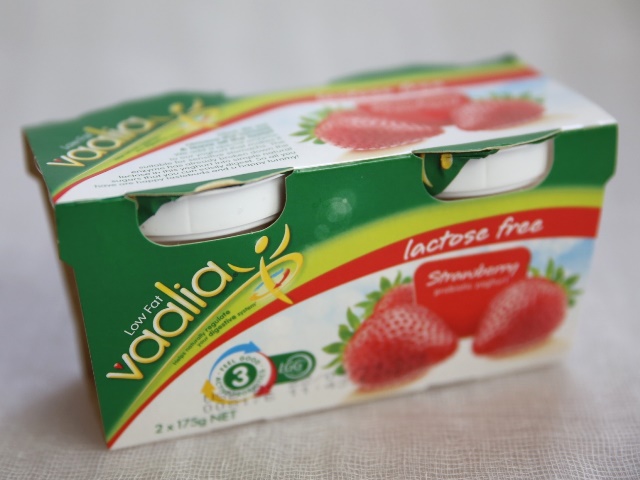 Vaalia contains a fibre called inulin which is extracted from chicory roots. It is added to create a supply of food for the bacteria to keep them alive and growing so you get a decent dose by the time you eat the yoghurt.
Both Vaalia and Liddells have similar lists of ingredients so it's interesting that they taste quite different. I suspect it's due to the fact that one is low fat and the use of fibre and thickener to create a creamier "mouthfeel".
Ingredients:
Whole milk, skim milk, water, sugar, strawberry (8%), milk solids, inulin (dietary fibre), maize thickener (1442), gelatin (halal), lactase enzyme, natural colour (120 cochineal), food acid (331), flavours, live yoghurt cultures (incl. acidophilus, bifidobacterium, lactobacillus gg)
On-pack claims:
Lactose free
Three feel-good active cultures to help maintain and regulate your digestive system for inner health and wellbeing
Only Vaalia combines Acidophilus and Bifidus with Lactobacillus GG (LGG)
Low GI
Free from artificial colours, flavours, sweeteners or preservatives
Low in fat – only 1.3%
A source of dairy calcium
Gluten free
Note: The nutrition information on the website differed to that displayed on the front-of-pack labelling. I have requested that the information online be updated.
Liddells lactose-free wild berry yoghurt (7/10)
While this yoghurt provides a good protein and calcium hit (320mg of calcium, 32% of the 1000mg daily target), it contains more kilojoules, fat and saturated fat than the average Aussie strawberry yoghurts (see table below).

Ingredients:
Full cream milk, skim milk concentrate, sugar, wildberry fruit blend (7.5%), gelatin, lactase enzyme, cultures (streptococcus thermophilus, lactobacillus acidophilus, bifidobacterium lactis, flavour (nature identical), natural colour (120 cochineal)
On-pack claims
Deliciously thick and creamy
100% Australian owned
High calcium
No artificial colours or flavours
Gluten free
How do these yoghurts compare nutritionally to an average fruit yoghurt?
| | | | | | | |
| --- | --- | --- | --- | --- | --- | --- |
| Per 100g | Energy (kJ) | Protein (g) | Fat (g) | Saturated fat (g) | Carbohydrate (g) | Calcium (mg) |
| Vaalia lactose-free strawberry yoghurt | 393 | 4.5 | 1.3 | 0.8 | 15.3 | 146 |
| Liddells lactose-free wild berry yoghurt | 430 | 5.4 | 3.5 | 2.4 | 12.3 | 160 |
| Regular strawberry yoghurt | 400 | 4.7 | 3.1 | 2.0 | 11.6 | 158 |
| Low fat strawberry yoghurt | 328 | 5.2 | 0.3 | 0.2 | 13.0 | 161 |
Convenience: 10/10
Yoghurt is easy to pull out of the fridge as a between-meal snack or can be used to boost the protein content of your cereal at breakfast. Both profiled yoghurts feature a pull-away tab rather than a lid, so must be consumed in their entirety or else stored upright in the fridge and used within three days of opening. Both yoghurts require refrigeration.
The final word
While I enjoyed the flavour of the yoghurts, they are not for me. They do tick the boxes in terms of taste and convenience, but I tend to prefer low fat, Greek style yoghurts. For anyone with a lactose intolerance problem, remember you can still eat a regular yoghurt (in small quantities) if it agrees with you. If not, you know that you now have these two lactose-free options if you have to be strict about avoiding lactose.
---
More info
Downloads / Fact Sheets
pdf Lactose in dairy foods and dairy alternatives (38 KB) - free DOWNLOAD

Download my handy one-page chart of where lactose is and which foods have the highest concentration.