No video selected.
Want something to drink before dinner? Something that's LOWER in alcohol than wine? To match his beer? Then look no further than Bundaberg's low-sugar alcoholic ginger beer.
You can drink Bundaberg low-sugar ginger beer straight from the can, or pour it into a long glass over ice with a slice of lime.
Pros
Tastes good – better than the full-sugar variant. It boasts "75 per cent less sugar"* which I can verify.
Ideal for those looking for full flavour and fewer kilojoules (Calories)
Has a crisp citrus finish
Cost is the same as for full-sugar alcoholic ginger beer – A$25 for a pack of four cans
Only 4% alcohol by volume, the same as full-sugar alcoholic ginger beer
Made in Australia by the Queensland brewer Bundaberg
Brewed over three days with real ginger – just like the original Bundaberg ginger beer
* According to Roy Morgan, nearly 1 in 2 (44 per cent) of Aussies claim they're concerned about their sugar intake.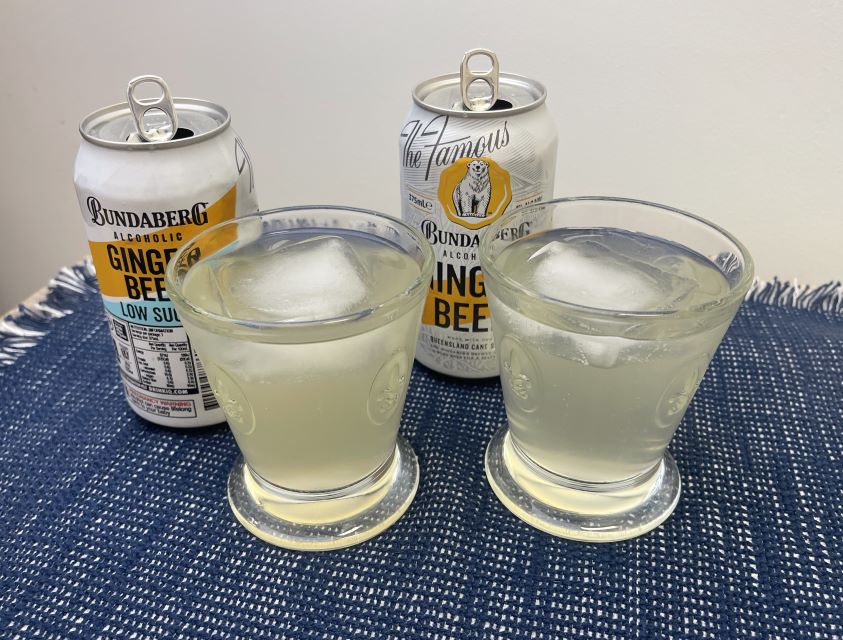 Ingredient list from the can
Carbonated water, diet ginger beer brewed concentrate (water, ginger, sugar, flavours, food acid 300, 330, sweeteners 951, 950, 955, preservative 211, stabiliser 1412, yeast, phenylalanine), Bundaberg cane spirit.
| | |
| --- | --- |
| 300 | ascorbic acid or vitamin C. On the full-sugar ginger beer, this is listed as "antioxidant". |
| 330 | citric acid, a common food acid used in many fruit and veg products. Apart from its acidity, it's not harmful. |
| 951 | aspartame, a calorie-free sweetener. Read here for more on aspartame. |
| 950 | acesulphame potassium or K, another calorie-free sweetener. Read here for more on acesulphame K. |
| 955 | sucralose, another calorie-free sweetener |
| 211 | sodium benzoate. This is commonly used to extend the shelf-life of soft drinks |
| 1412 | distarch phosphate, a thickener. It doesn't say whether it's made from corn starch or maize, but this will be present in tiny quantities |
Cons
Lots of ingredients to make up for the reduction in sugar intake (see the ingredient list above)
Jumping on the "less-sugar" bandwagon
Made from rum, which is made from sugar cane
It still has kilojoules (Calories). It's low-sugar, not no-sugar. A 370 mL can still contains 9 grams sugar and 521 kilojoules (125 Calories). This comes from the added cane sugar used in the concentrate.
Nutrition per can
Compared to the full-sugar can, which supplies 38 grams sugar and 1038 kilojoules (248 Calories), you save on kilojoules without sacrificing flavour.
The bottom line
I'd def buy this again. The low-sugar variant looks and tastes great! While I do advocate drinking water to quench your thirst, for when you're out, this low-sugar version tastes much better than regular ginger beer, which is loaded with sugar and kilojoules/Calories.