Product Review: Poppin Pods
Nothing irritates me more than throwing out packets of wilted mushy herbs at the end of the week. Such a huge waste! Unless I'm using them in a Vietnamese salad, those bunches of fresh, pre-cut herbs are always too large. Now I reckon I've found a better alternative – Poppin Pods.

This post has been sponsored by Poppin Pods
What are Poppin Pods?
Poppin Pods are small pots of fresh, growing, herbs that come in an outer protective – and attractive – container.
I first fell in love with Poppin Pods' living herbs a year ago. It was love at first sight. Now I'm thrilled to take another more probing look and rate them for you as a Product Review.
Useful AND attractive!
First things first. Poppin Pods look so cute in your kitchen. Like any pot plant, they are living plants that add a burst of fresh greenness that enlivens the space.
Next, they're convenient and easy, thanks to their clever, no-mess, system of outer protective containers and inner herb pods.
They're always on hand when you want just a couple of sprigs of one particular herb. For instance, sometimes I only want a few leaves (mint for home-made tea, or thyme for a slow-cooked stew). Sometimes I don't want that same herb in everything that week, and sometimes I only need a little as the flavour is so strong (think basil over eggs or dill on salmon).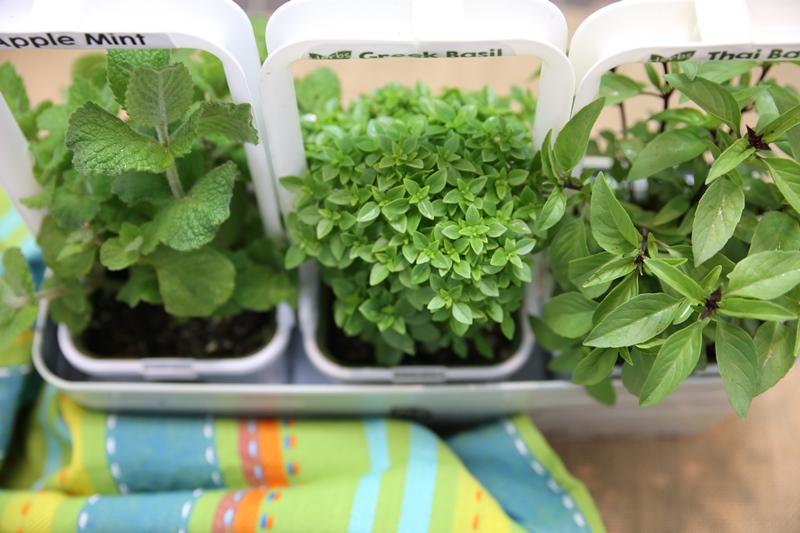 Why fresh herbs in the kitchen?
I can, and do, grow many herbs outside, but my garden is not outside my kitchen door. It can be a trek to run upstairs to snip just a couple of leaves. Think middle of winter when it's freezing cold outside or raining.
I know that there are plenty of fresh herbs available in cellophane sleeves, plastic boxes or bunches in the supermarkets but my problem with those is that I either haven't used them in time or, once cut, they don't last long and turn brown within a few days (basil, I'm looking at you).
I have tried storing my cut herbs rolled in damp kitchen paper and they do keep longer in the fridge that way, but it's not the same as snipping some of the growing ones.
Taste: 10 out of 10
Nothing adds more oomph to a dish than fresh herbs. I do have dried herbs (like oregano and Italian mixed herbs) and tubes of herb paste in my kitchen and they're fine for cooking and handy when it's not the season for fresh but they have their limitations.

If you want to perk up your morning eggs or ricotta on sourdough toast then a couple of fresh basil or chervil leaves will do the trick. Lift that salad with some fresh Vietnamese mint or coriander (cilantro) or enhance a bowl of soup with some chopped parsley or chives. Fresh herbs are wonderful in sauces over fish or chicken; they deepen the flavour of slow-cooked dinners, and make wonderful salads like tabbouleh.
And the aroma! The smell of fresh basil or mint is just sensational.
Nutrition: 20 out of 20
Fresh herbs are the BEST way to get the nutrition they contain. Think of them as 'green leafy vegetables' that are as close to nature as you can get; still living when you pick them off a stem. All fresh herbs are good for vitamin C and the B vitamin, folate or folic acid, plus essential minerals such as potassium and magnesium. Not forgetting all their phytochemicals.
Herbs are always in the top charts for phytochemicals and you can read about oregano, marjoram and basil in my post here.
I like to suggest that you use them in generous quantities. Don't be shy. The only limitation is the flavour – keep tasting your dish so the flavour doesn't overpower it as some herbs have very strong flavours.
Convenience: 8 out of 10
Poppin Pods come with a variety of outer shells so you can choose one to match your kitchen's décor. I personally love the Eco Bamboo timber outer, with my second preference being the dark-green galvanized rustic tin. But it really depends on your kitchen and the look you want.
There's plenty to choose from such as a plain white poly outer, a white tin, a lemon rustic tin (with cute patches of rust), plus a signature heavy timber one that will suit a more 'natural' home.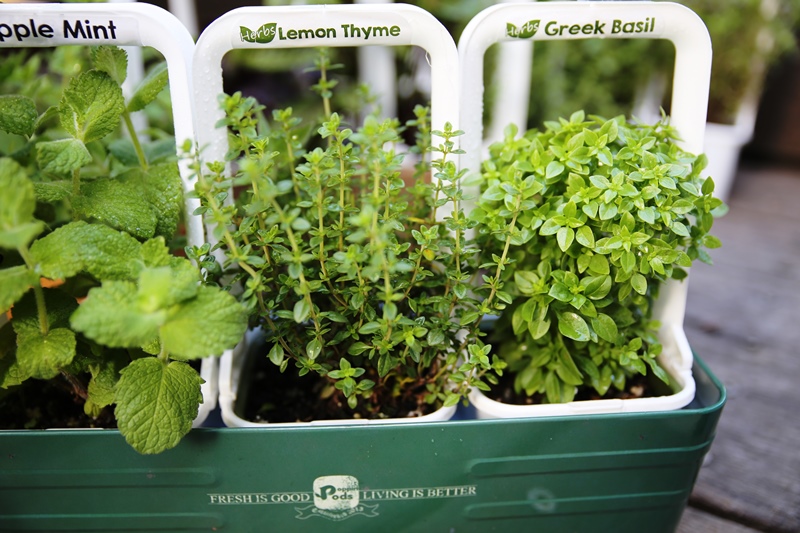 Once you've chosen your outer container you choose three little pots of herbs and place them inside. You have to water and/or spray them as they are living plants with their roots still intact. On a windowsill or wind-free sunny spot, they will last for ages. And keep producing!

Finding the Poppin Pods is a little tricky and they lose marks for this (but they're working on availability). They are currently available in over 100 stores in NSW (many IGA supermarkets, Maloneys Grocery Surrey Hills, Norton Street Grocer) with a current trial in selected Coles' supermarkets.
They're just starting to roll out the range across Queensland, Victoria, South Australia and Western Australia but they will be limited in these states. For now, buy them when you spot them. See here for more details.
Sustainability 8 out of 10
I checked with Poppin Pops about their sustainability – they told me that the herbs are all locally grown in each state, fully compostable and recyclable. Good news to save food miles.
They have something they call WellTech technology, which helps to retain water, giving you happy, healthy herbs for longer.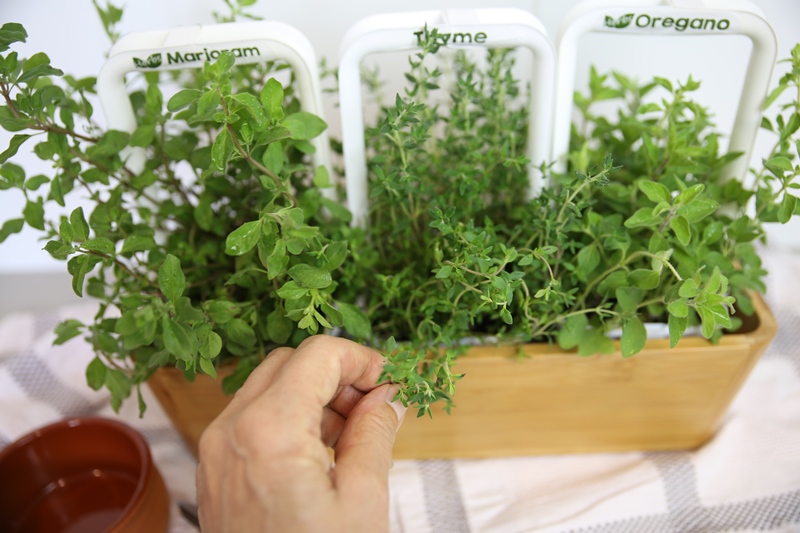 The white pods are made from polypropylene and are recyclable, and as of January 2016, the inner growing pots are made from recycled plastic.
I like their ease and simplicity. I often 'kill' plants in my care, so I like that I can compost a dead plant and start again with a new pot of herbs. Or change to another herb. I'm saving money by not buying pre-cut bunches which wilt, discolour or become limp so quickly, especially in summer.
Overall score 46 out of 50 or 4 ½ apples

For more details visit the Poppin Pods website.
The final word
I love these mini-pots of fresh herbs and think it's a terrific concept for a mess-free kitchen.
They're fresh, easy, convenient and compact if you've only got a small kitchen or live in an apartment.
They're easy to move around to follow the sun in winter, or take out of the hot afternoon sun in summer. I appreciate the convenience of plucking a couple of leaves.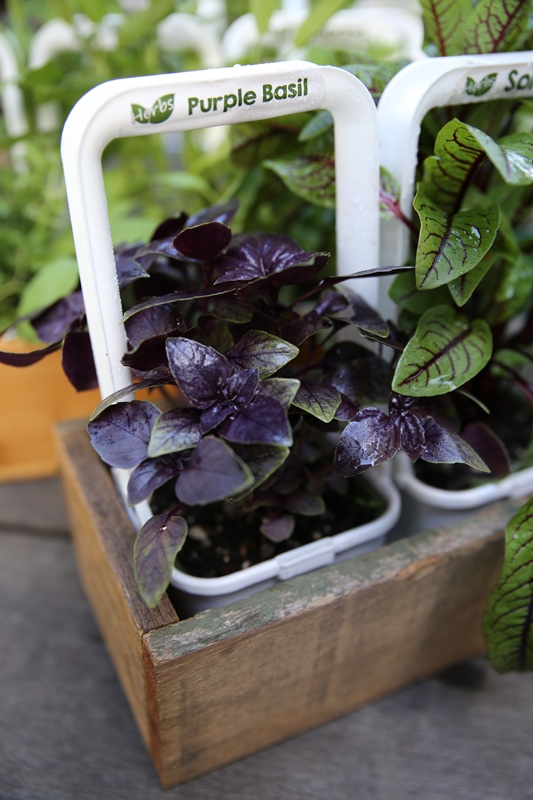 I'll definitely be replenishing my pots when I'm looking for a freshen up. Especially those herbs I only use in small amounts such as purple basil leaves, a sprig of lemon thyme, or a few mint leaves. And come autumn, I'll be planting the grown-up ones in my herb and lettuce garden.
Price
The price of the herbs generally range from $4.00 to $4.50. You can usually get an introductory bundle of a tin shell with 3 herbs of your choice for $19.99.
The cost for the different shell types are:

Tin Shell $8.99
Bamboo Shell $24.99
Rustic Wood Shell $19.99
References / External articles