No video selected.
When surveying the ice cream freezer at the supermarket you don't expect to see a Health Star Rating of 5 out of 5 on any products. All that cream and sugar! That's why I was intrigued when I noticed that FroPro was proudly sporting 5 Health Stars!
How can an ice cream get a 5 star rating?
Great question and one I asked myself. FroPro claims the product was dreamt up by a professional athlete but doesn't identify the said athlete.
The claims on the pack include high protein, low fat, 95% sugar free, all natural, low GI, from 78 calories per serve, gluten free and - health halo overload – guilt free!
Nutrition information Panel
Servings per package: 5
Serving size: 67 g
| | | |
| --- | --- | --- |
| Nutrition | Qty Per Serving | Qty Per 100 g |
| Energy | 326 kJ | 486 kJ |
| Protein, g | 7.0 | 10.4 |
| Fat, total, g | 2.2 | 3.3 |
| – saturated, g | 1.7 | 2.2 |
| Carbohydrate, g | 6.6 | 9.8 |
| – sugars, g | 3.2 | 4.8 |
| Sodium, mg | 94 | 140 |
Ingredients
Fresh Australian Milk, Natural Sweetener Blend (Erythritol, Xylitol, Organic Stevia), Milk Protein Isolate, Fresh Australian Cream, Sea Salt, Natural flavour, Stabilisers (Guar Gum, Locust Bean Gum, Carrageenan)
FroPro is made in Australia from at least 85 per cent Australian ingredients.
Available flavours and taste
FroPro comes in four flavours. Each major supermarket — Coles and Woolworths — appear to each have one flavour that is exclusive to them (Toasted Coconut and Chocolate respectively) and then two others that are common to both (Salted Caramel and Peanut Butter).
I have only tried the Salted Caramel variety. I found it pleasant tasting, although not really like a true salted caramel - not creamy and satisfying. The pack says a serve weighs 67 g and each pack contains five serves. This was an underestimate as we had good-sized helpings along with some fresh berries and found we got seven to eight serves per pack – more than five.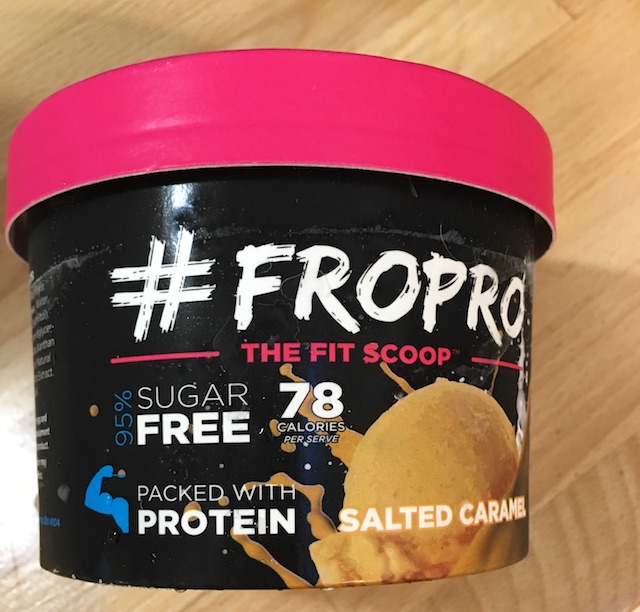 Pros
Lower sugar than most ice creams
High protein content (probably what makes it satisfying)
Low fat
No added sugar (but there would still be natural sugars from the lactose in the milk)
Low GI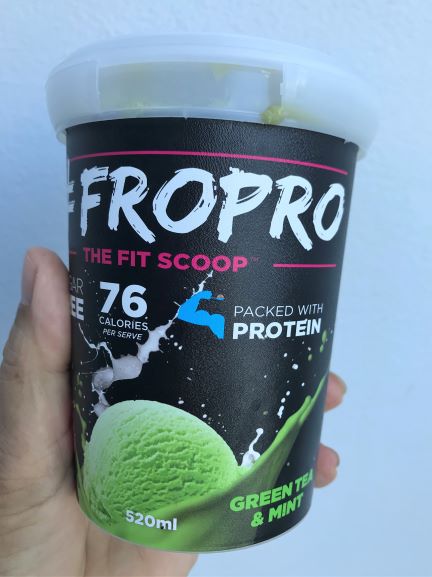 Cons
Contains three artificial sweeteners - Erythritol, Xylitol, Organic Stevia (be careful if you have dogs to ensure they can't get to the discarded containers as even small amounts of Xylitol are poisonous to dogs.)
This is not a 'con' of the product so much as of the website information. FroPro compares its products with three other ice creams by serving size. However, it doesn't mention which flavour is being compared or how big in grams the serving sizes are. A comparison per 100 g would have been more transparent.
It's expensive, at around $10 per 520 ml tub! You can occasionally find it available on special for between $7.00 and $7.50.
Would I buy it again?
Yes. I've bought it several times when I want a bit of treat. In my book, however, it's still a 'sometimes' food.
Thanks to Munaiba Khan, a retired Naturopath with an interest in nutrition for this snapshot.
Note from Catherine: I bought a tub of the GreenTea and Mint flavour from a health food store. Must have been older or discontinued stock as it didn't sport the Stars as described above. Mine was not the same as a creamy ice cream; however it was refreshing on hot days.