Product Snapshot – Ryvita Multigrain Grab & Go
If you're trying to maximise your wholegrain intake while reducing your overall carbs then these crispbreads might just suit you.
Lower carb lunch alternatives.
While not everyone would endorse a super low carb eating regime, I think there is some consensus that generally we eat too many carbs and especially too many refined carbs. These Multigrain Ryvita crispbreads contain 83 per cent wholegrain rye flour, together with buckwheat, toasted seeds, rye bran and salt.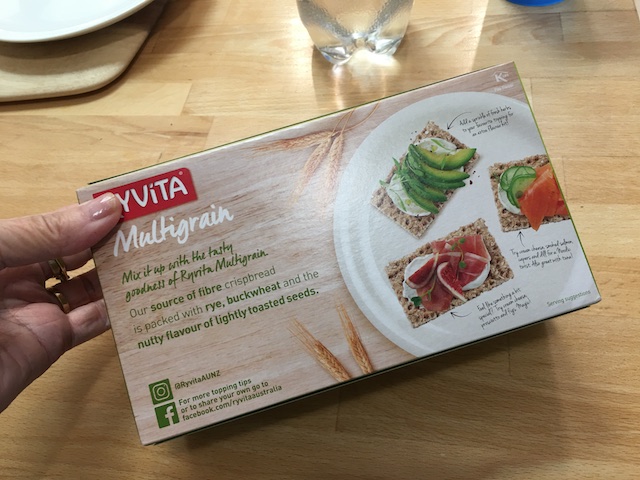 Compared with bread
This is one of the odd times where the per 100g quantity isn't as helpful as the serving size. Normally we look at the per 100g quantities of a nutrient so we can get a fair and equal comparison but here the serving size is more useful. A whole grain rye bread such as Burgen Rye has much less rye and its carbs per 100g are lower at 35g compared to 56g for the Ryvita. However, the serving sizes show the opposite. A serve of the bread (2 slices) has 20.4g whereas a serve of the Ryvita (also 2 slices) has only 11.7g.
Ingredients

Nutrition info

Pros
Only 11.7g carbs per serve
83 per cent wholegrain rye flour
1.1g fat (probably from the seeds)
Tastes great and are nice and crunchy without being too fragile
Make a great platform for open sandwiches – cheese, avocado, tomato, rocket, smoked salmon, pastrami, roast beef – your choice!
Keeps fresh in the individual packs
You can use instead of a slice of toast for brekkie with a boiled egg
$2.85 for a pack with 12 servings (24 crispbreads) so quite economical
Shelf stable

Cons
I didn't like the small "grab & go" packs. Yes, they keep the crispbread fresh but each pack contains 2 serves (4 crispbreads) so tempts you to eat more than you need. As the packs aren't resealable, the two you don't eat will go soggy in your desk drawer.
Too much packaging. The "grab & go" packs add unnecessary extra packaging material in an era where we're trying to reduce our consumption of single use packaging.
Massive air miles as they are made in the UK and shipped here to Australia.

The bottom line
Despite their drawbacks, I like these crispbreads. For me they're more economical than bread, which tends to go mouldy before I can eat it all. Yes, I know I can freeze it, and I do, but it still has more carbs per slice than I want and costs more than the Ryvita. I also prefer the Ryvita to the low carb breads which I find pall after a while, are very expensive and I'm still getting a good dose of wholegrains and seeds.
Post written by Munaiba Khan, a retired naturopath with an interest in nutrition.