Product Snapshot: Sunsol 10+ Mueslis
My new favourite breakfast! Usually I'm pretty disappointed with mueslis. They seem to promise a lot and then under deliver. That's why, like Catherine, I usually make my own. That was until I discovered Sunsol 10+ Muesli.
Muesli with lots of crunchy, chewy bits
The Sunsol 10+ Mueslis come in 6 varieties – Orchard Fruits and Almond, Classic Fruit and Nut, Apple and Berries, Nut Lover's Blend, Fruit Lover's Blend and Ancient Grains and Superfruits. Each one had 10 or more natural ingredients and comes in a hand resealable pack. The two available at my local supermarket were the Classic Fruit and Nut and the Apple and Berries.
Taste test
We had a guest for the weekend whose favourite brekky is muesli and he pronounced both varieties winners in the taste stakes and my husband and I agreed! There were plenty of nuts and fruits in each spoonful and teamed with yoghurt it was a satisfying and enjoyable breakfast.
Content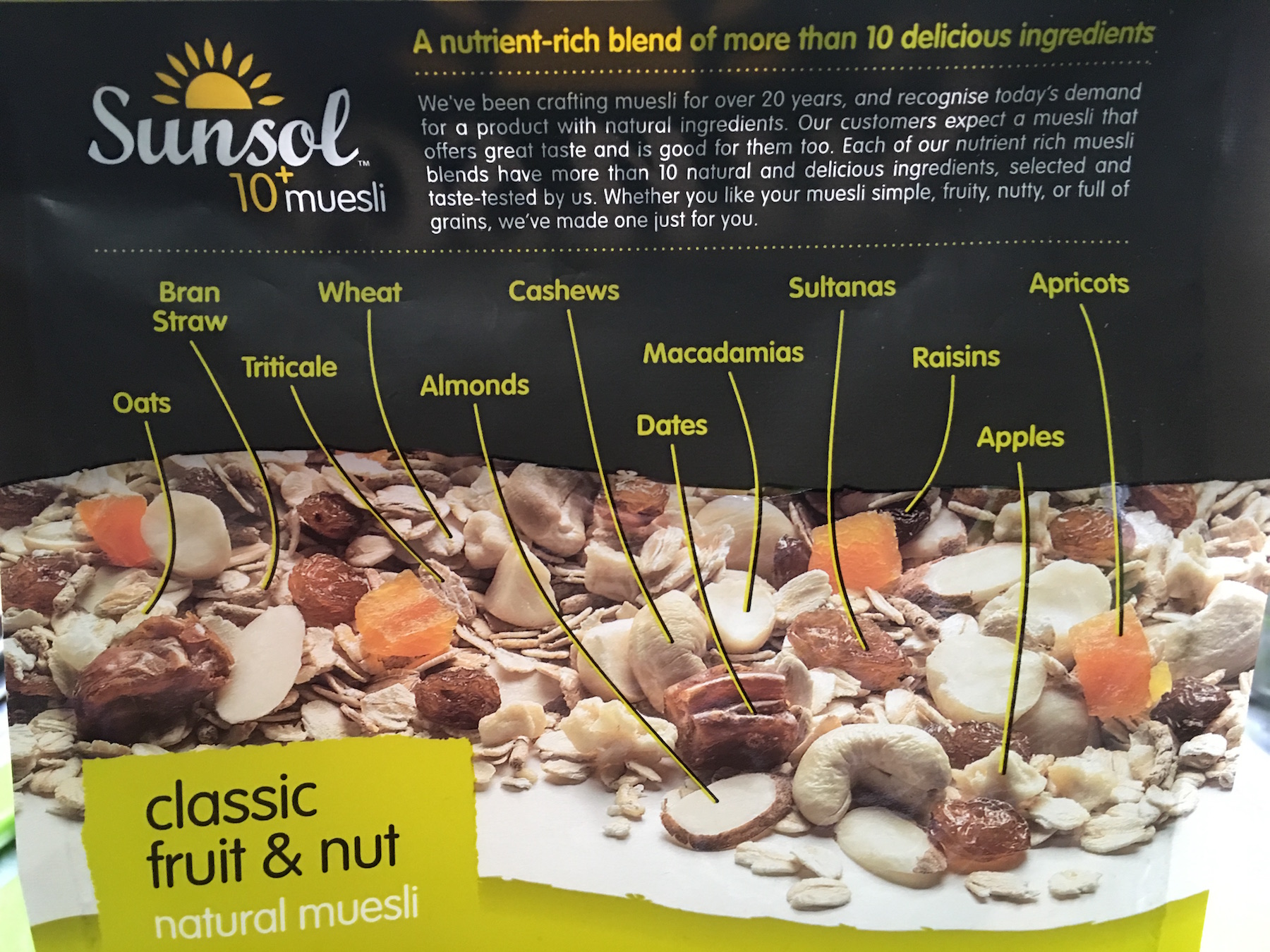 The thing that struck me is that the proportion of tasty ingredients – dried fruits, nuts, seeds etc., – seems to be much larger than in other mueslis I've bought where there's a thin layer of nuts on the top and then a whole pack of oats. The Apple and Berries for example had 9 per cent berries and 7 per cent oats and the Classic Fruit and Nut had 30 per cent fruit and 10 per cent nuts.
Nutrition
The mueslis I tried had no artificial colours or flavours and the Classic had no added sugar either. They were low in sodium and high in fibre. The sugars are the natural sugars found in dried fruits. Checkout the nutrition panels below (Apple and Berries on the left and Classic Fruit and Nut on the right):
Health star ratings
The different varieties are rated differently. These ratings weren't on the packs I bought but you can find them on their website:
Fruit Lover's Blend - 4 stars
Orchard Fruits and Almond, Classic Fruit and Nut, Apple and Berries, and Ancient Grains and Superfruits - 4.5 stars
Nut Lover's Blend - 5 stars
Pros
the mueslis have a good percentage of fruits and nuts
low in salt
high fibre
reasonably priced – regular price from $5.50 to $5.99 per 550g bag
several interesting varieties
Good health star ratings – these aren't on the packs I bought but are on the product pages of the website and no doubt will appear on packs soon.
Cons
They've 'spread the love around' for some reason. So Coles stock the two reviewed here and Woolworths stock a different three and the other supermarkets stock a different mix of varieties. So you'll have to shop around to find your favourite.
The bottom line
These mueslis were on special when I purchased them and a great buy at $4.00 a 550g pack but their regular price is $5.50 per 550g pack. This in the middle range of prices and not bad in my opinion given the quality. You can find out which stores stock which varieties and what's in each of them on the Sunsol website.
Would I buy these mueslis again?
Yes, and I already have. I tracked down a bag of Ancient Grains and Super Fruits and I'm looking forward to trying it.
Thanks to guest reviewer, Munaiba Khan, a retired naturopath with an interest in nutrition.
Save