Kilojoules and fast food – the "in-your-face" facts
From 1 February 2011, all major NSW fast food chains were required to display the kilojoule (calorie) counts of their food with the same prominence as the price. For instance, the Grand Angus has 2780 kilojoules (see picture right). This "in-your-face" information is designed to make consumers take stock of what they, and their children, are eating.
US studies have shown that parents order healthier meals for their children when the kilojoule count of a food is displayed – although their own eating habits remain unchanged. A case of 'Do as I say', not 'Do as I do'?
It's not only the Macca's, Pizza Huts, Pizza Havens, Eagle Boys and KFCs that have to comply. Any food outlet that has 20 or more outlets in NSW, or 50 or more nationwide, have to display the average adult daily energy intake of 8700kJ plus the kilojoule content of their foods.
Kilojoule counts are also coming to Victoria by 2012. The NSW Heart Foundation supports the initiative but will lobby for the outlets to display the quantities of saturated fats and salt too.
It's so easy to overdo it
Many people don't realise that they can easily consume almost 50 per cent of their daily kilojoule allowance just by eating "a big hamburger" plus "big fries". Eg:
Big Mac 2060kJ 24%
Large fries 1900kJ 22%
Total 3960kJ 46%
Similarly, not many realise that a couple of doughnuts is not a mere snack but anywhere from 20 to 36 per cent of your day's total depending on what sort you choose (cinnamon, cream-filled, iced, etc). And that's before we tote up the thickshake or milky flat white you wash them down with.
Two doughnuts, cinnamon 1726kJ 20%
Two doughnuts, choc iced, cream-filled 3150kJ 36%


Two reasons why I'm in favour of kilojoule counts
Highly visible kilojoule counts:
1. get you thinking and talking about how fattening most fast food is. It's loaded with too many kilojoules, as well as too much saturated fats, trans fats and salt, and it's served in super-sized portions. It's easy to keep eating it once you start ("passive over-consumption"). There's little in the way of fibre, vegetables or whole grains to apply the brakes! Read my Fact Sheet on Fast Food and you'll see what I mean.
2. allow you to compare and contrast the menu offerings easily. You can quickly run your eye over the kilojoules on a menu board and note what's high and what's low. For example, if you can see that large fries have almost double the kilojoules of small fries, you can choose to opt for the small bag. Or seeing the kilojoules may help you down scale to a single burger instead of a double burger with extra cheese and a hash brown. Or – God forbid- a Tower Burger or Quad Stack.
| | | | |
| --- | --- | --- | --- |
| Food | kJ | Cals | %DI |
| Fries, large | 1900 | 452 | 22% |
| Fries, medium | 1540 | 368 | 18% |
| Fries, small | 1070 | 255 | 12% |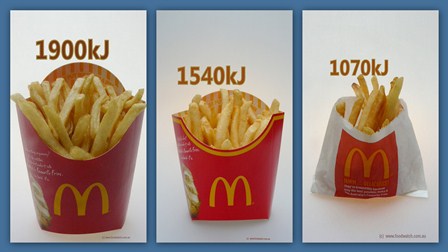 Will it deter people from buying fast food?
I think not. If you are in a hurry and want to grab a quick meal on the road, you're still going to pull over into the drive-through at a burger, pizza or chicken place. Only now the kilojoule counts may impose a little reflection before you purchase. How helpful this nanny-state government move will be in stemming the obesity problem remains to be seen.
While some early studieswere favourable, other studies have reported that menu labelling has made no difference at all - which is a pity. For instance, experience in the US shows that forcing fast food chains to display nutrition labelling has done little to change people's eating habits. Maybe that's just the US. A simple logo identifying which foods are healthiest may be simpler and more effective.
Still got some questions?
This initiative, which I applaud, needs some explanations. Without an education program behind it, most people will have trouble understanding how the kilojoules apply to themselves. For example:
Who is an "average" adult? Is it an average male or an average female? How close are you to the "average"?
And how do you decide how many kilojoules your 5 year old daughter and 12 year son should have?
What's a kilojoule anyway and how does it relate to calories? Many people still don't understand kilojoules and think only in terms of calories.
The answers
I've put together a downloadable pdf that you can print out that provides you with the following:
A list of the kilojoules, calories and their % of Daily Intake for 85 of the most popular fast food and take aways foods. It's a pocket version of the list below.
The 8700kJ daily intake refers to an "average" adult. This figure is used by food companies to calculate their %Dietary Intake figure on the thumbnails on food labels. Tables 2 and 3 in the pdf shows the intake for men and women of all ages for light physical activity.
Kids' levels are harder to define. We've all seen two seven year olds – one who's tiny and the other who's really tall. Should they both have the same intake? Table 4 in the pdf is an attempt to give you the broad averages from sedentary to sporty types.
A calorie = 4.186 kilojoules. A bit hard to remember! That's why in the main Table 1 you'll find figures for 85 fast food items in both kilojoules with their calorie equivalent. If you ever find yourself without it and having to work it out for yourself just err on the side of caution and divide the kilojoules by 4 to get a rough estimate of the calories. For more on calories and kilojoules, read my handy article How to convert kilojoules to calories.

Kilojoules, calories and % daily intake in your favourite fast food
Food

Kilojoules (kJ)

Calories (Cals)

% of your day's recomm intake

McDonald's

Big Mac

2060

490

24%

Quarter Pounder

2300

548

26%

Double Quarter Pounder

3570

850

41%

Grand Angus

2780

664

32%

Cheese Burger

1180

282

14%

McChicken

1710

407

20%

Filet-o-Fish

1270

303

15%

Nuggets, 6

1160

276

13%

Nuggets, 3

582

139

7%

Fries, large

1900

452

22%

Fries, medium

1540

368

18%

Fries, small

1070

255

12%

Salads


Seared Chicken Salad

714

170

8%

Crispy Chicken Salad

1200

287

14%

Garden Salad w Italian dressing

121

29

1%

Wraps

Mini Chicken Seared Snack Wrap

868

207

10%

Seared Chicken Sweet Chilli Wrap

1520

363

17%

Seared Chicken Ceasar Wrap

1660

396

19%

Crispy Chicken Sweet Chilli Wrap

1940

412

20%

Crispy Chicken Caesar wrap

2060

562

27%

Breakfast

Bacon & Egg McMuffin


1240

296

14%

Hashbrown
638
152

7%

Hotcakes - Syrup & Butter
2760
659

32%

Burger King

Whopper

2889

690

33%

Whopper with cheese

3256

778

37%

Ultimate Double Whopper

4884

1167

56%

Whopper junior with cheese

1683

402

19%

The Aussie burger

3618

864

42%

Grilled chicken classic

1562

373

18%

Vegie Whopper

3037

725

35%

Onion rings, regular

1259

301

14%

French fries, small

999

239

11%

French fries, regular

1566

374

18%

French fries, large

2147

513

25%

Pizza, average *

Deep pan (3 medium slices)

BBQ Meat Lovers, Pizza Hut, 291 g

3558

847

41%

Super Supreme Dominos, 229g

2292

546

26%

Hawaiian

2921

695

34%

Cheese lovers

3219

766

37%

Vegetarian

2836

675

33%

Thin crust (3 medium slices)

BBQ Meat Lovers

2524

601

29%

Super Supreme

2349

559

27%

Cheese lovers

2346

559

27%

Hawaiian

2579

614

30%

Vegetarian

2007

478

23%

Fried chicken

2 pieces of fried chicken

2163

515

25%

Quarter chicken (leg)

1422

339

16%

Quarter chicken (leg) and chips

3248

773

37%

Chicken fillet burger

2277

542

26%

Bacon and cheese fillet burger

2479

590

28%

Bondi Burger (Oporto)

2257

537

26%

Rooster Roll (Red Rooster)

2735

651

31%

Nuggets, 6

1270

303

15%

Chips, regular

955

228

11%

Mashed potato and gravy (KFC)

329

79

4%

Twister wrap (KFC)

2167

518

25%

Popcorn chicken (large, KFC)

3087

737

35%

Subway Cold subs

6" Turkey

1160

276

13%

6" Turkey Breast & Ham

1100

263

13%

6" Roast Beef

1090

260

12%

6" Subway Club

1130

270

13%

6" Tuna

1380

330

16%

Hot Subs

6" Roasted Chicken

1180

282

14%

6" Meatball

1710

408

20%

6" Cheese Steak

1440

344

17%

6" Italian BMT

1560

373

18%

Subway Salads with Ranch dressing

Roasted chicken

813

194

9%

Club

783

186

9%

Tuna

1206

287

14%

Veggie Delite

500

119

6%

Take-aways

Sushi, Average all types, per 6 pieces

1170

280

13%

Sausage roll with sauce

2010

479

23%

Meat pie with sauce

1655

394

19%

Steak sandwich

1498

357

17%

Fish 'n' chips

3760

895

43%

Grilled fish with chips

2580

614

30%

Doughnuts, Krispy Kreme, 2 original glazed

1908

454

22%

Doughnuts, Krispy Kreme, 2 cinnamon

1726

411

20%

Doughnuts, Krispy Kreme, 2, Choc iced

2370

564

27%

Doughnuts, Krispy Kreme, 2 Choc iced cream-filled

3150

750

36%

Doughnuts, Donut King, cinnamon, 2

1250

299

14%

Muffin, Muffin Break, Berry Crunch Hi-Fibre

2540

606

29%

Muffin, Muffin Break, Apple Berry Bran, 167g

2060

492

24%

Cookie, Muffin Break, Chocolate Chip Regular, 90g

1560

373

18%

Cookie, Muffin Break, Chocolate Chip Jumbo, 200g

3520

841

40%

Recommended day's intake*

8700

2000
Source: Analyses from fast food chains and take-away shops as at 14 Jan 2013. Pizza figures average of national chains including Pizza Hut, Pizza Haven, Dominos and Eagle Boys
*Based on the recommended day's intake for an average adult.
To work out calories, divide kilojoules by 4.186 or simply 4.
Calorie/kilojoules counts on fast food menus in the news
Calorie counts no effect on what kids order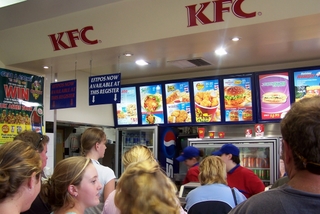 Listing calories on fast food menus does not seem to affect the choices of children and adolescents in low income communities, or choices that their parents make for them, says a 2010 study. This research was conducted in 2008 before and after implementation of the calorie labelling law in New York. The scientists collected receipts and conducted short interviews with consumers from four fast food chains, McDonald's, Burger King, Wendy's and Kentucky Fried Chicken, based in New York (where calorie labelling had just become mandatory) and Newark, New Jersey (which they used as control).
---
Choice surveys the worst of fast food (and gives you healthier options)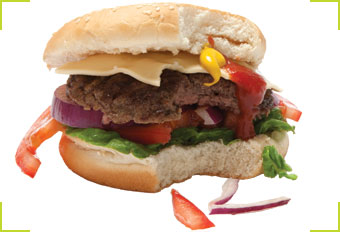 Oporto, Red Rooster, Subway, Domino's, Pizza Hut, KFC, Hungry Jack's, McDonald's. Burgers and chips, sushi, noodles, pizza, wraps – we're spoilt for choice when it comes to convenient fast food. Choice looks at the worst and best choices including things from healthier menus as well as those whoppers and quad stacks that young males love to wolf down. Read more.
---
Only one in 6 fast-food customers cut calories after US food labelling system introduction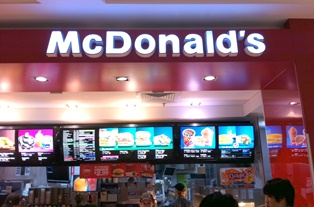 Around a sixth of fast food customers used calorie information and, on average, bought food with106 fewer lower calories than customers who did not see or use the calorie information. The study tracked the introduction of a menu labelling system in the US, with results published in the British Medical Journal. US researchers found there has been a small but positive impact from a law introduced in 2008 in New York requiring chain restaurants with 15 or more branches nationally to provide calorie information on menus and menu boards in the city.

For example, at McDonalds, average energy per purchase fell by 5.3%, at Au Bon Pain, it fell by 14.4% and at KFC, it dropped by 6.4%. Together, these three chains represented 42% of all customers in the study. However, average energy content increased at one chain – Subway – by 17.8% where large portions were heavily promoted.