Wilted vegetables, milk past its use-by date, stale bread, last weekend's leftovers - who isn't guilty of throwing uneaten food into the garbage bin? While it might not feel like much at the time, as a nation Australians waste over $5.3 billion worth of food each year, according to a survey carried out by The Australia Institute.
The survey found that, each year, Australians throw out:
$1.1 billion worth of fresh fruit and vegetables
$1.1 billion of restaurant and takeaway food that was ordered and not eaten
$872 million worth of meat and fish
$570 million of bread, pasta and rice
$512 million of dairy products.
The Institute says that as a nation we throw away more food, in dollar terms, than we spend on digital equipment such as flat screen TVs.
Food waste an environmental issue
Food waste is not only costly but an environmental disaster. Think of the energy it takes to grow, harvest, process, package, transport, store and cook all that wasted food. Worst of all, most food waste ends up as landfill which generates methane – a potent greenhouse gas. It's been calculated that each tonne of food waste contributes the equivalent of almost one tonne of carbon dioxide.
8 tips to reduce food waste and increase recycling
It's high time we started to cut food waste. All it takes is a little planning, and knowing how to store foods correctly, recycle its packaging and compost any food waste. Here's what we need to do: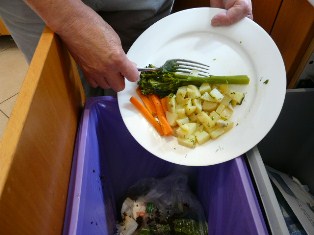 Plan meals in advance; check what you have already; buy only what you need; and chill or freeze leftovers for another day.
Compost your food scraps or use a worm farm. Compact systems for apartments (such as Bokashi buckets and small worm farms) are widely available.
Home-grown vegetables and herbs need no packaging, are fun to grow and good to eat. Grow herbs in pots on a balcony, or start a vegetable patch in a sunny corner of the back garden.
Join a community garden. Contact your local council if more community gardens are needed in your area. Schools can get involved via Stephanie Alexander's Kitchen Garden project.
Select foods with minimal packaging. Buy foods such as rice, pasta, legumes, oats and nuts in bulk.
Get into recycling – have separate kitchen bins for bottles/cans, paper/cardboard and green waste depending on what your local council collects.
Buy a re-usable drink bottle to carry water with you. If you don't like the taste of your tap water, invest in an inexpensive filter jug to remove impurities and off-tastes.
Eat foods in season – that's when they're cheapest and at their peak nutritionally.
What you can compost
Vegetable peels and trimmings, wilted vegetables and herbs, fruit peels, prepared foods, cooked and uncooked meat and fish, egg shells, stale bread, coffee grinds, tea leaves and wilted flowers.
In our garden, I "feed" our birds-nest-ferns vegetable trimmings and fruit scraps (as long as there's no seeds) along with the more accepted banana peels. The ferns thrive on it!
For more information, take a look at:
Handy ways to use up your leftovers
I love this recipe book by the resourceful cook Hugh Fearnley-Whittingstall who is a fave celebrity chef of mine. Think River Cottage TV show. He has great ideas to use up that extra rice, greens, bread or a glut of produce - not forgetting all those Christmas leftovers.
Rescuing still-good food
Edible, unwanted food, including restaurant leftovers, is often "rescued" these days to feed the hungry by organisations such as Foodbank and Ozharvest:
www.ozharvest.org "rescues" 15 tonnes of good food each week from caterers and restaurants to give to people who don't have enough to eat.
www.foodbank.com.au acts as a "conduit" between manufacturers and retailers to supply unused food to over 2,000 welfare agencies across Australia.
Healthy recipes to use up odds and ends in your fridge (and so PREVENT waste)
Save
Save
Save
Save
Save
Save
Save
Save
Save
Save
Save
Save
Save