Zero-alcohol beers that taste like the real thing!
During Febfast in 2021, I found a glass of non-alcoholic beer was a great way to tackle that 'pre-dinner drinks hour' and was very refreshing in hot weather. It tasted like the real thing and it was no hardship to swap to this healthier alternative.
Zero-alcohol beers a great alternative to soft drinks
The thing I liked most of all with the no-alcohol beers I tasted was that they were not sweet at all, unlike cordials and juices with their sugars whether added or natural.
Comparison with alcoholic beers
There is a whole range of zero-alcohol beers these days, and the ones below include ones I tasted and liked and others I have yet to try They look, smell and taste like real beer.
These no-alcohol beers, ales, lagers or pilseners make a good alternative to full-alcohol beers (4 to 5 per cent). Think about it - you can still drink with friends and be sociable, drive without worrying about the booze bus, and not wake up with a pounding head the next day.
Where do the kilojoules come from?
Kilojoules or Calories come from the alcohol content of beer or wine. So, beer is a good choice anyway because it is lower in alcohol than wine (12 to 14 per cent), or spirits (around 40 per cent).
For instance, a 330 mL bottle of zero-alcohol Heineken contains only 290 kilojoules or 69 Calories as well as 16 grams carbohydrate and no sugars. In contrast, the same size bottle of Heineken 5% beer contains 575 kilojoules or 137 Calories but only 10 grams carbohydrate and no sugars.
Australian beers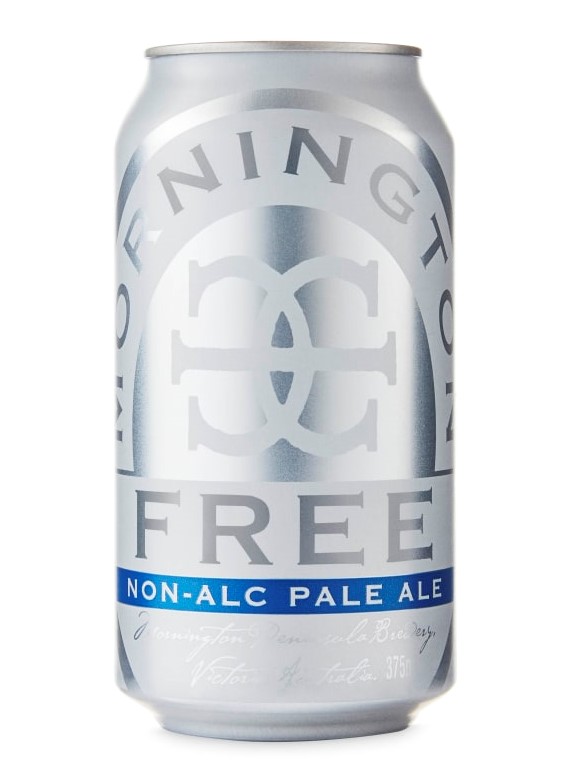 Mornington Peninsula Non-Alcoholic Pale Ale – yes, it comes in cans but this is not a bad drop. I enjoyed it.
Other Australian beers on my list to try include:
Hawkesbury Brewing Ultra Low Alcohol Pale Ale
Coopers Birell Premium 375 mL bottles
Great Northern Zero-alcohol
Carlton 0.0
Imported beers
Overseas, the market is far more advanced than in Australia. The beers are first brewed then the alcohol is removed and the beers further blended to achieve a fruity flavour.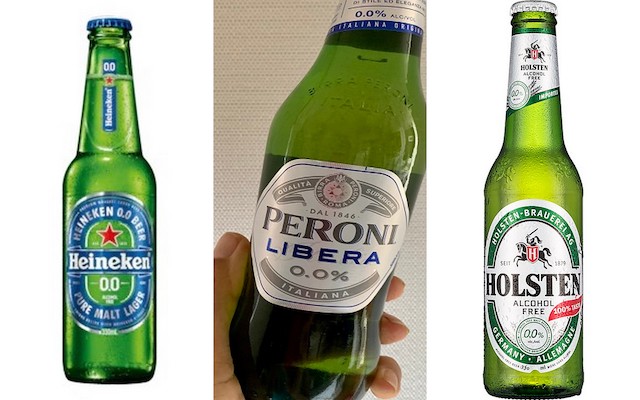 Peroni Liberi – I quite liked this beer and it is available at large supermarkets which is very convenient.
Heineken Zero – This is another good beer to buy especially if you like the soft malty notes. With a distinct fruity taste, this beer is brewed in Holland (unlike the full-strength version sold in Australia).
Holsten – Was a tad watery in flavour so was best served cold. This was a no-suffering beer from the famed Holsten brewery.
Other beers on my 'to-try list'
Schlossgold Non Alcoholic Beer 6x500ml
Erdinger Weissbrau Alkoholfrei
Hollandia
Bitburger Drive
The bottom line
Remember to drink these zero-alcohol beers ice-cold, the colder the better. Please let me know if I've missed any. The beers all taste better than the zero-alcohol wines I have tasted which are NOT a great substitute, and tasted a tad too sweet and more like grape juice than wine. Sorry.
Note:
In legal terms, a full-strength beer must contain 4.8 per cent alcohol by volume (or ABV), mid-strength beer has 3.5 per cent ABV, low-strength beer has 2.7 per cent ABV. Low-alcohol beverages must contain less than 1.15 per cent ABV. There is currently no legislation for beers with no alcohol at all. Read more here.