Jacket Potatoes
Ready In: 85 - 95 minutes
Prep Time: 25 minutes
Cooking Time: 60-70 minutes
Serves: 2
In the cooler months, there is nothing more comforting than warm oven-baked potatoes. Jacket potatoes can be filled with loads of nutritious ingredients (not just sour cream and cheese!) to give you both a nutritious yet comforting meal. They are also very versatile so I encourage you to get creative with toppings and seasonings (see ideas below).
Ingredients
2 medium potatoes, skin left on, washed well
200g lean beef mince
1 small onion, chopped, or 1 teaspoon onion powder
1 clove garlic or ½ teaspoon garlic powder
½ teaspoon cumin
½ teaspoon ground coriander
2 teaspoon tomato paste
1/3 cup stock (chicken, beef or vegetable)
60 g mixed leaf salad or lettuce leaves
1 tablespoon olive oil
1 tablespoon balsamic vinegar
TO SERVE:
1 tomato, finely diced
Natural yoghurt
Coriander leaves
Nutrition per serve
1845 kJ (442 Calories), 30 g protein, 21 fat (including 5g saturated fat), 29 g carbohydrate (including 7 g sugars), 6 g fibre and 351 mg sodium.
Directions
Preheat the oven to moderate (180°C).
Prick each potato with a fork, then place on a lined baking tray and bake for 60-70 minutes or until cooked through.
When the potatoes have 25 minutes remaining, prepare the mince and salad.
Mince: Heat 1 teaspoon of oil in a pan. Once hot, add the beef mince, onion and garlic and cook for 1-2 minutes. Then add the dried ingredients (including the onion and garlic powder if you're using them instead of fresh) and mix through.
Once the mince has browned, add the tomato paste and stock and mix to combine. Reduce the heat and let the mixture simmer until the liquid has almost evaporated.
Salad: Mix together the olive oil and balsamic vinegar. Place the mixed leaf or lettuce into a bowl and dress with the balsamic mixture. Keep in the fridge until ready to serve.
Once the potatoes are done, remove from the oven. Let them cool slightly then using a sharp knife, cut a cross on top of each potato and gently pull apart to allow space for the filling. NOTE: the potatoes are hot out of the oven so be careful you don't burn yourself on the steam!
Top each potato with some mince mixture, diced tomato, a dollop of natural yoghurt and coriander to garnish.
Serve each potato with a side of leafy green salad.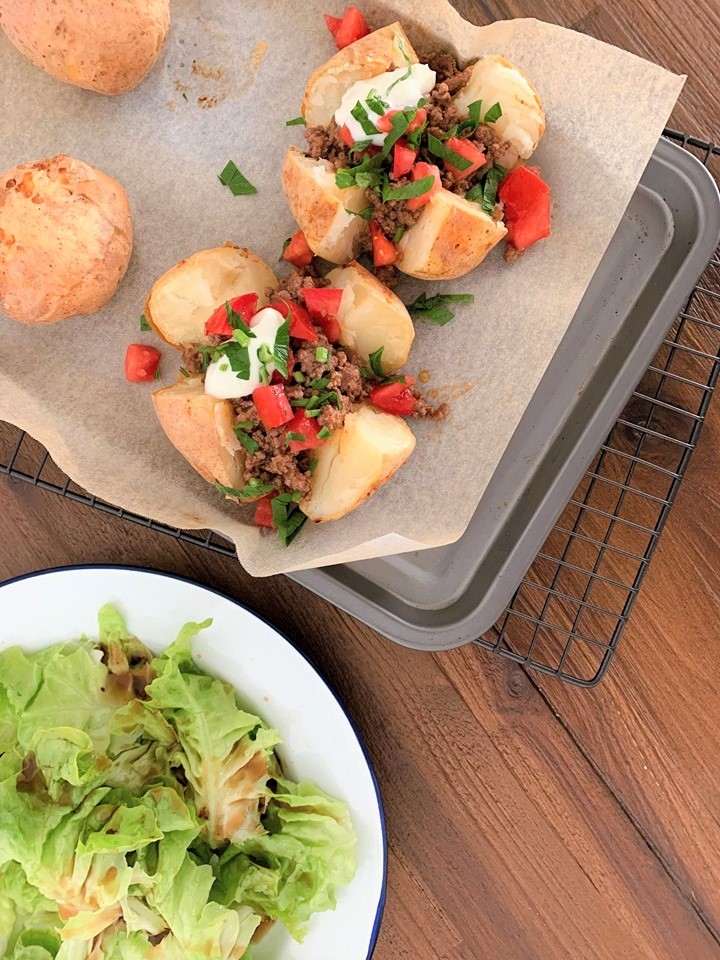 Recipe and photo by dietitian Sophie Feng.
Variations
Change seasonings and toppings based on what you feel like e.g. taco seasoned mince, leftover spag bolognaise mince, swap out beef for a can of flavoured tuna, make a vegetarian meal by using lentils or chickpeas.
Swap regular white potatoes for sweet gold potatoes. Opt for either 2 smaller sweet potatoes or share 1 large potato between two.