Product Snapshot – Dillicious – Australian Dill Pickles
I'm a big fan of dill pickles so I was interested to try these Dillicious Aussie ones. I ordered them online and they arrived in short order, well packaged in recyclable materials. Take a look at what I thought of them.
Dill pickles in Australia
A couple of years ago I reported on another Aussie brand of dill pickles, Handsome Devils Dill Pickles but I've found them a little hard to source so when I saw an ad for the Dillicious ones (sorry but I hate the name) I thought I'd give them a go.
Sweet
Look, these were all right, but I wouldn't rave about them. They weren't particularly sweet or strongly dill flavoured. I probably wouldn't buy them again.
However, if you like mild flavoured, crunchy Aussie made pickles instead of the imported variety then these may be for you.
Spicy
These were much nicer. They were sweeter (strange as they had no honey like the 'Sweet' ones above) and they had more of a dill flavour than the sweet pickles despite have less dill according to the label.
They also had a lovely hit of chilli. Beware though, if you bite in to it with abandon you could squirt spicy pickling liquid to the back of your throat and cause a coughing fit. Ask me how I know!
Garlic
I found the acidity of the pickling liquid in this variant overwhelming. It may be the same as the other varieties but somehow it seemed to dominate and the cucumbers didn't taste particularly 'garlicky' either.
However, the pickles were nice and crunchy and went very well with cheese and crackers.
Nutrition info
Sweet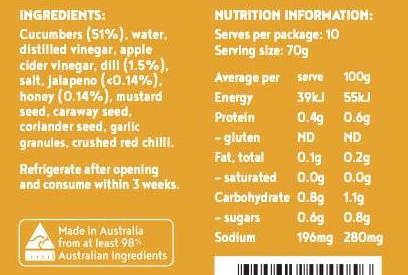 Spicy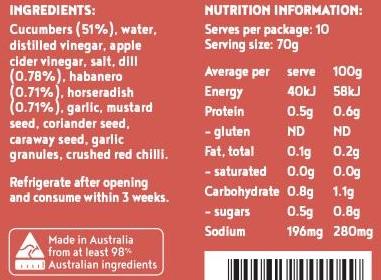 Garlic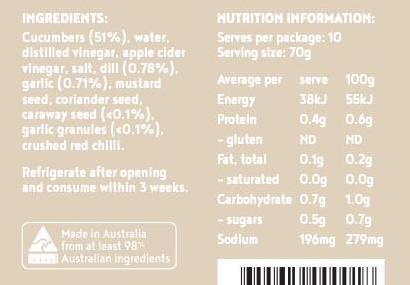 Cost
The three large (700g) jars cost $40.00 plus postage ($10.00). I was impressed by the safety of the packaging and the fact that they used recycled, and recyclable, materials.
The company
Dillicious is a family company located in the Mornington Peninsula in Victoria. They use Aussie grown cucumbers from Queensland in their "American-style dill pickles". Liza, (one of the owners, I'm assuming) is a qualified dietitian and is determined to make sure their "dillicious pickles can be enjoyed guilt-free". The pickles have no added sugar and are sulphite-free. To order, or to check out all the available options, or learn more about the company you can visit their website here.
The bottom line
My husband and I both enjoyed these pickles, though I would have preferred a more prominent dill flavour. Would I buy them again? Yes, as I like to support Australian businesses using Australian produce, but I'd only buy the spicy ones and probably the sliced option rather than the half cucumbers.
Product reviewed by Munaiba Khan, a retired naturopath with an interest in nutrition.