Product Snapshots - Kellogg's Special K Biscuit Moments
From the outside, this looks the size and shape of a muesli bar but contains two crisp, thinnish fruit-filled biscuits packed in an individual 25g pack. They're sold in a box of 5 packs so you get 10 biscuits.
Yes they're sweet, they're refined and processed with added sugar and fat but then so are all other biscuits too. I like them because Kellogg's have got the serve size right – with 25 grams (just under an ounce), one Biscuit Moment wouldn't be enough to satisfy but two just rounds off any sweet cravings nicely.
Being under the Special K brand, it's obvious Kellogg are placing these firmly in the diet snack/treat category.
I also liked them for dieters as there's not a whole open pack sitting there to tempt you. We all know that feeling – facing those highly palatable foods that are formulated to meet our 'bliss points' for sugar, fat, crispness and delectability. Before you know it, you've eaten way more than you intended. I call it the Tim Tam effect. You sit down to eat 'just one' with a coffee then a moment later look down and realise that you've somehow managed to scoff down half the pack without realising it! Thanks to the neat packaging, this won't happen with these Biscuit Moments.
Their taste is pleasant – crisp, sweet, not artificial as many diet products are. I sampled the strawberry flavour which was pleasantly fruity without being noticeable in one way or another.
Label claim: two biscuits for less than 110 calories
Special K Biscuit Moments contain 8% fat, 76% carb and 26% sugars with little protein. But with their set serve size of two biscuits or 25g, those figures translate to only 2 grams of fat, 19g carbs, 7g sugars and 102 calories(430kJ). Note the actual calorie count is LESS than claimed on the front as they're making sure they cover themselves.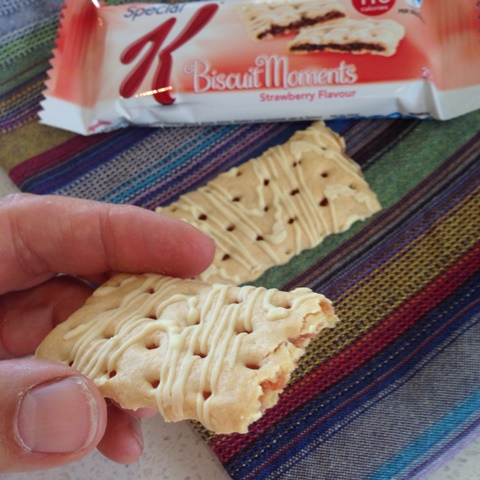 Compare two Arnotts Snack Right Fruit Pillows biscuits (billed as a healthier alternative to biscuits) and you'll see you're in the same ballpark. The Pillows give you 3 grams fat and 126 calories (520kJ) which is about half of a similar regular fruit-filled biscuit such as Full-o-Fruit.
Stacked up against a muesli bar such as Uncle Toby's Yoghurt Topps, the biscuits are lower than the bar which at 31g supplies 130 calories and 560kJ and 4.9 g fat.
The bottom line
If you were hankering for something small and sweet to have with your morning coffee or wanted to satisfy a sugar craving, this would definitely hit the spot.
PROs
less than 110 calories
handy, packaged* portion size
good flavour
crispy and enjoyable.
CONs
loaded with carbs
and sugars
lots of packaging*
*packaging is both a plus and minus as the individual packs assist your will power but fill up the landfill