7 reasons why I love my wok
I'm a big fan of wok cooking and the stir-fry. They're fast, easy, good for you, infinitely variable and get you eating vegetables – in big quantities. I use my wok at least a couple of times a week. Think fresh, in-no-time, fun and last minute.
A wok is shaped like a big bowl, with lots of "side walls" and a small base. This means that any oil you are using is constantly collecting at the bottom and getting very hot. You only need to use a small amount because you keep pushing the food through it - as opposed to needing it to cover a whole pan - and high heat to quick cook your ingredients. The oil simply coats and mixes in with the fresh ingredients.
Not convinced? Here's my 7 great reasons why I'm in love with my wok (and you will be too):
1. It's quick!
It's a cooking method that's perfect for those with a hectic time-poor lifestyle! Like me! Once you start to cook, dinner's ready in 5 minutes.
2. It saves washing up!
All the ingredients go into one wok. Clean-up is minimal. I leave mine to soak in warm (not cold) water as soon as I serve up.
3. More vitamins
It cooks things quickly so vegies retain much more of their vitamin and mineral content. Compared to boiling, stir-frying keeps all the water-soluble vitamins and minerals in the dish rather than pouring them down the sink with the cooking water. The classic wok vegetable, bok choy, choy sum and other Asian greens, are nutritional powerhouses, packed with vitamin C, vitamin K, beta-carotene, folate and the minerals potassium, magnesium as well as lutein and phyto-chemicals.
4. Makes vegies appealing
You keep their crisp texture, good colour and tasty Asian flavours. It entices you to buy fresh vegetables (although I've added frozen peas, frozen spinach and canned chick peas to many a stir fry).
5. Variety
Typically you use at least three vegetables plus garlic and onion and maybe ginger or chilli depending – see recipe. The only negative is you have to buy enough to cook but on the other hand, you can use whatever you have hanging around at the bottom on the veg crisper.
6. My sorta eating
Wok cooking encourages a principle of 'Light on meat, heavy on vegetables' which is the way I like to recommend we eat. For instance, if you do a beef and vegetable stir-fry, you use less red meat than might be served in a steak-and-three-veg meal. So you end up eating much less fat, much more vegetables and provide a healthy serving of protein without going over board. It's now got a fancy name "plant-based meals" but you get my drift.
Stir-fry for 2:
250g/8oz raw beef strips
3 cups (350g/9oz) sliced vegetables + onion + garlic
Steak and veges for 2:
500g/1lb beef steak
1 carrot + 125g/4oz green beans

7. Flavour
Wok cooking calls for wonderful natural flavourings such as chilli, pepper, ginger, garlic and fresh coriander or mint rather than salt, sugar or fat (think cream or butter).
One final note
Go easy on those stir-fry sauces from the supermarket. Use them sparingly – just enough to compliment and lift the flavour rather than drown the dish in heavy sauces. This keeps the real flavour of the vegetables rather than getting hooked on sweet or salty sauces with unhealthy additives. Less is best.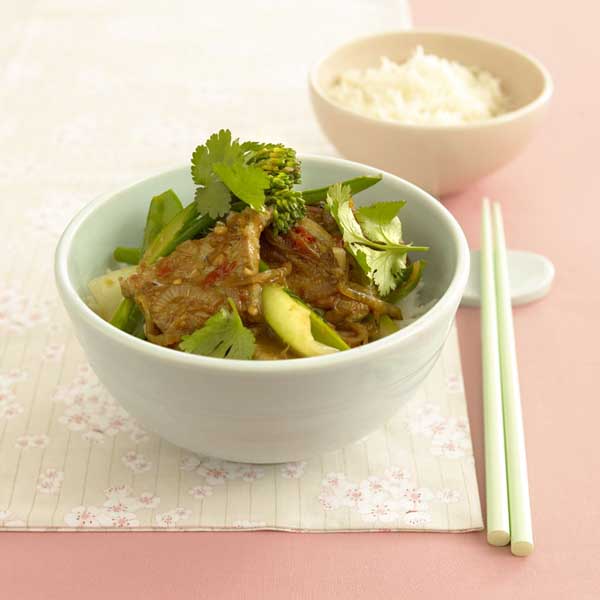 Get cracking on one of my fav stir-fry recipes. Try this delicious pork and Asian green stir-fry for dinner tonight.