No video selected.
(chopped tomato, walnut and sumac salad)
I love this salad at the end of summer when tomatoes are ripe and plentiful and fresh pomegranates are in season. It's reproduced here, with permission, from a beautiful new book - Anatolia: Adventures in Turkish Cooking by Somer Sivrioglu and David Dale.
Spoon salad – the recipe
This salad is served with kebaps all over Turkey, and is designed to be eaten with a spoon. It's just a finely chopped salad, with the tomato pieces no bigger than the pomegranate seeds.
Ingredients
6 ripe tomatoes
1 red onion
1 bunch mint
½ bunch flat-leaf (Italian parsley)
1 cup (115 g) walnuts
3 green bullhorn peppers (or 1 green capsicum)
1 green chilli
1 tablespoon sumac
2 tablespoons pomegranate molasses
¼ cup (60 ml) olive oil
1 teaspoon apple vinegar
1 teaspoon sea salt
½ cup (150 g) pomegranate seeds
Instructions
Quarter the tomatoes, remove the white centres and then finely chop. Finely chop the red onion. Discard the mint and parsley stalks and finely chop the leaves. Finely chop the walnuts. Cut the bullhorn peppers and the chilli in half, and remove the seeds and stalks. Finely chop. Mix all the chopped ingredients together in a salad bowl.
Mix the sumac, molasses, olive oil, vinegar and salt together. Pour onto the salad and toss.
Sprinkle the pomegranate seeds on top and serve.
Serves 4
The book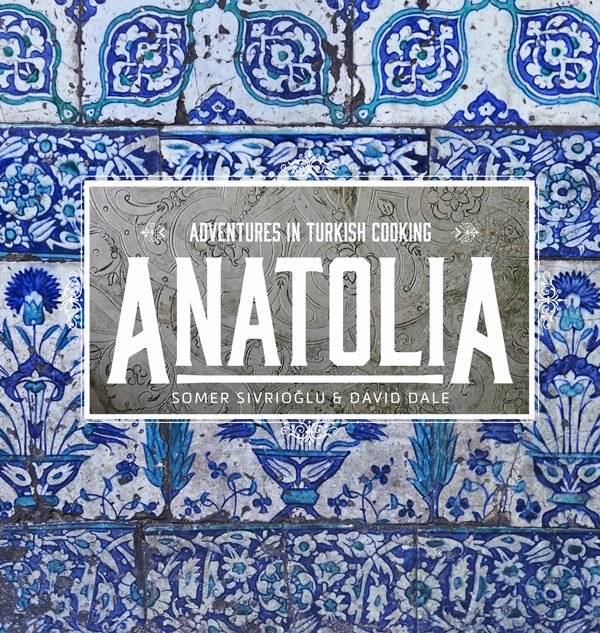 Anatolia: Adventures in Turkish Cooking by Somer Sivrioglu and David Dale.
A gorgeously produced book full of lovely photographs and tasty recipes.
Published by Murdoch Book 2015.
Price $79.99 hardcover 360 pages.
Photo courtesy of Murdoch Books