Product review: Alpine Lower-carb bread
If you love bread but need to shed a little weight; or perhaps you're trying to eat a diet lower in carbs; then this might be the bread for you! Tasting just like regular bread, this loaf has more protein, more fibre and less added sugars as well as lower carbs. Take a look as I check out how it measures up against 'regular' bread.

This post has been sponsored by Bertalli's Alpine Breads.
Lower carb breads
Over the years we've reviewed several lower carb breads ranging from 25 per cent lower through to 85 per cent lower. This Alpine lower-carb bread sits towards the lower end at 78 per cent lower in carbs. This is a bit of a 'sweet spot'. It's low enough to be a significant reduction in the amount of carbohydrate but not so low that it becomes dark, heavy and a little unpleasant to eat. In fact, I really liked this bread. Take a look at how it scored for Taste, Nutrition, Convenience and Sustainability.
Taste: 9 out of 10
This bread looked and tasted just like a regular bread – soft, with an aerated crumb. It kept fresh within its thick square bag and was lightish in colour (unlike some of the darker lower-carb bread offerings)
It made a lovely sandwich which makes it ideal for school and office lunches.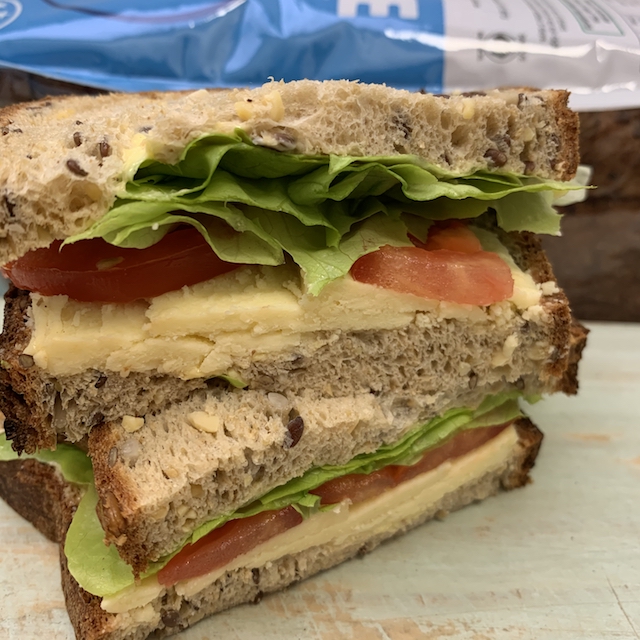 The slices area little smaller than those of a 'regular' loaf and this is reflected in the serve size – 65 grams for 2 slices rather than 80 grams for the two. This smaller size is common to all low-carb breads but it still means you can enjoy a sandwich or a piece of toast.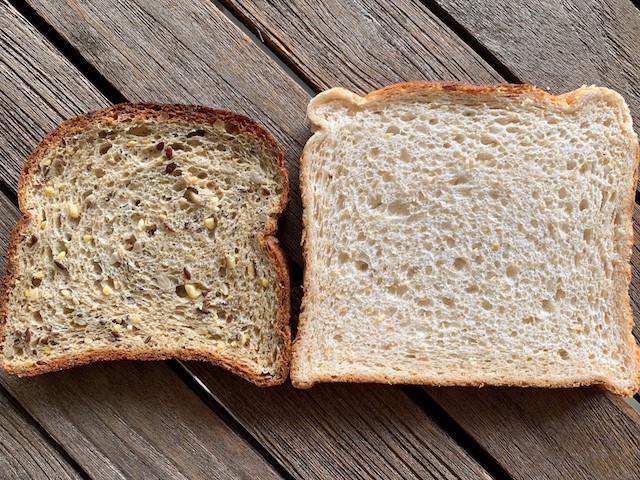 Toast
This bread toasts nicely – a light and even brown colour once out of the toaster. However, it toasts quickly so keep an eye on it so it doesn't burn.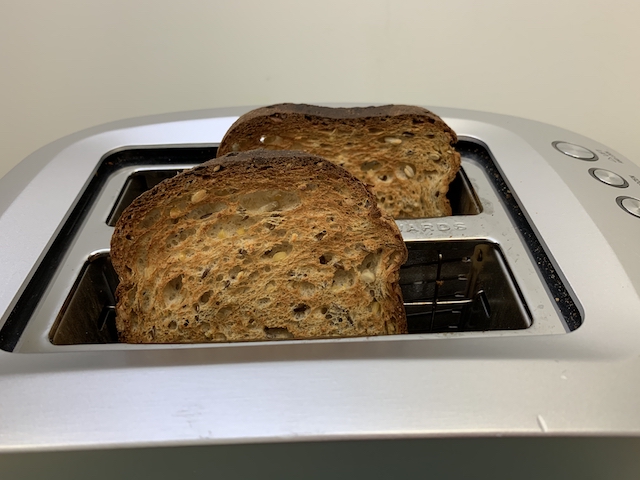 Nutrition: 18 out of 20
No doubt about it – this bread is nutritious and supplies protein, fibre, a few carbs along with B vitamins. Here is its list of ingredients, listed from the most (largest) to the least:
List of ingredients
Water, wheat protein (gluten), soy grits, linseeds, sunflower seeds, wheat fibre, modified wheat starch (1413), apple fibre, wheat protein isolate, yeast, vinegar, iodised salt, mineral salt (516), emulsifiers (481).
1413 = phosphated distarch phosphate (a thickener to bind everything together)
516 = calcium sulphate (a common flour treatment agent)
481 = sodium stearoyl lactylate or SSL (a commonly-used bread emulsifier)
The bread is Pareve (which means neutral under Kosher food laws) as it contains neither meat nor dairy. Marked by a K symbol.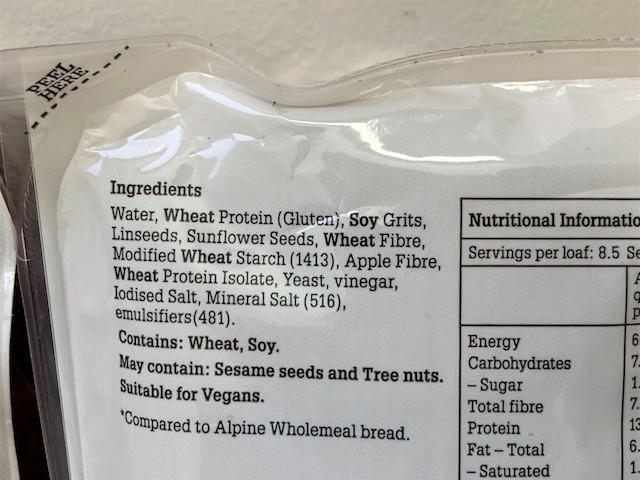 Any allergens?
Wheat and soy are both present so this bread is NOT suitable for anyone with intolerances to either of these. There's also a "May contain" warning for sesame seeds and for tree nuts – so this loaf must be baked in the same tins as other breads. Also, the second largest ingredient is gluten so definitely not suitable for the gluten sensitive.
Key nutrients
At 20 per cent, this bread is a source of protein (not of carbohydrate) coming from the wheat gluten and soy grits. Then there's the starchy carbs at 11 per cent which is around the same as fibre, also 11 per cent. It's also a source of fat which comes from the linseeds (a source of omega-3 essential fats) and sunflower seeds, and comes in at around 10 per cent fat
Sodium (a measure of salt) is only 359 mg per 100 grams, which is less than the suggested ideal of 400 mg. All good news.
The bread also has a 5 Star rating on the Health Star Rating, another plus!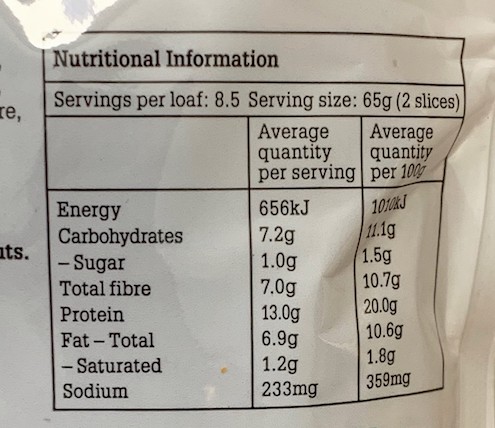 Who would this product be suitable for?
At only 656 kJ (156 Cals) for 2 slices, anyone who loves bread but needs to lose a little weight or is calorie-counting or carb-counting can happily tuck in. Regular bread comes in around 830 kJ (198 Cals) for 2 slices so you'll save.
Anyone who eats by the number of slices – say two for a sandwich, one for a slice of toast.
Anyone one looking for a bread to fit into their low-carb eating program.
Convenience: 8 out of 10
This bread is ultra-convenient. It comes in a square, sturdy plastic wrap with an easy "Peel Here" corner at the top. No plastic bag to twist or use the small plastic clip to close. You just tuck the flap in and the bread keeps remarkably well for a week or so.
It's stocked at all Coles and independent supermarkets in Victoria such as IGA and Foodworks where it retails for around $6 a loaf. This is in line with other low-carb breads. You can also purchase it direct from the Alpine Breads website.
Sustainability: 9 out of 10
This lower-carb loaf is baked in Australia (Benalla in Victoria to be exact). It says it is made from 75% local ingredients but I double-checked this with the manufacturer and discovered, to my delight, that it is now 100% Australian ingredients. The wheat gluten – that final 25% - is manufactured by Manildra Mills, and was made in USA. However, as of three months ago, it is now made in Australia.
Overall score 44 out of 50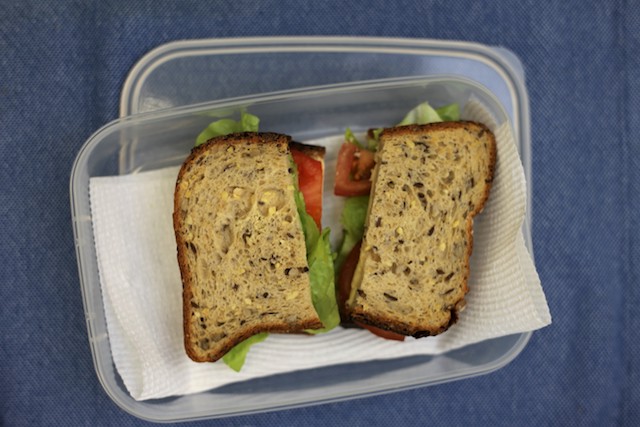 More details at the Alpine Breads website.
The final word
This bread has a lovely aroma and taste and I would definitely buy it again. I can see it will also have great appeal for body builders and anyone on a keto or lower-carb diet. With the trend to lower carbs (we don't need lots of carbs unless we are physically active), it's a good way to go. I love bread and it was a winner for taste and nutrition with me and with all the taste testers.
Thanks to our tasters Mary, Lee, Dave, Georgia and Anne.