Product Review: Simply Soups
There's lot to love about soup. When it's cold outside it warms you up and once made, it's quick to reheat in a mug when you're hungry or in a hurry. What's more it gets you closer towards those five serves of vegetables you're meant to eat each day. Best of all, there's good research to show that soup can help you shed weight if you need to.
I love soup and cook up vats of it during winter. Sometimes though, it's handy to have some sitting in the cupboard for unexpected guests or when you've run out of oomph.

This post has been sponsored by Campbell's Simply Soup.
Save
Save
Save
Save
Save
Save
A pleasant surprise
Sadly I've not found many canned soups that hit the spot when it comes to taste and nutrition. So it was with few expectations that I assembled a team of taste testers to slurp down 5 varieties of the new Simply Soups to see how they shaped up.
When you first spot a Simply Soup, I'll wager you'll think you're buying a block of the familiar Campbell's liquid stock, like chicken stock or beef stock. But you're not – you're buying an easy light meal solution and a way to take in your vegetables.
We taste-tested 5 varieties (there are more,and new ones appear each season) which were: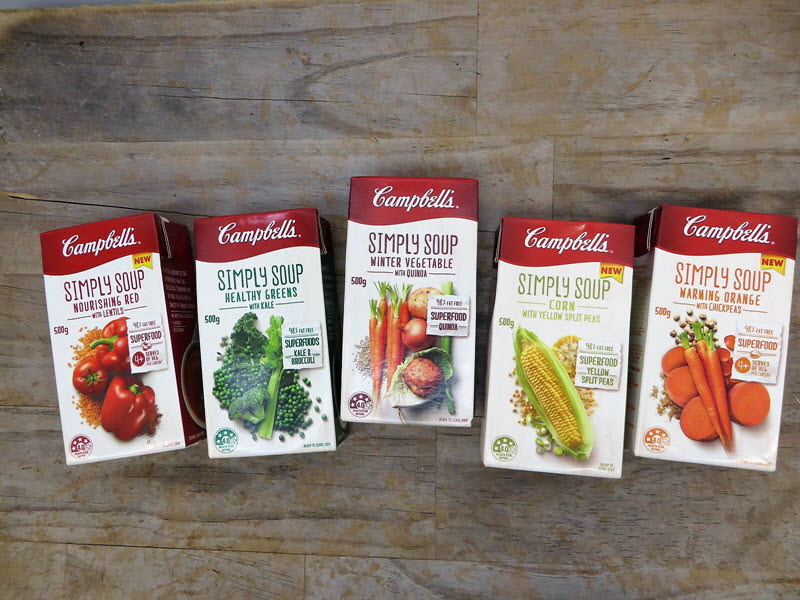 Corn and Yellow Split Pea
Healthy Green with Kale and Broccoli
Winter Vegetables with Quinoa
Nourishing Red with Lentils
Warming Orange with Chickpeas (which is undergoing a name change to Sweet Potato with Chickpeas)
Taste: 7 out of 10
All five soups have a good flavour, aroma and texture. They aren't thin and watery, nor do you have to add water to them. I reckon they're better than a can of soup with more texture and more flavour, less salt and way better than a packet or cuppa-soup with their additives.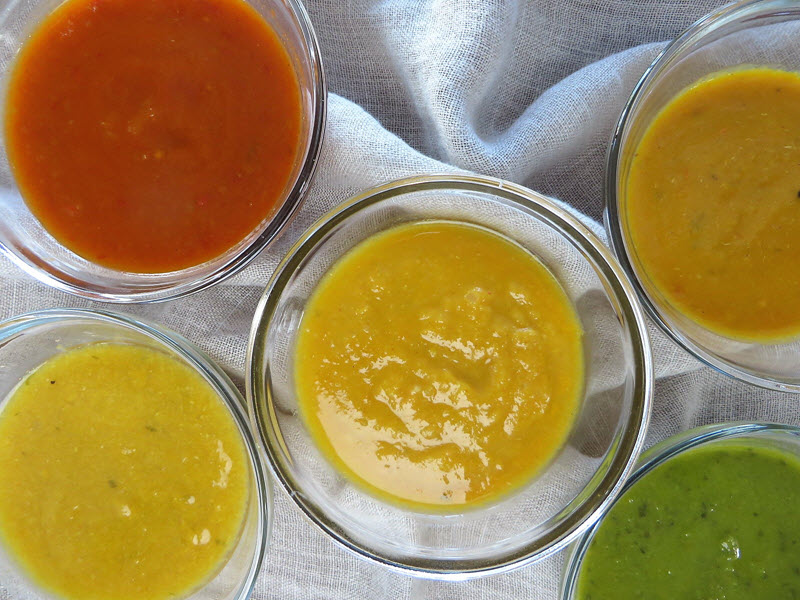 Our favourite was the Winter Vegetables with Quinoa as it had a lovely home-made flavour with an interesting chunky texture - you could actually see the tiny outer filaments of the quinoa. We have shown values for this variant.
Our least favourite was the Nourishing Red with Lentils as it had a runnier texture, tasted of too-much tomato and had an overpowering but too-strong capsicum-paprika overtone. So much so that the thought of 'pizza' came to mind.
Interestingly the Healthy Greens looked dark and murky with a grass-like aftertaste which could taste too-vegetable for some. Our tasters quite liked it, saying words like sweetish, chunky, almost nutty. At 23 per cent, peas are the main vegetable which explains the sweet, pea-like flavour.
Our taste scores ranged from a low of 5.6 for the Nourishing Red with Lentils up to a high of 8.6 for the Winter Vegetable variety, with the remaining three coming in at 7. I averaged all these to a 7 out of 10.
Nutrition: 18 out of 20
These soups give you the key nutrients of fibre and vegetables, have 4 Stars and little added salt or sugar.
HSR
All soups in this review have 4 Health Stars due to their high number of vegetable serves, low fat content, low salt content and high fibre. These are a better option, and are nutritionally sound compared to other commercial soups available on the market.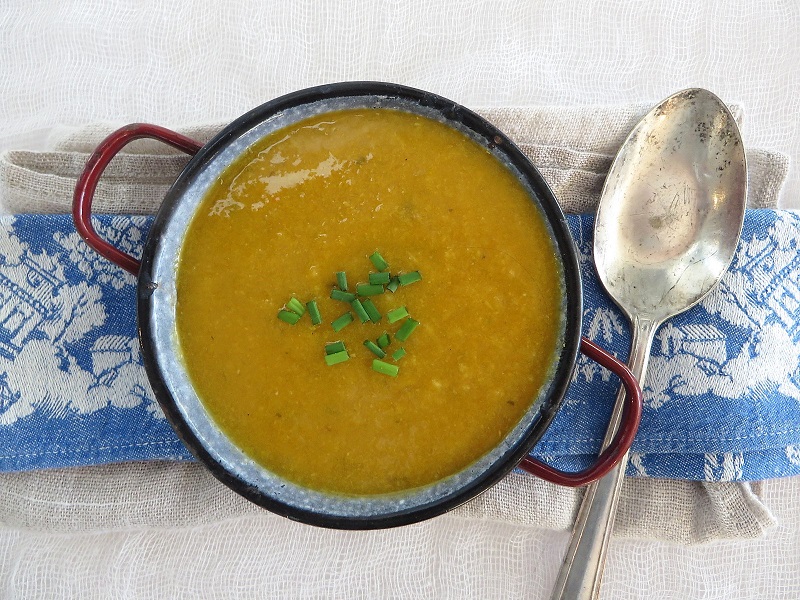 Vegetables
All varieties tested stated on the pack that each carton contains 4 serves of vegetables, except for the Winter Veg which has 5 serves of veg. Whilst fantastic for a commercial soup, this number is per CARTON, rather than per SERVE so can be confusing for shoppers quickly scanning the aisle. We think it should say 2 serves of vegetables per soup serve, and have deducted a point for this confusion.
Sodium/salt
The sodium level of this particular soup range is low compared to other brands and even other varieties of Campbell's. Compared to the Campbell's Go range the Simply Soups are 15% lower in sodium. Although it needs to be remembered that this is still higher in sodium than homemade varieties – so if you are cooking your own soup at home keep doing that.
Low in fat
Many creamy soups have added fat to give them that consistency, but these soups are creamy whilst also being low fat, with a maximum of 3g fat per 250mL serve. Great texture without the added nasty of fat.
High in fibre
The downfall of many soups is not only the watery consistency but also the loss of fibre during the processing. High in fibre they range from 3g per serve for the Corn, to 5.7g per serve for the healthy greens. Although this difference in fibre can be noticed in the texture, with the Corn being very smooth whilst the Healthy Greens is a tad grainy, although not unpleasant.
Low in sugar
Some tasted sweet but that comes from natural plant sugars – yes there IS added sugar but it's low down the list of ingredients and the sugars are under 4 per cent.
Team one of these soups with a sandwich, or even a cheese toastie and you have a nutritionally balanced and complete meal in under 5 minutes!
Example: List of ingredients in Winter Vegetables with quinoa
Vegetables (76%) (carrots, potatoes, onions, celery, cabbage), water, quinoa (2%), butter, modified maize starch (E1442), sugar, skim milk powder, salt, spices, herbs (chives, parsley), yeast extract, natural flavours, natural food colour (paprika extract).
E1442 or just 1442 is a thickener made from maize, which is called acetylated distarch adipate. It thickens just like plain flour or cornflour to create a smooth mouthfeel. (If you'd like to know more about additives check out my Crack the Code eCourse here.)
Example: Nutrition Information Panel:
Serve size: 250g (which is 1 mug or bowl)
Component per serve

Winter Vegetable with Quinoa

Energy kJ Cals

585




140

Protein, g

3.2

Fat Total, g

3.0

Saturated, g

1.7

Carbohydrate, g

22.7

Sugars, g

9.3

Dietary fibre, g

4.2

Sodium, mg

650
Convenience: 8 out of 10
We have to admit – you could heat these soups and serve them with a dollop of thick yoghurt or a sprinkle of fresh green herbs and they'd pass as home-made. Honestly.
However, they aren't as convenient as a single-serve pouch that you simply heat and eat.
Firstly you can't microwave them in the tetra-block you buy – you have to tip the soup into a container and then microwave or heat on the stove top (there are good directions for both methods).
Second, each combi-block holds TWO serves which makes it ideal for a couple who want a quick healthy lunch, but less convenient for singles or at work. It's a case of eat half today, store the other half for the next day. I stored mine in a ready-to-heat portable plastic mug with a tight lid and it kept well for 3 days in the refrigerator.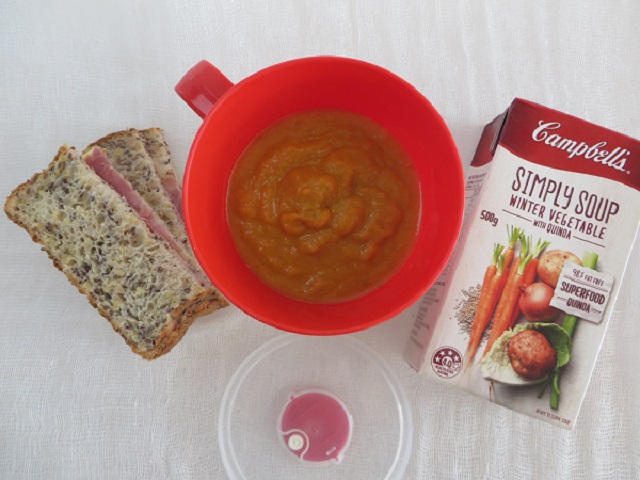 I like to think of these as a can of soup but better – more nutrition, more flavour and much easier to store than cans as they are rectangular blocks. They stack well and take up less space in the cupboard.
Are they as safe as canned? Yes, the soups are well heated and held hot for long enough to ensure the soup reaches commercial sterility and then packed within a bacteria-free facility. This way, there's no need for preservatives, even without refrigeration.
Although these cost more than a can or pouch of soup, they are still inexpensive We paid only $2.50 for each tetra-pack which amply serves two. It was on special at the start of winter, but the recommended price is only $3.90 which is pretty good for two. Without any work!
The shelf life (best before date) of all the Simply Soup range is 9 months, with the exception of Creamy Mushroom (not reviewed here) which has a 12 month shelf life. So they stay ready and waiting for you to use over a year without the need for chemical preservatives or refrigeration.
Sustainability 9 out of 10
Peering into the inside of a used carton, I can see foil surrounded by layers of what appears to be coated paper. According to Campbells, the carton is "a 6-layered structure which includes paperboard, foil and flexible film in various thicknesses". So I was half right.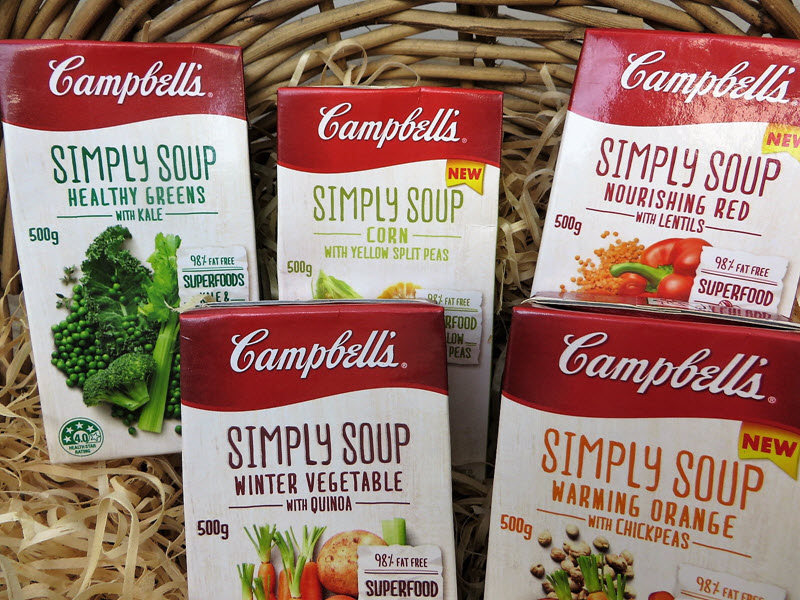 The carton is fully recyclable which was news to me. I simply rinsed out a used carton and threw it in the recyclables bin along with the other containers. Easy.
The supplier, VISY, makes these outers at a papermill that is compliant with Forest Stewardship Certificate which means it implements long term forest management. It aims to ensure waterways and wildlife habitats are protected, forest management practices are monitored, pesticide use is reduced, and the rights of Indigenous Peoples are respected in the process of obtaining paper and packaging. Full marks to VISY, as this makes them a great packaging partner for Campbell's.
Best of all, according to the pack's Country of origin statement, the soups are made in Australia which is good to see.
Overall score 42 out of 50 or 4 apples
The final word
The soups were surprisingly delicious and will be on my shopping list. They were thick, nutritious and hearty, not like many of the more-watery or gluggy ready-made soups currently on the market. A couple were less favourable in flavour but that happens in any category. Other than that, these were a fantastic winter warmer that was filling and tasty plus they are an easy way to reach your 5 serves of vegetables a day.
Thanks to my fellow tasters Caitlin, Dave, Gordana and dietitian Daisy Coyle @DCDietetics.
Save
Save
Save
Save
Save
Save