Product Snapshot: Hart & Soul Cup Soups
On a cold rainy day, there's one thing more appealing than a cup of hot soup? That's one you didn't have to cook yourself! However, navigating the instant soup aisle has become increasingly difficult. There are dozens of options that come in a variety of presentations (cans, sachets, cups, boxes) announcing gourmet flavour combinations and compelling health claims. Let's face it, if you are looking for an instant soup solution, it's because you don't have time to cook and that means you probably don't have the time or inclination to read through nutrition labels. So here's one solution ...
The heart and soul of soups
Hart & Soul might well be your "cuppa soup", if you are looking for an easy, hot, mid-meal that's a little more healthy and natural, and is not tea or coffee. These Asian-inspired soups have been created in consultation with a nutritionist. They come in five different flavours: Hot Korean, Green Curry, Pho, Tom Yum and Wonton, covering multiple dietary requirements such as gluten-free, dairy-free, vegetarian and vegan. The soups come in a takeaway-coffee type of cup with a plastic lid. Inside, a foil pouch contains the concentrated soup contents, which are ready to consume after mixing with hot water and stirring (no covering and waiting required).
Taste testing the soups
I tried three of the soups: Green Curry, Pho and Tom Yum (all of them gluten- and dairy-free) and must say I was impressed with the taste. They tasted very close to the "real deal", especially considering they came out of a pouch and cost only $1.99 each. My favourite was the Pho, just because it has real meat (8 per cent beef according to the label) although its protein level is around the same as the others. However due to the low protein and fibre content, I wouldn't recommend one as a main meal. But they would work as a between-meal savoury drink or a hot beverage with a meal. They are similar to most other dried soups in that they are low in protein and fibre with too much sodium (salt).
Great taste, as close to authentic as you can get in a ready-to-eat product.
Pros
Great taste, as close to authentic as you can get in a ready-to-eat product.
Convenient packaging that won't spill (the soup itself comes in a sealed pouch) and is lightweight. You won't need a can opener or a separate cup/bowl to make it.
Really easy to make, provided you have a source of boiling water.
Free of artificial flavours, colours or preservatives.
GMO free.
Shelf-stable, keeps in the pantry for about two years from production.
Low in kilojoules/Calories and carbohydrate for the varieties containing konjac noodles
Widely available in major supermarkets.
Cheap – each cup costed $1.99 at my local Woolworths.
The cups show a handy graphic spiciness indicator that goes from 1 (mild) to 5 (really hot).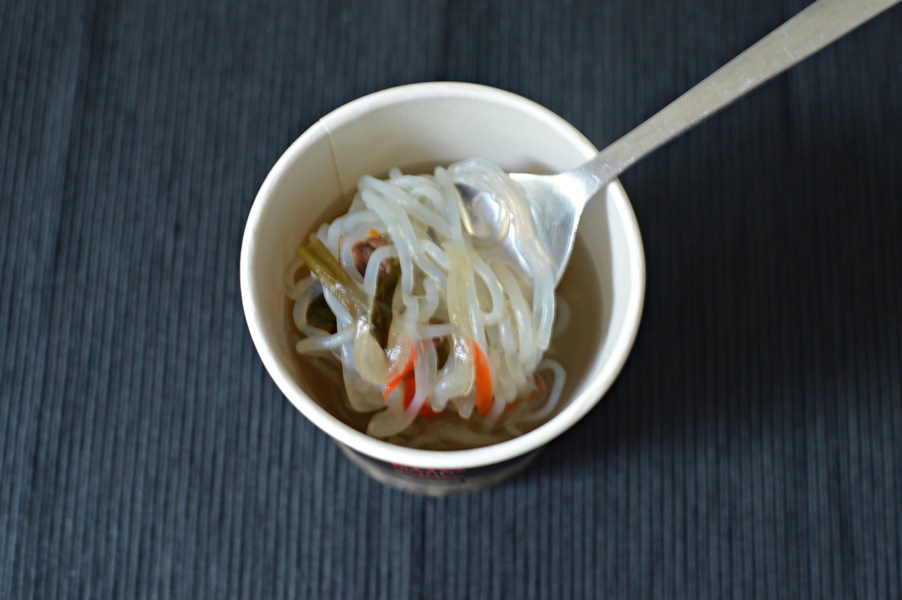 Cons
No spoon (or chopsticks) provided.
The sodium content is quite high – 24 to 39 per cent of the recommended daily intake, depending on the flavour. I love salt but even I could do with a bit less per cup in order to keep my total daily intake within limits.
The protein and fibre content are quite low, which means that you'll probably need something extra (e.g. a small can of tuna, a hard-cooked egg, a small bean salad, some nuts) to call it a meal.
Unnecessary extra packaging (i.e. the cardboard cup and plastic lid) which contains the sealed pouch of soup. While this can work in your favour, we have to wonder if it's needed, After all, most people who have access to a source of boiling water will also have access to a cup!
Nutrition stats
Here is the nutrition info taken from the nutrition panels of the three soups I sampled:
Green Curry
Pho
Tom Yum
Nutrient
Per serve
Per 100g
Per serve
Per 100g
Per serve
Per 100g
Energy, kJ/Cals
508/121
200/48
135/32
53/13
275/65
108/25
Protein, g
2.4
0.9
2.1
0.8
1.9
0.7
Fat total, g
6.0
2.4
0.4
0.2
2.8
1.1
Fat saturated, g
3.7
1.5
0.1
0.0
0.5
0.2
Carbohydrate, g
15.2
6.0
5.0
2.0
8.5
3.3
Sugars, g
9.1
3.6
2.3
0.9
2.8
1.1
Dietary fibre, g
1.2
0.5
1.8
0.7
1.9
0.7
Sodium, mg
850
333
545
214
901
353
My verdict?
For an instant soup, these soups rank among the tastiest and the healthiest, given that they appear to have mostly natural ingredients and no fillers. They taste great, are inexpensive and super convenient. They are low in protein and fibre with too much sodium (salt), however, they are very low in kilojoules/Calories, which make them ideal for people who need to watch their kilojoule intake. I will definitely keep a couple in my pantry.
Thanks to dietitian Gaby Mora, Provisional APD for writing this post.