Product Snapshot: Hart & Soul Pouch Soups
Soup can be a nourishing, healthy meal any time of the year, not to mention that it is inexpensive and easy to prepare. However, many people don't have the time to make a pot of soup at home or they find it inconvenient to carry soup to work. Fortunately, there is a great new option now available: Hart & Soul Pouch Soups. Here I look at three of these easy pouches so you can decide if they are for you.
Why the pouches?
Unlike canned or refrigerated soups, these single-serve pouches can be carried around in your bag to have as a snack or part of a meal. All they need is boiling water to make them come alive!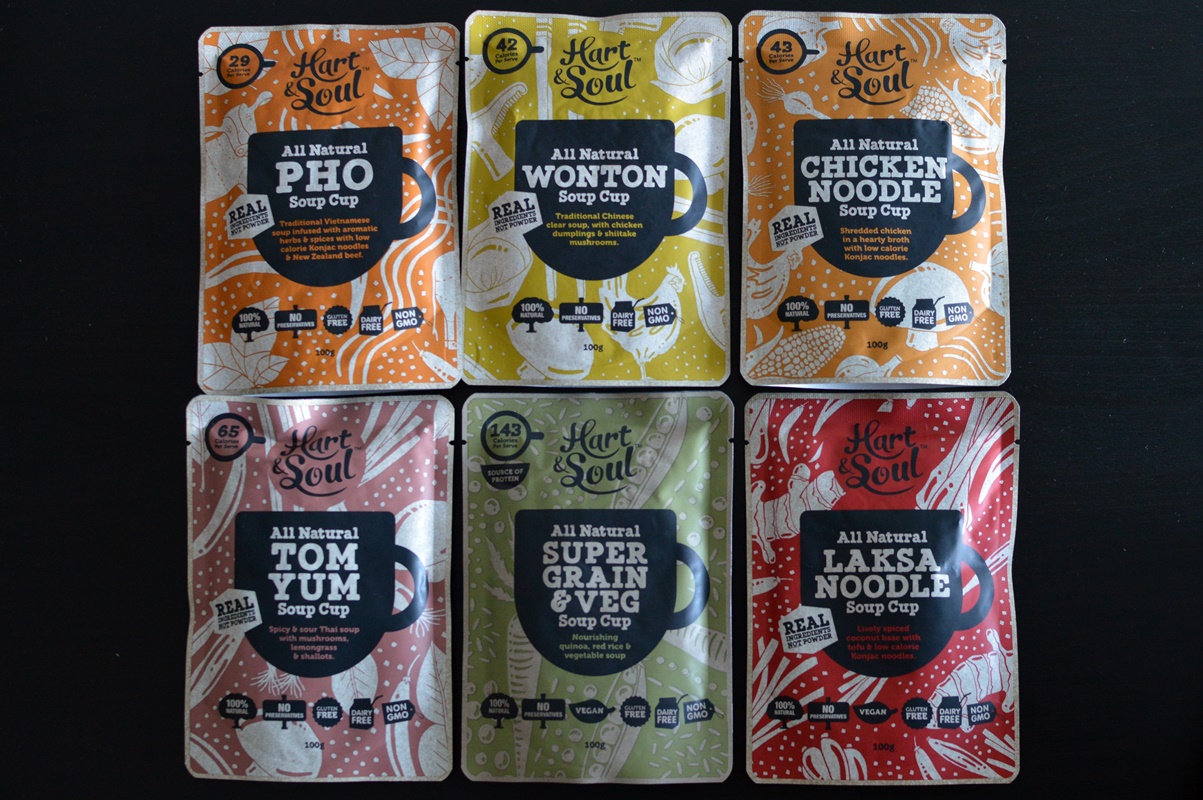 What I love about these soups is that they come as a concentrated paste, so the final cup of liquid soup is nicer than soups made from dry powders.
Available flavours
Hart & Soul pouch soups come in six flavours:
Chicken Noodle
Laksa Noodle
Pho
Super Grain & Veg
Tom Yum
Wonton
They are sold as single-serve 100 g pouches and are available from Woolworths supermarkets.
And the taste?
I have tried all flavours and all of them taste wonderful. However, I'm partial to the Asian-style ones. My top three are Laksa Noodle, Pho and Tom Yum which I've reviewed here. No, they don't taste exactly like "the real deal" but they are very nice regardless.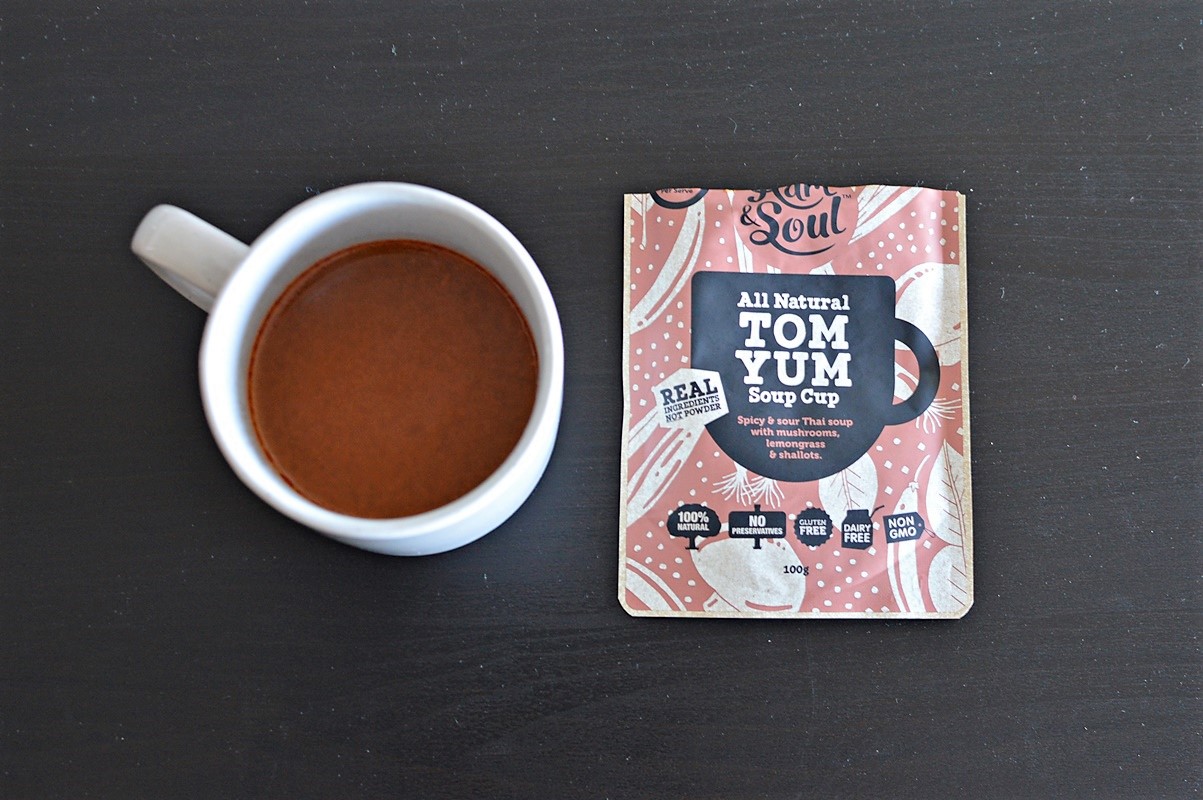 All of them contain chilli, but only the Tom Yum (which is fairly mild anyway) has a spiciness indicator at the back of the pouch. The Laksa Noodle tastes the spiciest (hottest) of the three.
One of the features I like is that the soups use konjac noodles instead of conventional noodles. Konjac noodles are virtually free of carbohydrates and contain prebiotic fibre, which feeds our gut microbiome. This also allows the manufacturer to keep most of the soups gluten-free and low-kilojoule. You can read more about konjac noodles here.
Nutrition
All the soups are nutritious but vary in the fat, saturated fat, sugars and sodium they deliver. See below for their nutrition information panel (taken from the back of the packs). As expected, each pouch gives one serving which is 255 mL in volume (just over 1 cup).
As per the company's philosophy, none of the soups contain preservatives, GMOs or artificial ingredients and they cater for a few dietary requirements such as vegan or gluten-free.
Laksa Noodle

Pho

Tom Yum

Nutrition

Per serve

Per 100 g*

Per serve

Per 100 g*

Per serve

Per 100 g*

Energy kJ/Cal

889/212

34/83

121/29

48/12

275/65

108/25

Protein, g

3.1

1.2

2.7

1.0

1.9

0.7

Fat, total. g

14

5.5

< 1.0

< 1.0

2.8

1.1

– saturated, g

7.7

3.0

< 1.0

< 1

0.5

0.2

Carb, g

20.9

8.2

3.3

1.3

8.5

3.3

– sugars, g

6.6

2.6

2.5

1.0

2.8

1.1

Sodium, mg

564

221

896

351

901

353
*100g of the prepared soup
Ingredients
Laksa Noodle
Coconut Milk (30%), Konjac Noodles (16%), (Water, Konjac Powder, Natural Firming Agent (Calcium, Hydroxide)), Water, Lemongrass, Tofu (10%) (Soybean, Water, Natural Firming Agent (Calcium, Sulfate)), Shallot, Coconut Sugar, Rice Bran Oil, Galangal, Spices, Salt, Garlic, Chili, Corn Starch, Ginger, Natural Colour (Paprika, Oleoresin).
Pho
Water, Konjac Noodles (23%) (Water, Konjac Powder, Natural Firming Agent (Calcium Hydroxide)), New Zealand Beef (8%), Onion, Fish Sauce, Sugar, Spices, Chili, Salt, Coriander, Basil, Garlic.
Tom Yum
Water, mushroom (26%). Lemongrass, Galangal, Chili, Soybean Oil, Garlic, Shallot, Kaffir Lime Leaves, Fish Sauce, Lime Juice, Parsley, Pepper.
Pros
Convenient: light and shelf-stable
Easy to prepare
No added preservatives
Non-GMO
Low in kilojoules/Calories – this is highlighted on the front
Dairy-free
Real ingredients as opposed to "flavours" and "colours"
Most varieties are gluten-free
Some are low carb, some are vegan
Inexpensive ($1.60 is the regular price; I bought them on special for $1.20 each)

Cons
Single-serve which means a lot of packaging
Low in protein - you will need to add extra protein (e.g. boiled eggs, a can of tuna or hummus) to call it a meal, particularly if you are an active person
You need a vessel (such as a cup), access to hot water and a spoon to consume these soups
Unconventional serve size (255mL as opposed to the standard 250mL, which equals 1 metric cup)
The preparation instructions can be unclear. They read "Empty sachet into a cup. Add 155mL boiling water & stir". Again, the main issue is the unconventional measurement as I'm sure not many people have measuring cups that can measure 155mL. It would be more useful to use common measurements (such as "just over ½ cup") and perhaps more detail regarding how long to stir for.
There are some inconsistencies in the packaging, for example all the flavours except for the Laksa display the energy content in the front of the package (this is likely because the Laksa has a higher energy – 890 kJ or 212 Cal per serve). I have also heard of some packages not displaying a Best-Before date, which is required by law.
Would I buy it again?
Absolutely. These and other Hart & Soul products are a pantry staple in my household. They are convenient, not overly processed and taste great. You can find our earlier review of Hart & Soul Cup Soups here.
Thanks to dietitian Gaby Mora for this taste test. You can find more of Gaby's writings at https://gabymora.com.au.