Product Snapshot: Heinz Beanz Creationz Spanish Style Beanz Flavoured with Chorizo
Baked beans have just turned gourmet! That's right, this long-time brekky favourite is no longer limited to something you pile onto toast. Heinz' new Beanz Creationz add extra flavour twists to the tomato classic. Here I review the Spanish Style Beanz Flavoured with Chorizo to see if they're really as good as they sound.
The baked bean gets a flavour makeover
I am a big fan of all legumes, including the humble baked bean. They are very high in fibre and protein, making them a good meat alternative for vegetarians or those wishing to cut back on their meat intake. Heinz has turned this already convenient vegetable into an inspiring meal starter by bringing out a whole range of Beanz Creationz which includes: Mild Curry, Fiery Mexican, Mediterranean Style and Medium Salsa Chilli Style Beanz, as well as the Spanish Style flavoured with Chorizo, which I chose to review here. It's clear they're intended as a meal base as each tin lists a simple recipe plus ideas for other meals.
What's in the tin?
Once opened, I could spot two different kinds of beans - red kidney and navy beans - which were in a rich and thick tomato sauce which had a smoky and slightly spicy flavour.
Spanish Baked Eggs
To get a true feel for how they worked in a dish, I tested out the Spanish Baked Eggs recipe listed on the back of the tin (though they could just as easily be eaten on their own).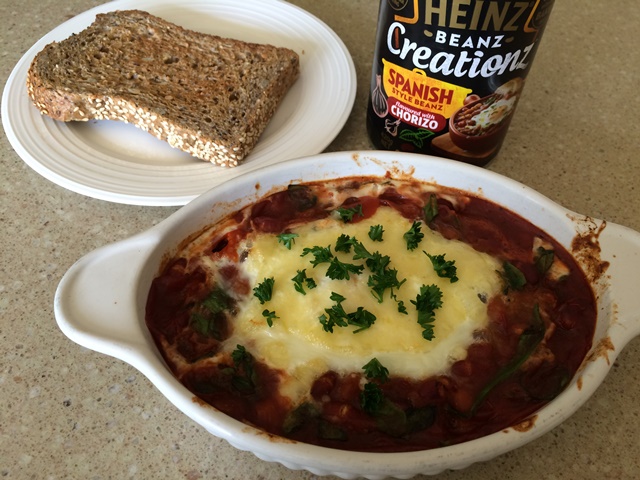 I followed the instructions on the can, heating the Beanz with some baby spinach, cracking an egg in the centre and baking in the oven topped with a little cheese. It only took 15 minutes and tasted pretty similar to my own version, but quicker. I also tried the Fiery Mexican Beanz in a Chilli con Carne, which also worked really well. You can check out all the recipes here.
Pros
Excellent source of fibre, with 16g per serve (that's over half the daily adequate intake (AI) ) which is great news for digestive health. If you want to learn more about the benefits of fibre download Catherine's Fibre - fast facts for busy bodies fact sheet.
Half your daily vegies in one serve of Beanz (2.5 serves of vegetables which goes towards your goal of 5 serves a day)
Long shelf life, making it a convenient pantry staple
Versatile, quickly making a healthy, last-minute meal – think baked eggs, cottage pie, casserole, or teamed with rice as the tin suggests
If you don't have time to cook with the Beanz, they are a nice light meal on their own, providing protein, carbohydrate and veg all in one
More flavour than standard baked beans – spicy and smoky in a rich tomato sauce
Good source of protein with 18.1g per serve which is equivalent to the protein content of two extra large eggs
Despite being flavoured with chorizo (a Spanish sausage that's high in salt), the sodium levels remain relatively low
Low in total and saturated fat.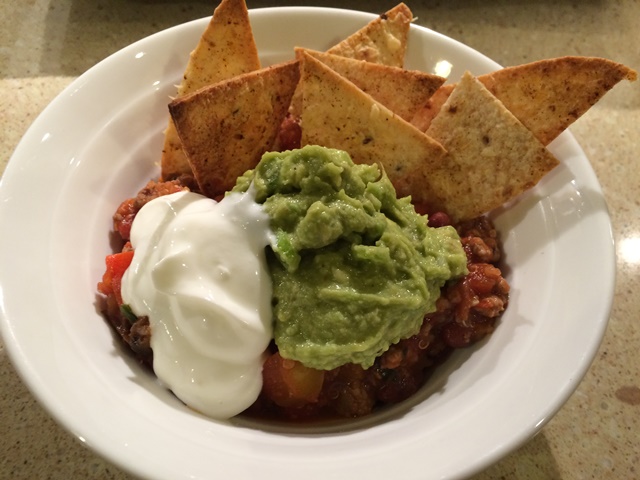 Cons
More kilojoules/Calories than the original baked beans* (thanks to the extra ingredients) but also more protein and fibre and less sugar and sodium
Their name says 'flavoured with chorizo' and while there is actual minced chorizo in the can (at 0.6% according to the ingredient list), there's so little of it that I couldn't spot any but obviously enough to rule it out as vegetarian option.
There's only one can size at 420g which serves two, meaning that if you want a quick lunch for one you'll have to decant half into another container to store in the fridge and use within three days
Nutrition stats
Here's how the numbers appeared on the back of the label.
| | | |
| --- | --- | --- |
| Nutrient | Per 210g (1/2 can) serve | Per 100g |
| Energy kJ | 1170 | 555 |
| Protein, g | 18.1 | 8.6 |
| Fat total, g | 1.1 | 0.5 |
| saturated, g | 0.2 | 0.1 |
| Carbohydrate, g | 40.5 | 19.3 |
| Sugars, g | 6.7 | 3.2 |
| Dietary fibre, g | 16.0 | 7.6 |
| Sodium, mg | 590 | 280 |
Ingredients
(From Ingredient List on back)
Spanish style sauce (59%) [vegetables (54%) (tomatoes, onion, garlic, red chillies), balsamic vinegar, sugar, maize thickener (1422), potato starch, salt, minced chorizo sausage (0.6%) (contains beef, pork, preservative (250), smoke flavour, traces of wheat, egg, sesame, soy, milk & fish), spices, yeast extract, food acids (acetic acid, citric acid), herbs (including oregano), mineral salt (calcium chloride)], mixed beans (41%) (red kidney, navy).
My verdict?
These Spanish Style Beanz Creationz are a tasty and convenient meal starter (or simply a baked bean alternative). They're high in fibre and protein and contain half your daily vegies in one serve, plus plenty of flavour. Definitely one for the pantry!
Thanks to Guest reviewer Megan Cameron-Lee, APD http://thedieteticdegustation.blogspot.com.au
* Compared to Heinz Full of Beanz