Product Snapshot: Be Natural Moroccan Spice Dry Roasted Chickpeas
We all love savoury snacks but usually they have too much fat, too much salt and, if they're flavoured, they often have added sugar too. As nutritionists we are always looking out for a savoury snack to rival those salty potato crisps and corn chips. When Be Natural launched their roasted chickpea snack into supermarkets we were anxious to try them out. They sound healthy, but are they really? We put them to the test to see whether the crunch of a chickpea really can rival traditional chips as a healthier alternative that's just as tasty.
Chickpeas as a snack?
Technically a part of two food groups (vegetables and proteins as they are a legume), chickpeas certainly earn their status as a healthy staple thanks to their high fibre and protein content. Whether soaked-and-boiled or canned, we know chick peas make a great addition to curries and casseroles, soups and salads. As a crunchy, more-ish snack? That's a little more surprising!
Of course roasted chickpea snacks aren't new. Rival company, Partner Foods, have been around for years, with their lightly salted, Sicilian herbs and garlic flavoured Chic Nuts . Produced in the same way, these Be Natural roasted chickpeas have been dry roasted in hot air, then lightly tossed in oil and coated with a Moroccan spice blend. They aren't deep-fried like most chips or loaded with salt like other savoury snacks. The Be Natural range also includes Thai Sweet Chilli Dry Roasted Fava Beans, with a similar mouth feel, just from a different legume.
The taste test
With an enticing, spicy coating, these chickpeas looked good. They tasted salty and flavoursome, despite not being high in salt, and had a definite 'adult' flavour to them. We found them slightly bitter in taste due to the fenugreek, so thought they could have been improved by reducing the quantity of this spice a little. They had a satisfying crunch, but weren't quite as easy on the teeth as a potato chip. Nevertheless we'd go back for more.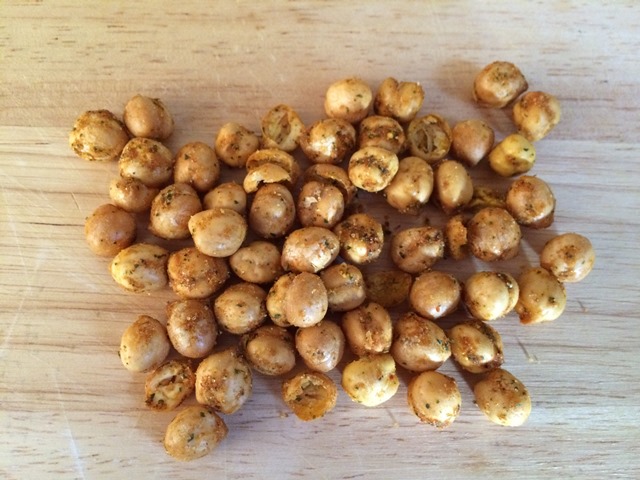 Pros
These are whole chickpeas which are mostly intact
You can see the herbs and spices coating on the outside
Convenient, single-serve, sachet, small and easy to throw in your bag when on the go
Filling, thanks to the fibre and protein, despite being quite a low kilojoule (Calorie) snack at just 350kJ (84 Cal) per serve
Surprisingly low in sodium (325mg per 100g)
Less than half the fat of regular potato chips (at 10 versus 27per cent fat), and 60 per cent less saturated fat*
Satisfying crunch
Gluten free, so a good snack option for those with Coeliac Disease
Cons
Moroccan blend has a slightly bitter taste to it and is definitely more of an adult flavour, so probably won't be liked by the kids
Some chick peas are little crunchier (denser) than others which can be hard on the teeth
Don't have quite the same satisfaction as potato chips, more like 'beer' nuts
Nutrition stats
| | | |
| --- | --- | --- |
| Nutrient | Per Serve (22g) | Per 100g |
| Energy kJ/Cal | 350/84 | 1610/381 |
| Protein, g | 4.3 | 19.6 |
| Fat, Total, g | 2.2 | 10.1 |
| Fat, Saturated, g | 0.3 | 1.5 |
| Carbohydrate, g | 10.2 | 46.1 |
| Dietary Fiber, g | 3.3 | 14.9 |
| Sodium, mg | 71 | 325 |
Ingredients:
(From Ingredient List on back)
Chickpeas (91%), Moroccan seasoning (spices [cumin, fenugreek, paprika], sugar, yeast extract, salt, garlic powder, onion powder, tomato powder, parsley, food acid [citric acid, sodium citrate], natural colour [paprika], natural flavours), sunflower oil.
Our verdict?
Overall, the Be Natural Moroccan Spice Dry Roasted Chickpeas are a nice savoury alternative to the many sweet snack bars on the market, without earning the label of 'junk food' like so many chips and savoury crackers do. They are a filling source of fibre as well as being a low kilojoule (Calorie) snack and they're a convenient, healthy, on-the-go snack. However, if it's chips you're craving, we're not sure these will quite hit the spot!
*Based on a comparison with Kettle Sea Salt Potato Chips, nutrition information from product website.
Guest post by Megan Cameron-Lee (BND), APD
Blog: http://thedieteticdegustation.blogspot.com.au