Product Snapshot: Macro Snack Bites
Woolworths has hopped on the protein/bliss ball movement with their single serve Macro Snack Bites. Yes, they are convenient, a source of fibre, nutritionally similar, and make an excellent snack option. Here's what I thought of three of their flavours.
Woolworths' Macro Snack Bites provide 400 kilojoules (100 calories) per Bite and are available in four flavours:
Dates, Pecan & Spirulina
Cashew, Cranberry& Amaranth
Apricot, Almond & Quinoa
Almond, Golden Berries & Quinoa
Pros
Woolworths' Macro Snack Bites: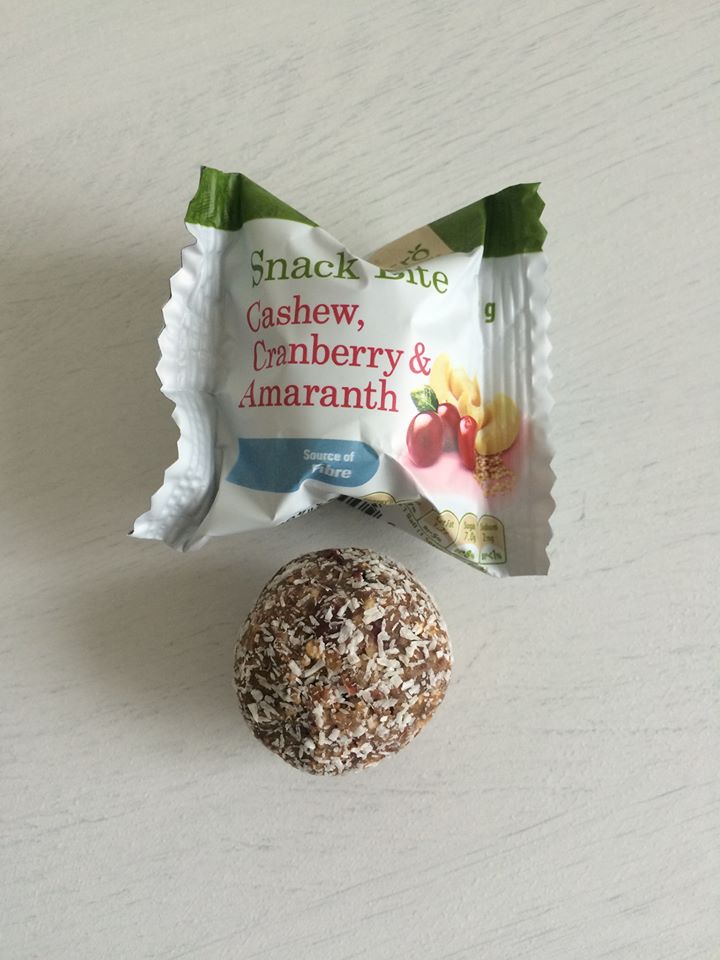 are convenient. The 22g single serve means you can throw one into a lunchbox or a handbag as you're heading out the door.
have a long shelf life. The Snack Bites I purchased had at least six months until their 'Best Before' (expiry) date. They are small enough to sit at the bottom of your handbag for months, without being annoying.
contain no artificial colours, flavours or preservatives.
are gluten-free.
contain no added sugar. However, this does not mean the balls are sugar-free. In fact they are about 30 per cent sugar, which equates to around 8 per cent of your daily sugars intake (per ball). The sugars come from the natural sugars in the dates, cranberries, apricots and other dried fruits.
are low in sodium (salt).
are a good source of fibre at 3g per ball. This equates to 10 per cent of your daily intake for fibre.
are gluten-free, egg-free and dairy-free, which is good for those with allergies.
have a 4.5 Health Star Rating.
Cons
These balls don't taste very sweet. While this didn't turn me off the product, I feel that it should be noted because people may expect these Snack Bites to taste as sweet as the majority of the sugar-laden, muesli bars on our supermarket shelves. If you regularly eat those snack bars then you might find these balls are not sweet enough or 'lack something' when you first try them.
The fruit and nuts in these balls make them nutritionally dense. This is not a bad thing as long as you're active enough to burn them off. If you're not, as always, keep moderation in mind. Don't go eating three or four at once – they are a single serve size for a reason. If you find that one Snack Bite isn't enough, then team it up with a piece of fruit or a tub of yoghurt.
They are fairly expensive, especially if you're looking for an alternative to a muesli bar or a handful of trail mix (nuts and dried fruit). In comparison to their alternatives, these balls are costly, at $1 each. Unlike most bars, they are not available in multipacks.
Alternatively, you can make your own balls at home. It will cost less and you can customise the recipe to suit your tastes. Bliss balls are made from a combination of dried fruit, nuts and sweeteners like honey, agave, etc., with coconut fat to bind and set them. The fruit and nuts you include is up to you. Catherine has a fantastic recipe for Bliss Balls

on the Foodwatch website

. These balls are 'chocolatey' and indulgent, but healthy – the perfect afternoon treat!
They contain nuts, so are unsuitable for school lunch boxes.
Nutrition
All of the Bite flavour variants are nutritionally similar. There are minor variations in protein, sugar and kilojoules but no marked differences. One single Bite gives you 394 to 427 kJ or 94 to 102 calories. Despite their nutritional similarities, each Snack Bite flavour looks and tastes very different. I like this, as I prefer to have variety in my diet, so in that regard these are great.

Rating their taste/mouthfeel
Dates, Pecan & Spirulina
These balls look very pretty – dark brown with light specks of pecan covered in coconut shavings.
This flavour really packs a punch – I like it! It's not a sweet flavour and somehow reminds me of bitter coffee.
The coconut shavings are a great addition; they really help to balance the bitterness of the Bite.
These Snack Bites would be great as an afternoon snack to curb chocolate cravings.
Although I think this flavour is delicious, it may be a bit intense for some taste buds (e.g. children).
Cashew, Cranberry & Amaranth
You can see every ingredient in these balls. I can spot pieces of crushed cashews, specks of red cranberry and small balls of amaranth. Plus, the Bite is coated in coconut shavings on the outside.
This is my favourite flavour. It is mild and creamy from the cashews, with bursts of sweet cranberry, but also has some crunch to it.
I would recommend this flavour for kids. It tastes a lot like a sweet muesli bar but without the added sugar and preservatives.
Apricot, Almond and Quinoa
Unlike the other two flavours, these balls are coated in cocoa powder (rather than coconut).
This gives it a slightly burnt taste and I don't think it works with the dried apricot.
I didn't enjoy the texture of these Bites as much as the other two. They contain tiny, hard pieces of quinoa and to me it feels like eating bits of sand.
To be honest, I didn't enjoy this flavour much, and I probably wouldn't buy this variant again.
The Bottom line
These snack bites are nutritious, convenient and mostly delicious. But at $1 per ball, they don't fit into my current student budget. There are too many nutritionally similar alternatives (i.e. homemade bliss balls or trail mix) to justify buying these balls during my weekly grocery shop. However, I would recommend them as a convenient, healthy snack and would most definitely buy one now and then.
Thanks to Guest Reviewer, student dietitian, Daisy Coyle.