Product Snapshot: Yummia fruit & veg layered yoghurt
My interest was piqued as soon as I saw this product come on the market. Adding sweet veg to fruit yoghurts to bolster flavour and nutrition - what a great idea! So of course I had to check it out to get all the nutrition facts and to see if it actually tasted any good? Here's what I found...
Vegies in yoghurt?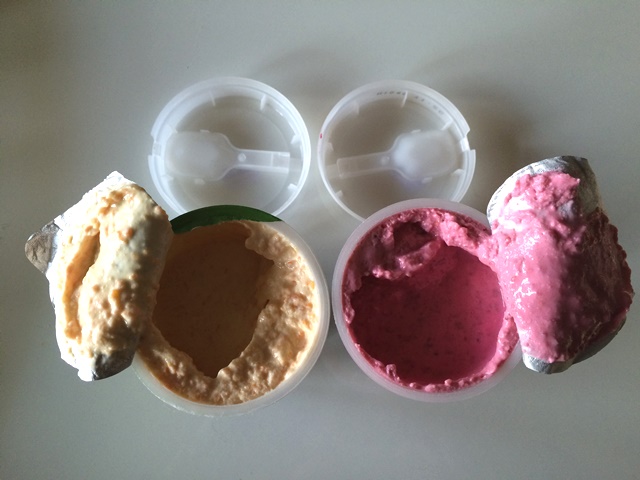 It's a novel idea, using vegetables in yoghurt together with fruit. We've all had raitas where plain yoghurt is mixed with cucumber or tomatoes, chillies and coriander but with fruit? These Yummia yoghurts contain BOTH fruit and veg, specifically sweet veg. The result isn't too different from most fruit flavoured yoghurts. In this case flavour combinations are apple and carrot, strawberry and beetroot.
The veg component has been finely grated so the texture is a little different from other yoghurts. What's more these are 'layered yoghurts' meaning there's a layer of fruit and veg 'pulp' at the bottom of the tub, similar to other yoghurts, such as Chobani. What's different about these is that not only is there a layer at the bottom, but the pulp is also mixed through the yoghurt (something I find unnecessary- see 'Cons' below).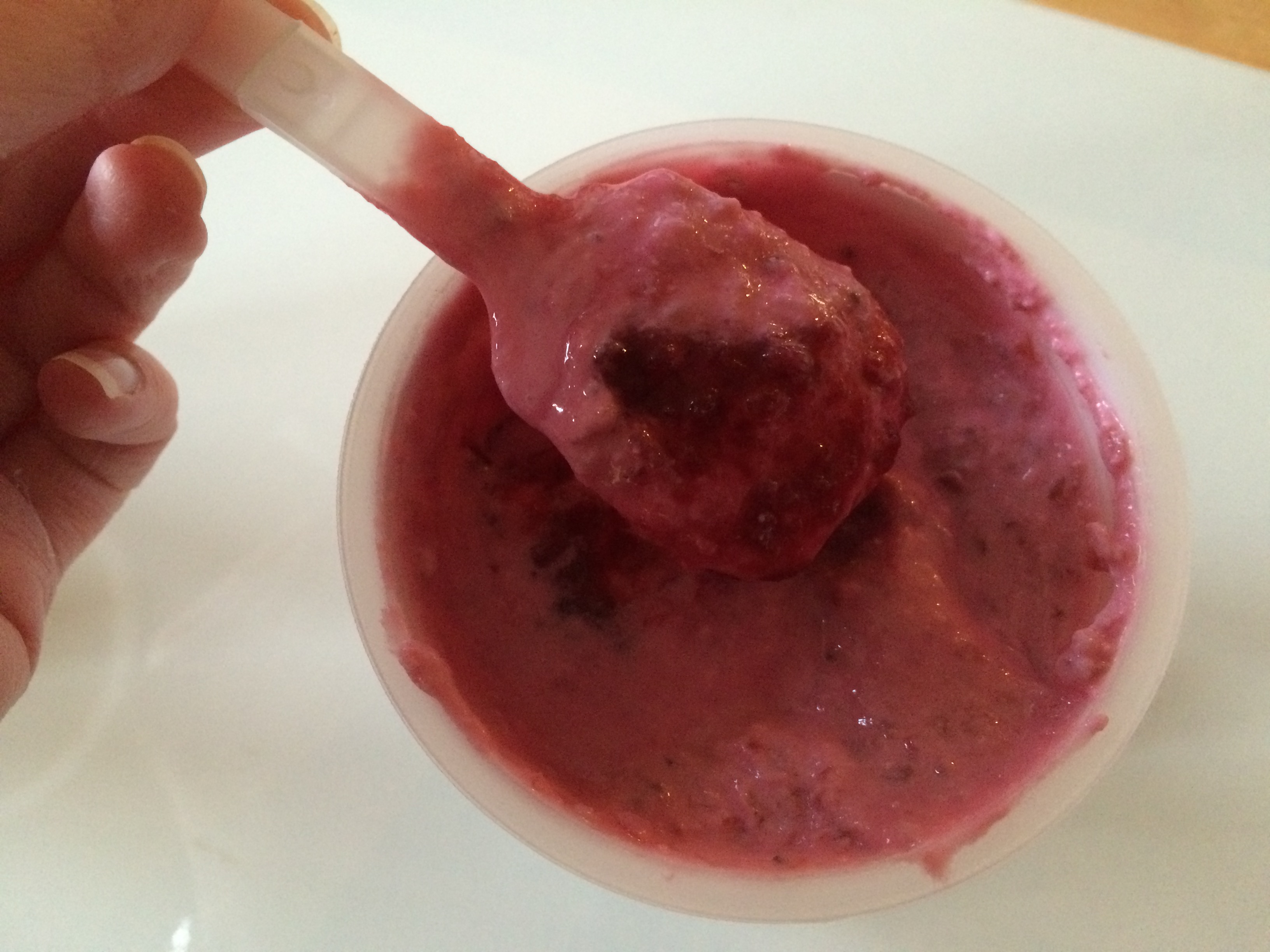 They come in a handy little tub with a resealable plastic lid and fold-up plastic spoon that snaps out. Each tub contains half a serve of veg. Not huge, but with most of us not meeting the recommended 5 a day, this could be an easy way to boost our intake. Not to mention fibre, because thanks to the veg, these yoghurts contain a whopping 9g of fibre per serve (that's over a third of your recommended daily fibre intake) and the equivalent fibre of three serves of oats!
The taste really surprised me. I was expecting them to be sweet (like all fruit yoghurts), but I wasn't expecting them to be even sweeter! It was like the manufacturers were overcompensating for the fact that there were vegetables in the yoghurt and I found it too much for me. Very disappointing.
Pros
Nice apple and strawberry flavours not overpowered by the carrot and beetroot (respectively)
Handy resealable lid with hidden disposable spoon
Excellent source of dietary fibre at 9g per serve coming naturally from the fruit and veg

Each tub contains half a serve of vegetable

s.

Cons
Too sweet! The fruits and vegetables chosen are already sweet so there didn't need to be so much sugar added (total sugars: 25-26%, compared with 5-15% for most other flavoured yoghurts, though remember a lot of that comes naturally from the milk and fruit)
Calcium isn't listed on the nutrition information panel but I'm guessing it's less than most flavoured yoghurts as the tub only contains 48 per cent actual yoghurt (the rest is fruit, veg, sugar and a lot of additives)
Lumpy texture as the carrot and beetroot have been finely grated rather than processed to a smooth pulp, so probably wouldn't be liked by kids!
The layer at the bottom is unnecessary as a good amount of fruit and veg have already been mixed in with the yoghurt and it has plenty of flavour.
Nutrition stats
Here's how the numbers appeared on the back of each label.
Apple & Carrot
Strawberry and Beetroot
Nutrient
Per serve (150g tub)
Per 100g
Per serve (150g tub)
Per 100g
Energy kJ
829
553
864
576
Protein, g
4.4
3.0
5.1
3.4
Fat Total, g
7.2
4.8
7.3
4.8
Saturated, g
4.6
3.1
4.6
3.1
Carbohydrate, g
27.1
18.0
28.2
18.8
Sugars, g
25.6
17.1
26.5
17.6
Dietary Fibre, g
9.0
6.0
9.0
6.0
Ingredients
(From Ingredient List on back)
Apple & Carrot: Yoghurt (48%) [milk, skim milk powder, culture], apple filling (23%) [apple (TBC), sugar, water, thickener, (1442), acidity regulators (330, 331), preservative (202), antioxidant (300)], carrot puree (23%) [carrot (98%), antioxidant (300)], sugar.
Strawberry & Beetroot: Yoghurt (48%) [milk, skim milk powder, culture], strawberry filling (23%) [strawberries (50%), sugar, water, thickener, (1442), acidity regulators (330, 331), flavour, preservative (202), colour (124)], beetroot puree (23%) [beetroot (99%), acidity regulators (330)], sugar.
My verdict?
Such a promising idea, and while yoghurt is one of Catherine's Super Foods, these ones don't quite meet the mark in my opinion, despite the 5 Health Star Rating. Such a shame as the flavours were good and they have 9g fibre per serve! The positive fibre content and half veg serve are overshadowed by the overly-sweet taste, too little actual yoghurt and too many additives. They could be OK as an occasional dessert, but I wouldn't recommend them as part of your daily routine.
Thanks to Guest Reviewer Megan Cameron-Lee, APD http://thedieteticdegustation.blogspot.com.au