Healthy Christmas gift ideas
Less than a month to go before Christmas! Each year it seems to get harder and harder to find gifts that are useful, healthy and going to last more than a couple of months.
I've come up with some gifts I'd be happy to receive and I imagine many of you would be too. Thanks for supporting me over the past year in my quest for easy ways to eat well when you're busy. I wish you all a healthy and happy Christmas.
Healthy and useful gifts that I'd be happy to receive
Healthy Food Guide magazine
As you know, I love to read the advice and healthy recipes this magazine has to offer. So I'd be more than happy to receive a year's subscription. It's the perfect gift for a loved one or for yourself. A subscription to your door is only $59 for 12 issues, including postage and handling within Australia. You save 24%. And it's a gift that will continue throughout the year!
Fridge thermometer
Getting the temperature right over the festive season when you are opening the doors often is hard to do. I'm a fan of those simple dial thermometers for your fridge or freezer. Just stick it inside, wait an hour for it to come to the internal temperature and check yours is less than 4 degrees C (fridge) or less than -18 degrees C (freezer). So why not stick one on your Christmas list? Cost under $10.
Vegetable spiraliser
I have a simple hand-turned vegetable spiraliser which makes long zucchini noodles and carrot strands for interesting salads. At first, I was a sceptic but must admit that it gives your salads and garnishes that professional look. And you can spiralise any soft vegetable from radish, daikon (long white radish), beetroot and butternut squash. Mine was $69 and is called the Inspiralizer but there are a range of types and prices.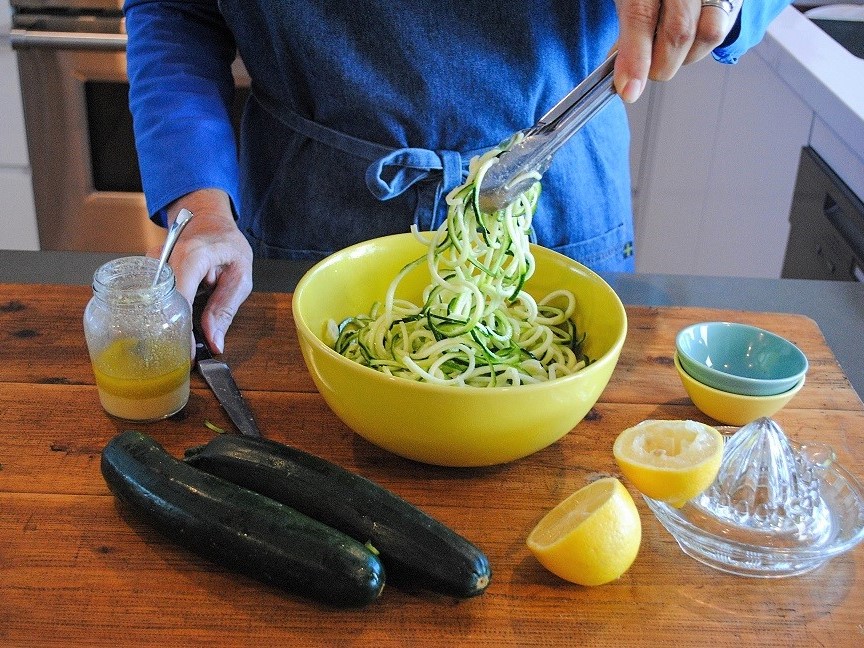 5 other food gift suggestions
Forget giving shortbread and Rocky Road. At a time of festive excess, why not give something that promotes health and helps family and friends avoid gaining that unwanted weight over the Christmas season? Here are 5 great ideas:
A gourmet vinaigrette dressing or a stylish bottle of extra-virgin olive oil or wine vinegar.
Interesting relishes, mustards and chutneys that lift the taste of summer barbeques.
A home-made tomato relish or chutney gives a personal touch and keeps well for months.
Specialty curry pastes, herb blends and fresh pestos that can bring new life to someone's pantry.
A pot of baby herbs – basil, thyme or parsley is always welcome, even for someone who lives in an apartment. Or order the best packets of herbs and spices from Herbies (easy to post).
An eBook
We now have quite a collection of eBooks on the Foodwatch website.
These make a good gift for someone else and can be given as an eGift. Take a look:
My Nutritionary: the A to Z Jargon Buster
Only $9.99
Vitamins - What, Why and Where: the handy eGuide
Only $9.99
Navigating the Numbers: the handy guide to FOOD ADDITIVES
Only $9.99
Cracking the Code: the handy guide to reading a food label
Only $9.99
10 tips to stop food cravings and help you lose weight
Only $4.99
The Shoppers Guide to Light Foods for Weight Loss
Only $9.99
Your Guide to Fish Oil Capsules & Health
Only $7.99
7 Steps to Being Organised in the Kitchen
Only $4.99