Do you need a spiralizer? And if so, which one?
Every time I post a tweet about my new spiralizer or upload an image of some zucchini noodles I've just made to Instagram, I get asked: "What brand of spiralizer did you buy?" and "Do you recommend a spiralizer?" So I thought I'd take a few pics and share how I came to decide on this brand.
First things first.
I fell in love the whole zoodle thing but resisted buying a specialist spiralizer for a couple of years. Why? I didn't want another gadget taking up space in my cupboard (think pasta makers, yoghurt makers and the like that get used once and then stored, unused, forever!). What's more, I honestly thought I could create exactly the SAME style of salad using a simple hand grater.
I was wrong.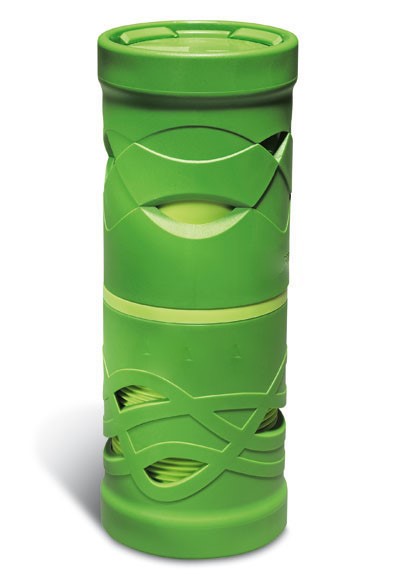 My first buy
I first started with a smallish gadget about 20 cm long that you twist closed by hand called a Veggie Twister. It creates a curly length of zucchini or carrot. Fun for kids. Makes a great decoration for the top of a salad or a garnish. It was small and compact - I stored it in the drawer with my tongs and spatulas.
The only hassle with it was that I needed to unscrew it each and every time I put it into action. It also only spiralised short lengths of zucchini, so I'd have to cut each zucchini in half. It was a pain to unscrew, requiring about 30 revolutions of the Twister to open it up again, before I could insert another half-zucchini. Think slow and tiresome.
My second buy
Then I bought a V-slicer, a sturdy German model that comes with three alternative cutting disks that you slide and click into place. Razor-sharp, it was an efficient mandolin grater that I knew I could use with many other foods like cheese or beetroot. With zucchini, it could produce either rounds, short lengths or longer lengths that almost looked like they'd come out of a spiralizer - but not quite. I paid around $150 and I hope I'll get my money's worth one day.
They both had problems
The trouble was neither ever produced those lovely long strands of zucchini that can double as cooked linguine or small spaghetti and that look so pretty in a salad. So I eventually decided "to heck-with-them-both" and set out to buy a proper spiralizer.
Here are the 6 criteria I used
The 'perfect' spiralizer for me had to be:
as small as possible to do the job, as I don't have a lot of storage space
easy to clean
simple to operate
turned by hand, not by electricity, as I didn't want to use power
give me thick OR thin strands
reasonably priced.
The search begins...
A foodie friend recommended the Paderno brand as the 'best' on the market. I did a search on the net and located one for sale at the Williams and Sonoma store at Bondi Junction. With a retail price of A$69.95, it was priced OK and looked online as if it fitted all my criteria. (It's now been reduced to $50 but the $20 delivery makes it the same as buying instore.) Rather than schlep all the way over there and hassle with parking, I decided to order it online. However, I got half-way through their shopping cart (which would have added a further $20 for delivery to my door) and something went wrong. The whole buying process stalled. And I gave up.
The search continues...
By sheer luck, that very week, I spotted a very similar one in a boutique kitchenware store at the basement of Westfield in Chatswood. It had clean lines, was white, with clear instructions, a mini-recipe booklet with about 5 recipes, and pulled into two for easy cleaning. It was priced at the same A$69.95. It looked identical to the Paderno model. The sales lady said they had had excellent feedback from it. I thought: why not?
A win!
Rather than wait until I could drive out to the Bondi store, I decided to just buy this "Inspiraliser" brand.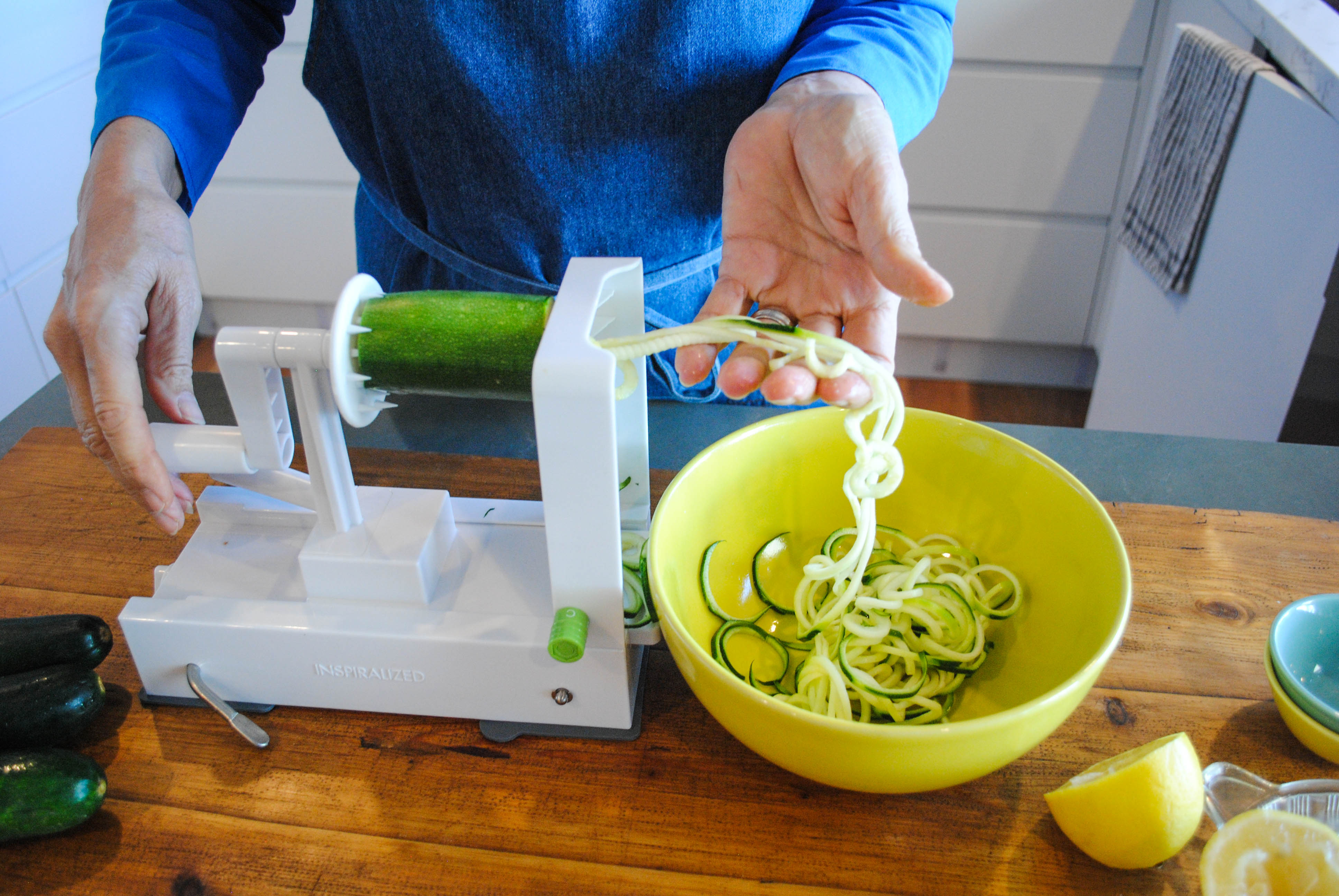 Checking now on the web, I see I can buy the same model for anything ranging from $59.95 to $79.95 so my price was in the middle.
The bottom line
I am very happy with my Inspiralizer and would recommend it if you're in the market for one. It works nicely, produces beautiful long strands of zucchini and fits neatly into my cupboard. It ticks all my 6 criteria. Just watch out as those cutting blades are very sharp!
My zoodle salad recipe
Here's how I make a delicious zucchini salad.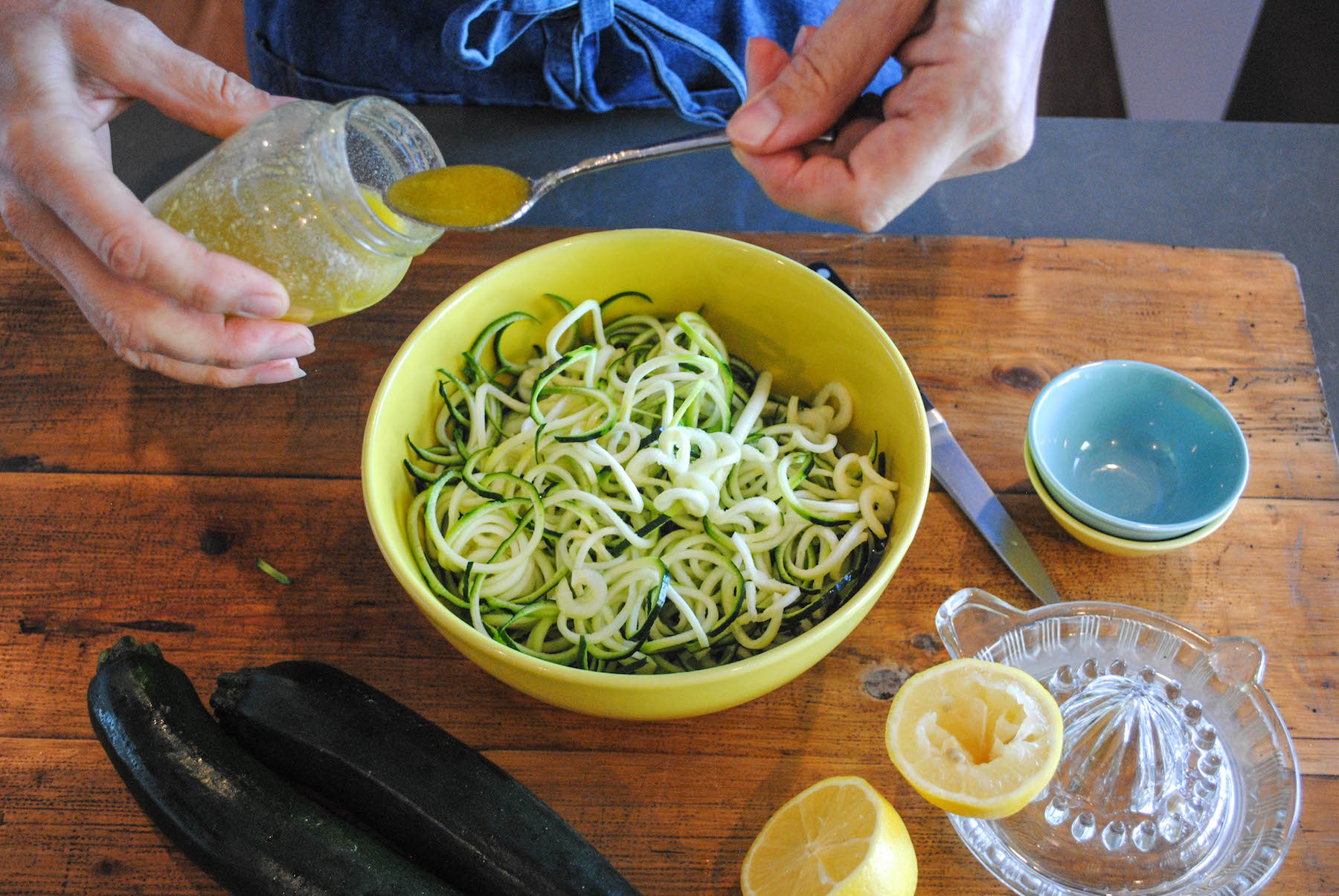 Buy long straight zucchini. I spiralize 1 largish zucchini and place the long strands into a mixing bowl. I like to make things ahead so I'm ready at meal time and this spiralising step can be done 3-4 hours ahead to allow the zucchini to 'marinate' in the lemony dressing. I cut the strands into manageable lengths of 24-30cm (10-12").
Into the bowl, I add 1/3 cup chopped parsley and 1/3 cup grated Parmesan. Pour over my lemon vinaigrette dressing, mix to combine, cover and leave in the fridge until ready to serve. Serve as a side salad to steak, barbecue or roast chicken. Really any dish that you'd serve a tossed green leaf salad.
To make up dressing: In a small jar, combine 1/4 cup extra-virgin olive oil, 1-2 tab lemon juice, 1/2 teaspoon Dijon mustard and a few grinds of black pepper. No need for salt - there is already plenty from the mustard. Close lid tightly and shake well, to mix.
For a more substantial salad, stir in an equal amount of cooked linguine at the end before serving. This is about 1 cup cooked, so start with about 1 cup raw. Good for hungry males!
For more colour, toss in 1/2 diced red capsicum and/or 5-6 halved cherry tomatoes.
Save
Save
Save
Save
References / External articles