Healthy snacking – a how-to-guide
If, like me, you eat small meals with a sensible, healthy snack in between, you'll be on the lookout for something small, tasty, and healthy that won't leave you too full. My ideal snack is portable, shelf-stable, or at least not needing refrigeration for a day or two (like apples and mandarins), and not high in added sugar or sodium (salt). Take a look at my recommendations.
This post is sponsored by GoodnessMe Box
Things to avoid
Salty nibbles – Most are loaded with fat. That's why they're crispy and crunchy, and, in addition to salt, they're often highly processed and full of refined starches that are high GI and low in fibre.
Snacks that are fatty and sugary – in other words, energy-dense (like chocolate bars, muffins, doughnuts, lollies and biscuits)
What to look for
Here are five criteria I use when looking for a healthy snack:
As little processing as possible. So, go for whole foods or snacks containing them.
Some fresh food snacks such as a slice of cheddar cheese or a piece of fresh fruit are always a plus.
Choose snacks with high fibre and lower GI to avoid that sugar spike – fresh fruit, celery or carrot sticks are all good.
Look for good quality, well-portioned, dry snacks that you can keep in an office drawer or your handbag. (By well-portioned I mean one package is one portion not multiple ones as you'll probably end up eating the whole thing!)
Choose nutrient-dense not energy-dense snacks – under 600kJ/150Cals.
Some ideas for healthy snacks
While many of us are working from home or are in lockdown due to the COVID crisis it's very easy to use food as a crutch, to fill in time, or to tide you over till you can get time for a proper meal. That's why healthy snacking can play a part in this new lifestyle we all find ourselves in at the moment. I've divided the snacks into two main categories – fresh and shelf-stable. Take a look.
1. Fresh snacks
A piece of fruit – a mandarin, banana, apple or pear
Carrot and/or celery sticks and a tub of hummus
An avocado with some low-fat cream cheese or mayo
Baby cucumbers or Lebanese cucumbers – they're crunchy and satisfying
Yoghurt
Cheese
Low-fat protein smoothie
Half a tub of cherry tomatoes or snack tomatoes
2. Shelf-stable snacks
a handful of unsalted nuts – almonds, walnuts or mixed nuts
seed crackers
nut bars
a small tin of natural or flavoured tuna or salmon
trail mix (a blend of any nuts with some craisins, raisins or dried apple pieces)
Snacks delivered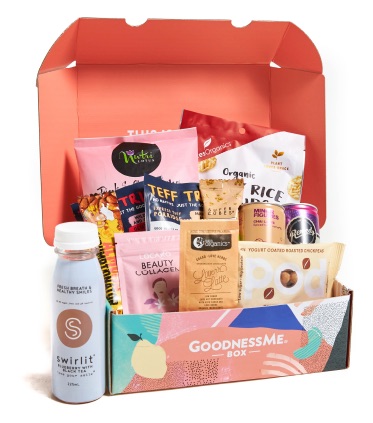 Since the beginning of the lockdown we've seen more and more things being delivered and now with the GoodnessMe Box you can have healthy snacks delivered to your door every month.
The boxes are curated by GoodnessMe's "team of picky health practitioners" who "seek products that are all natural, GMO-Free and clear of nasties like artificial sweeteners, preservatives, colours, food additives, synthetic trans fats, MSG and HCFS."
The boxes are available for those with no specific dietary requirements as well as those who need gluten-free, or vegan, or dairy-free, or gluten-free AND dairy-free products only.
The bottom line
Snacks aren't bad for you in and of themselves. You just have to pick the healthy ones that add goodness to your nutrition and are tasty and satisfying.