Recommended intake of protein
The amount of protein you eat has recently increased from 0.9 g to 1.2 g per kg of body weight.
If you weigh between 58 to 72 kg, which is the average weight of a 170 cm tall female, the new recommendations see you eating 85 g protein each day.
You can reach 85 g protein by eating the foods in the following table (giving you 77 g protein) plus another say 10 g from cheese, milk and yoghurt (if you eat dairy) as well as nuts, pasta, breads, chickpeas and rice:
| | |
| --- | --- |
| Beef fillet steak (cooked), 150 g | 40 g |
| Tuna/salmon (canned and drained), 100 g | 25 g |
| Eggs, 2 medium (poached or boiled) | 12 g |
| Total | 77 g |
| Plus Others, say | 10 g |
| Grand total | 87 g |
Functions of protein
You need protein throughout your life to:
create, maintain and renew our body cells, such as enzymes, antibodies and blood compounds
renew muscles, skin and hormones
maintain healthy bones
control your appetite, with fewer cravings leading to greater fat loss and less muscle loss

boost the thermic ef

fect (that feeling of warmth after a meal).
Sources of protein
The best source of protein is red meat, which has about three times as much protein as eggs, milk, cheese, tofu and legumes. Meat is worth eating if you wish to raise your protein intake significantly (animal proteins are also closer to those of humans).
Fish and poultry match beef and lamb in protein content, although nothing is as protein-rich as liver, kidneys and other organ meats, which are less popular these days. In the following table, the protein content of different foods is listed in descending order by food:
Meat sources
| | |
| --- | --- |
| Food and serving size | Protein in grams |
| Beef fillet steak (cooked), 150 g | 40 |
| Liver, chicken or lamb (cooked), 150g | 38 |
| King prawns, 10 (cooked), 160 g | 38 |
| Chicken, 1/2 breast (cooked), 150 g | 34 |
| Fish fillet (cooked), 120 g | 32 |
| Tuna/salmon (canned and drained), 100 g | 25 |
| Veal schnitzel (pan-fried), 150 g | 23 |
| Pork leg, 2 slices (baked), 125 g | 23 |
| Hamburger, plain including bun | 18 |
| Lamb loin chops, 2 medium (cooked) , 145 g | 17 |
If you're a vegetarian or vegan, it's important to eat non-meat sources of protein. You can get protein from tofu (cooked soy beans); nuts, such as almonds; and other beans, peas and lentils. You can also get some protein from pasta, rice, quinoa and rolled oats, along with carbohydrate, fibre and B vitamins. Eggs and milk products supply quality protein and are worth including (if you're vegetarian).
Non-Meat Sources
| | |
| --- | --- |
| Food and serving size | Protein in grams |
| Tofu, ½ cup, firm or soft, 100 g | 13 |
| Eggs, 2 medium (poached or boiled) | 12 |
| Yoghurt, fruit or natural, low-fat or full-fat, 200 mL tub | 10 |
| Almonds, handful, 50 g | 10 |
| Pasta cooked spirals, 1 cup (150 g) | 9 |
| Milk, low-fat or full-fat, 200 mL glass | 7 |
| Cheese, cheddar, 1 slice, 30 g | 7 |
| Rice, brown, cooked, 1 cup (180 g) | 7 |
| Chickpeas, ½ cup (canned and drained), 75 g | 6 |
| Lentils, ½ cup (dried then boiled), 75 g | 6 |
Source: Australian Food Composition Database from Food Standards Australia New Zealand.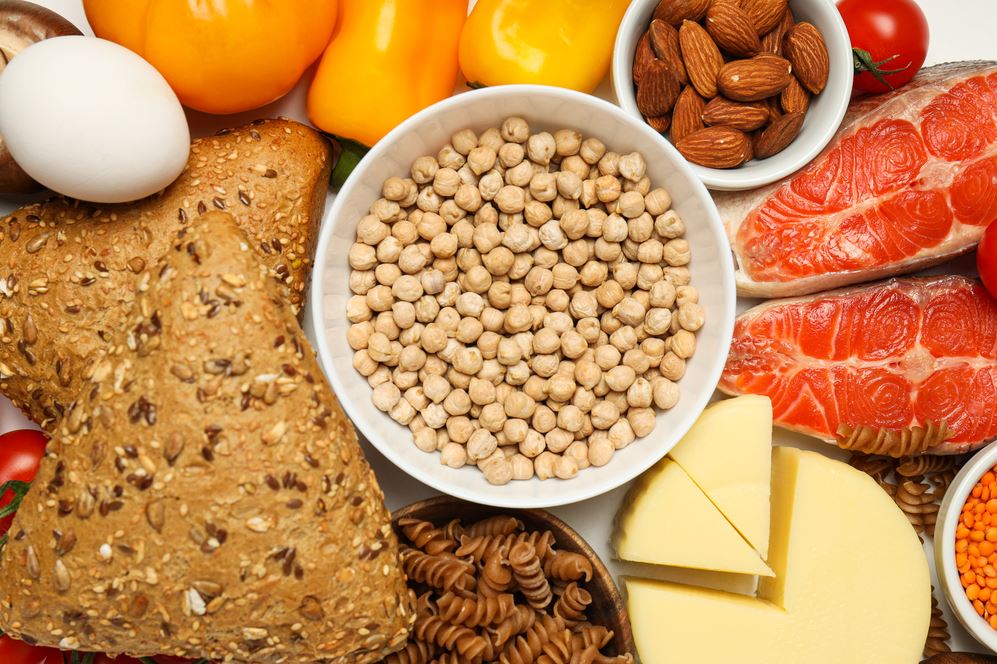 Getting the balance right for vegans
The balance of amino acids is particularly important for vegetarians and vegans. Plant proteins from grains, legumes and nuts are limited, only having one or two of the eight essential amino acids. Protein from wheat, for example, is low in lysine, which is called the first limiting amino acid in cereals. In contrast, eggs contain heaps of lysine, which well and truly covers the body's lysine requirement.
That said, mixtures of two plant proteins can complement each other, with one making up for any deficiency in the other. For example, serving a dish of barley or rice (which are low in lysine) with beans such as chickpeas, soy beans or lentils (rich in lysine) can provide the correct balance of all essential amino acids. But you don't have to eat two different plant proteins at the same meal. Simply consuming them over the day is fine. There's no need to overdo it.
Processed protein not good
Research by the CSIRO of almost 200,000 people found that people with low-quality diets obtained eight times more protein from junk foods than those with high-quality diets. They were also three times more likely to be obese. They derived their protein from inferior sources such as pies, burgers, pizza with processed meats, chicken nuggets, sausages and ice-cream. Eating higher protein, healthy meals based on fish, chicken, meat, eggs or tofu help to control appetite and reduce the urge to indulge in junk food.
Bottom line
Eat more protein, but get your protein from fresh foods because while many junk foods may be high in protein, they're also very high in kilojoules (Calories).