Help yourself reach your goal by ensuring your kitchen is on your side (but first read my tips on setting SMART goals for weight loss). Now is the time to make over your cupboard/pantry, refrigerator and freezer. If food is easily accessible, you are more likely to eat it. If a nectarine is sitting in the fruit bowl on your kitchen bench while a packet of chips is a trip to the supermarket away, which one are you more likely to eat?
Here is a super-simple list of 25 useful foods you can keep in your cupboard, refrigerator and freezer. Stock up on these to make your task easier – it's by no means the last word but it's a healthy start. Pack the less-desirable away in a separate space for others in the house.
Pantry/Cupboard
1. Tomatoes (in some form)
This could be any of the following:
a can of Italian Roma tomatoes (e.g. whole or chopped)
a jar of tomato pasta cooking sauce
a jar of tomato passata *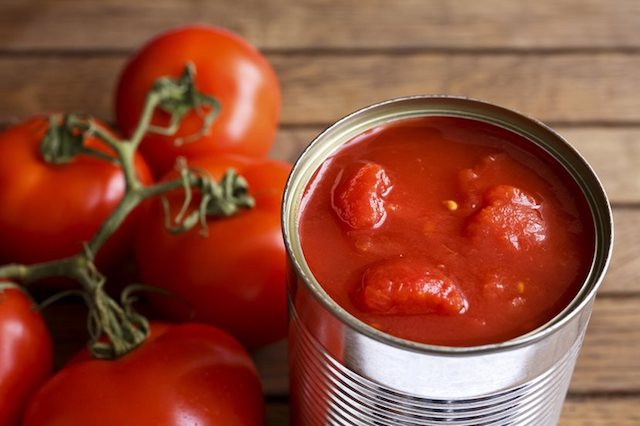 Tomatoes moisten and thicken pasta dinners or Bolognaise sauces, and can be used to make a sauce for a homemade pizza. I prefer to buy my tomato products with no added salt, and then add a little salt during cooking to suit the dish.
*Tomato passata is sold in tall glass jars and is typically a mixture of tomatoes, salt, sugar and citric acid (which is a food acid that is also in lemons and adds a tart flavour).
2. Crispbread or cracker biscuits
A healthy weight loss regime needs a good crispbread. These can easily take the place of bread, have fewer carbs and kilojoules and will save you money in the long run. They can be long and thin which allows more room for high-protein toppings (like Ry-vita or Kavli) or short and chunky (Like Vita-Weet).
3. Canned tuna or salmon
Available plain or flavoured, this is a no-fuss way to increase your fish intake and a less pricey option than fresh tuna or salmon. The cans are a great stand-by, as these proteins make for a very quick pasta toss or Nicoise-style salad. Or even just enjoyed on wholegrain toast or crispbread. Look for varieties that are canned in water or reduced-salt.
4. Mustards
A dollop of mustard is ideal to add to grilled meat or vegetables. It gives a lot of flavour without adding extra fat.
5. Vinegars
White wine, red wine and Balsamic vinegars make excellent vinaigrette dressings for salads and have a million other uses when you're trying to lose weight.
6. Canned evaporated skim milk
This makes a great lower-fat substitute for cream in pasta dishes. Add a few drops of coconut essence and it can replace coconut milk in curries or laksas.
7. Canned lentils
Try some lentils - orange, brown or grey. They're pretty awesome in their own right as they are incredibly nutritious, need no pre-soaking (unlike other beans or legumes), cook in 20 minutes, and will enhance just about any slow-cooked dinner. If you're flat out though, a can of the ready-to-use variety also comes in handy. Simply drain and rinse well in a colander before using. If you have a vegetarian in the family, they are an easy way to add fibre and plant protein to the diet.
8. Extra virgin olive oil
If you're only going to buy one oil for the kitchen, make it an Australian extra-virgin olive oil (AEVOO).
Extra-virgin is the oil that comes from the first pressing of the olives and has a green or yellow tinge, low acidity and a strong, almost-bitter flavour. There are some inexpensive brands at the supermarket such as Cobram, Red Island, Boundary Bend.
Best of all, thanks to better harvesting and processing techniques, as well as making nice salad dressings you can also cook with it without it smoking.
EVOO has a high smoke point of 210°C which is above the temperature of deep-frying which is usually 180°C. Cheap poor quality EVOO, the kind that doesn't stand up to frying temperatures, gave the whole category a bad name.
Read up on the different classifications here.
9. Brown rice already cooked
It's a drag cooking brown rice – waiting the 45 minutes or so that it takes to cook. So, I always have one of the ready-to-eat packets of cooked brown rice in the cupboard. Yes, it's way more nutritious than white rice. Yes, it's portion controlled so you won't over eat. Buy types that are low GI (like Doongara) or else mixtures with quinoa and black rice.
10. Dried herbs and spices
Nothing lifts the flavour of a grill or barbecue faster than a sprinkle of herbs. My favourites are:
Mixed Italian herbs
Various curry blends (I like the brand Herbie's)
Chilli flakes, dried
Saffron threads
Dukkah blends
Ginger
Dill
Garlic powder
Fridge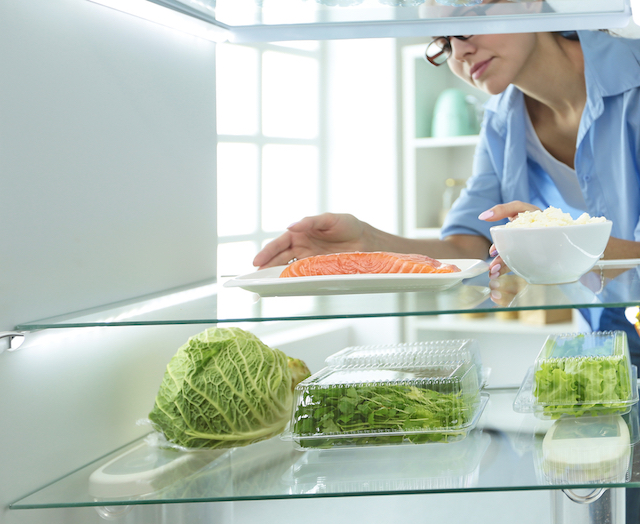 11. Fresh herbs
Packed with vitamins and phyto-compounds, herbs allow you to turn plain yet nutritious foods such as vegetables, legumes, fish and meats into flavoursome, appetising meals without adding fat, salt or sugar. I can smell the aroma of fresh flat-leaf parsley or basil or mint leaves now.
12. Fresh berries and other fruit
Perfect as a snack or a refreshing way to finish a meal. Choose fruits that are in season to ensure you get variety throughout the year. For January in summer, think berries, mangoes and stone fruit such as nectarines or peaches.
13. Eggs
Always on hand when you have nothing else to cook. Can make an easy, scrambled eggs or an omelette with onion, mushrooms and leftover ham or asparagus.
14. Milk
Choose a middle-of-the road milk to keep in the fridge. I like a lower-fat variety (like a Lite White milk) as it boosts your calcium intake without overdoing the fat and kilojoules.
15. Thick Greek plain yoghurt
It's nice to have a plain yoghurt on hand as I can sweeten it up myself with honey and/or fruit plus it can sub for sour cream in a recipe.
16. Grated Parmesan cheese
Grated cheese makes a quick topping for many a dish from a vegetable bake to a Classic Caesar Salad.
17. Tomatoes
I love a regular round tomato for toasted sambos and burgers or else small grape/cherry for snacking and salads. They are wonderful. Love that you can buy them in a punnet ready to snack on.
18. Fresh carrots
These can be used in sooo many ways. From subbing for crackers with a dip to munching on when a hunger fit overtakes you,
19. Baby spinach leaves or mixed lettuce leaves
Have some of these on hand to make up the base of a lunch salad or else to create a quick side salad. Top with cucumbers or small mushrooms or half an avocado.
and in the fruit bowl:
20. A lemon
A lemon makes a tasty alternative to vinegar in your salad dressing plus it adds vitamin C. A squeeze in a glass of water or mineral water can take the edge off your hunger if there's still an hour to go to the next meal.
Freezer
21. Frozen peas
Keep a packet of frozen peas, corn, spinach or mixed vegetables to add to a quick meal. Good value for money and handy when your fridge is bare. Read how they compare with the fresh goods here.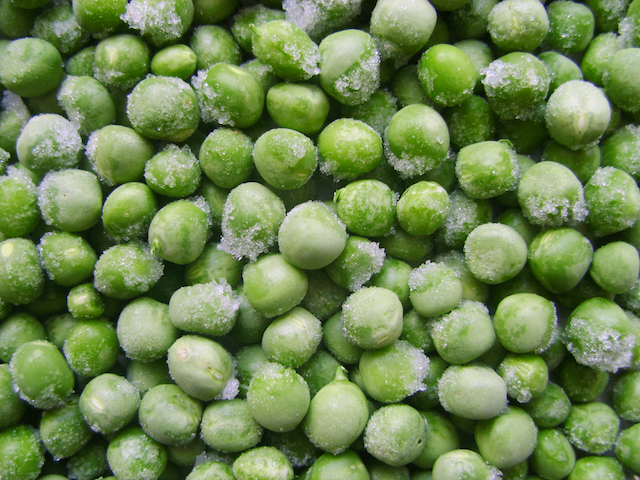 22. Ice cream
Choose lower-fat versions or frozen yoghurts or gelato and team with fresh, canned or stewed fruit for a sweet finish to a meal. See our review of an ice cream that has a 5 Health Star Rating.
23. Frozen fish portions
You can buy frozen cod, salmon (with or without the skin), barramundi, ling, basa and whiting from most supermarkets. Many are individually wrapped portions which makes it easy to take the required portions out of the freezer and pop them into the fridge to defrost in the morning or the night before. They'll be ready when you get home. You can grill, barbecue them or give a spray of olive oil and pan-cook them in a hot pan. Be careful buying fish from the supermarket fish section and freezing them as they are not all fresh. Some have been "Thawed for your convenience" and cannot be refrozen. It pays to check!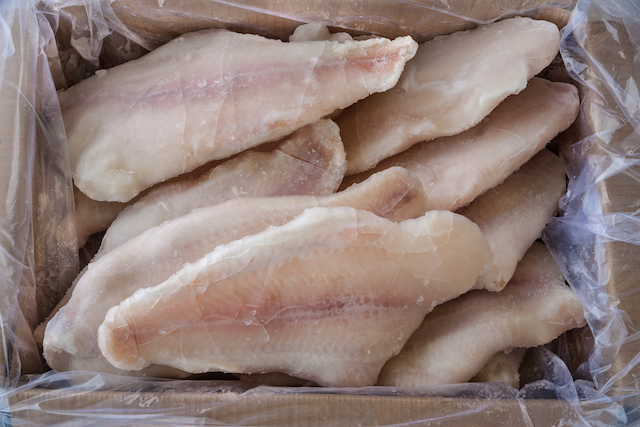 24. Lamb cutlets or pork steaks
Wrap these individually so you can take out one or two as the occasion calls for it.
25. Lean beef mince
Take out the night before and defrost in the fridge so you can make a bolognaise sauce; burgers with healthy accompaniments; meat balls or tacos with healthy sides.
The bottom line
Start this year right with a health pantry. You can't eat healthily if you don't have healthy things at the ready in your fridge, freezer or cupboard!