Product review: Crust (Heart Foundation) pizza
Editor's note: The Heart Foundation has now discontinued its fast food endorsement program, so these products no longer have the red tick.
Finally a Crust pizza franchise opened up near me. I'd read all about these amazing 'health-conscious' pizzas that had managed to secure the Heart Foundation red Tick of approval. Yep, you're reading right! Here was a pizza that was guaranteed to be low in saturated fat, bounding with veggies and - most amazing of all - low in salt.
My pizza choices with The Tick
As you can imagine, I was hopeful but a tad skeptical when I approached the Crust counter. The sales guy was helpful. He steered me away from the lavish array of choose- your-own pizza toppings to a chart on the wall where the six Tick pizzas were featured and photographed in all their glory.
The list of toppings looked good! I saw pictures of Roast Chicken Tick Pizza, Brushetta Tick Pizza, Baby Spinach Tick Pizza, as well as Roast Beef, Roast Vegetable and Chicken Avocado. So far, so good.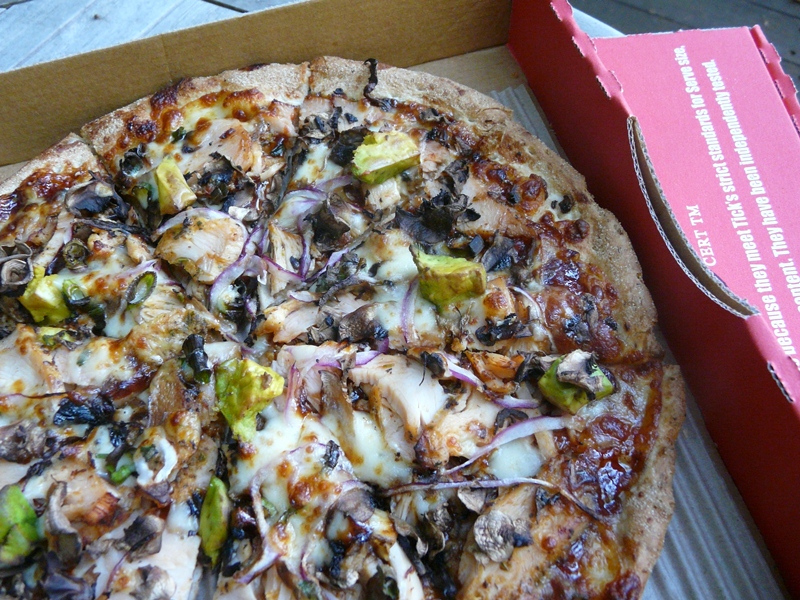 I was after two pizzas. I wanted to get a sample tasting of what Crust was offering so was sharing with my 21-year old son, a 6'6" strapping male with a hearty appetite and muscles to fuel. A tough chap to feed, let me tell you. And he eats a lot of pizza.
I settled on two - the Chicken and Avocado plus a Roast Beef, which the guy recommended. The Crust team assembled them while I waited. Starting with a thin wholemeal base, I watched while they arranged pre-cooked sliced chicken, mushrooms, Spanish onions, green onions (shallots), avocado and reduced-fat mozzarella on top. No pepperoni, no bacon, no pineapple. And importantly just a little cheese. Price A$15 each.
Here's what we thought:
The nutritionist:
Looked good - lots of veggies, nothing greasy or dripping with fat. Each pizza was small, only 20cm (8 inches) in diameter which is perfectly adequate for me (I live a sedentary working life in front of the computer). The thing that struck me was the low level of salt. I didn't get that twang of salt you normally get from olives, anchovies, bacon and all that cheese. Really made me realize I need to pay attention to my own salt intake once more. I enjoyed both but would order the Chicken and Avocado again. Loved the thin crisp crust - less stodgy and lower carb, although the whole pizza still gives you 90 to 120g carb (equal to 5-7 slices of bread).
The 21 year old guy:
OK so my Mum made me try these healthy pizzas. My first thought was how small they are and pretty pricey. These are $15 each! You can buy a large Meat-lovers or Super Supreme for under $10 and they throw in a free garlic bread as well.
I thought the Roast Beef was a bit plain, bordering on a little boring. Liked the Chicken Avocado but it wasn't big enough for me. Looked like take-away for seniors, not for young people. It was OK but wouldn't suit me or my friends. Sorry.
The bottom line:
Crust pizzas resemble the 'ideal pizza' that nutritionists tell you to make at home. It's got a thin wholegrain base, more vegetables for fibre and filling value, less fatty topping and only a little cheese. A decent alternative to regular take-away pizzas with their meat-overkill and cheesy thick crusts. Thank goodness, someone out there is making an effort to cater for a healthier take-away. About time.
More info
Read the ingredients list here.

(Historical info)

Heart Foundation criteria are:
veges or equivalent in fibre
small serve size
less saturated fat
less salt
virtually trans-fat free
have the nutrition information panel (NIP) of the product available upon request
---
The Heart Foundation ends its Tick program for takeaway food 2011
According to the Heart Foundation, 2.7million Australians eat fast food every day.So any improvements can make a big difference to the health of the nation. Their work behind the scenes has seen massive improvements across the food supply chain, including healthier oils and lower salt sauces being used in many takeaway and catering food outlets.
The Heart Foundation will continue to work with the Food and Health Dialogue to set targets for food companies to reduce salt and saturated fat, and increase the fibre, wholegrain, fruit and vegetable content of commonly consumed foods.
The Heart Foundation is to make nutritional information publicly available through quarterly audits of the take-aways foods Australians eat most often. Read more ....