I reviewed the 1200 Calorie 'Week A' option from their new Spring menu. I received a mix of fresh (chilled) items, which were in green bags (right), and frozen items, which were in blue bags (left).
Once I got used to it, the options were easy to see – my choices were also printed out so I could use a combo of fresh and frozen to make my 7 Breakfasts and 7 Lunches.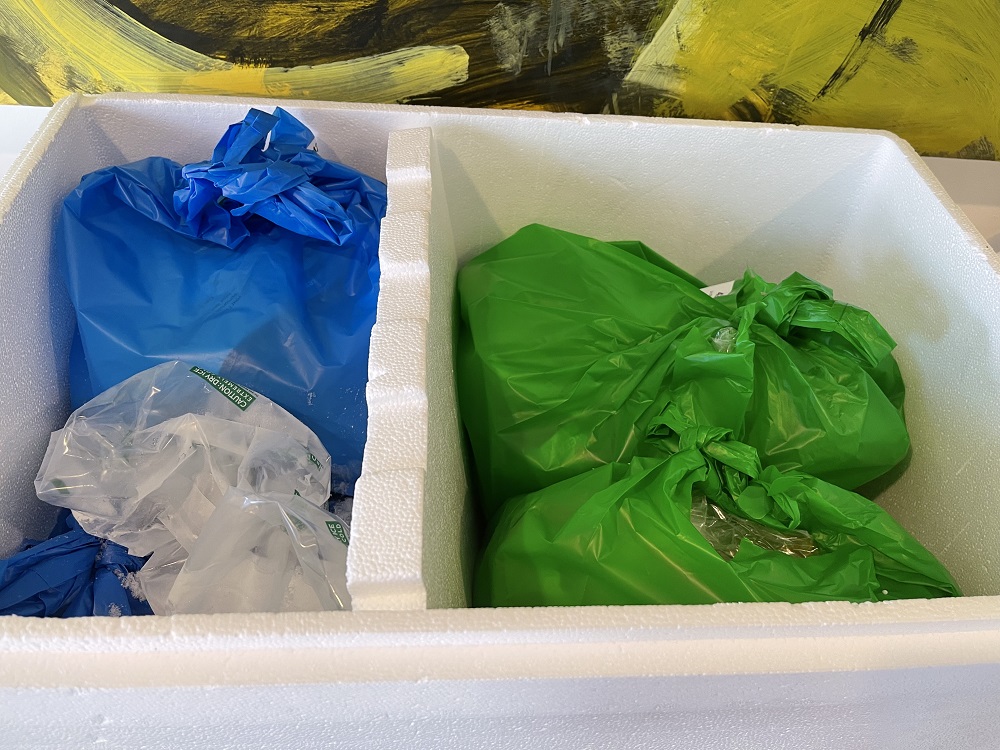 Taste: 9 out of 10
The Breakfasts and Lunches tasted great – they were the best part of the weekly delivery and my hubs said he wants them for when he goes away without me. Everything was neatly packaged – there was even a how-to cooking card with some of the more 'complicated' Breakfasts, such as the Fresh Omelette with Potato, Ham, Onions and Cheese.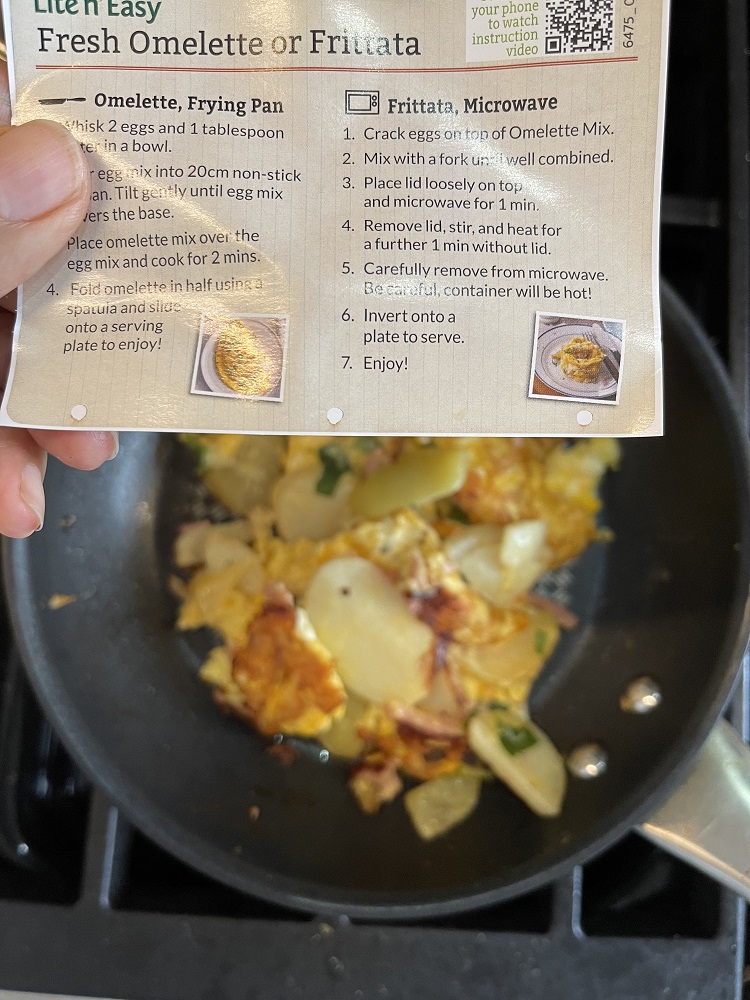 There are fresh and frozen Dinners available on the menu, but I chose only the frozen for convenience. Each one only took about 7 or 8 minutes to cook. All in all, it was a great-tasting week of meals.
Nutrition: 17 out of 20
There are 4 Weeks of menus – A, B, C and D – each delivered on a particular week in Spring from August to October. Each Week offers you a choice from the popular menu, as well as an optional and vegetarian choice. You choose one option for each day. For my Week A, for example, I received mostly the Popular choice. My 7 Breakfasts and morning snacks were:
Egg with sauteed brekkie vegetables in a tomato sauce on wholemeal seed toast, Freshly cut fruit
Apple, cranberry and bran flakes with skim milk* , Vanilla yoghurt , Peach cup
Freshly made omelette with two eggs, potato, ham and shallot mix, and cheese, Mandarin
Eggs Benedict on ciabatta toast, Pear cup
Almond toasted muesli with skim milk*, Rye toast with strawberry jam, Orange
Egg with cherry tomato, avocado and fetta on ciabatta toast, Sweet pineapple bites with passionfruit
Fruit almond crunch with skim milk*, Multigrain toast with apricot jam, Kiwifruit

All meals were balanced with plenty of protein, vegetables and legumes (peas, beans).
Lite n' Easy offer support with an App, Facebook page and Instagram following, as well as the blog on their website. Their tips include telling you to hang out with positive people who support your goals.
Plus, they have tips about exercising, what to do if you're still hungry, eating out, being a mindful eater, eating regularly and drinking quality fluids such as water.
For optimum weight-loss results, Lite n' Easy recommends the full 7-day meal plan. This includes all of your breakfasts, lunches, dinners and snacks (including fresh fruit) for the week. All this takes up room in your fridge and freezer, so be prepared. On the other hand, it saves you having to shop and make up dishes with the leftovers. Of course, you can buy fewer portions, with the 5-, 4- and 3-day meal plans on offer. Or choose just Dinners, or just Breakfasts and Lunches. With more than 100 meals to select from, you'll find heaps of combinations.
The 1200 Calorie plan I tried costs $157 for 7 days, which is pretty good. Or you could opt for getting just Breakfasts and Lunches for only $96.

List of ingredients
Here are the ingredients in one of Lite n' Easy's lunch meals – Beef and Sweet Potato Hot Pot:
Beef 23%, sweet potato 23%, tomato pulp (citric acid), roasted capsicum (water, vinegar, salt, sugar), black beans, onion, cheese, capsicum, red wine, olive oil, garlic, yeast, balsamic vinegar, chilli, corn starch, salt, tomato paste, herbs.
Plus, each meal includes a standard Nutrition Information Panel, listing the kilojoules (calories), protein, fat, carbohydrate, sugars, fibre and sodium, both per 100 grams and per serve (220 grams). Not forgetting the Best Before date and microwave instructions (heat for 4 minutes).
Key nutrients…
This is the only food delivery company that offers meals in line with Australian Dietary guidelines. You'll get your 5 vegetables and 2 fruits a day.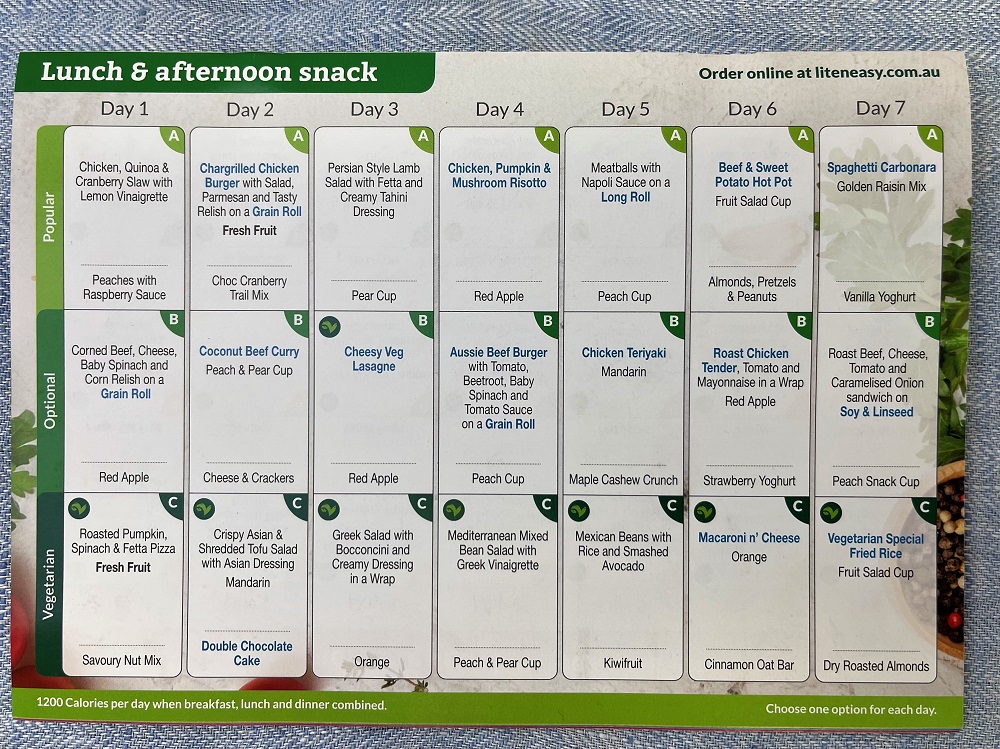 Who should try this product? If you have coeliac disease or food allergies, Lite n' Easy is not suitable. But Lite n' Easy does offer a range of dinners made without added gluten, and a range without added dairy (milk), for people seeking to avoid these ingredients.
Convenience: 9 out of 10
These meals are so convenient and there's no wastage – which regularly occurs when buying ingredients. Would I get sick of them? No. There is enough variety to ensure you don't get bored, plus each Week rotates through one of four options.
Sustainability: 9 out of 10
Everything is recyclable, from the outer polystyrene Esky to the plastic shopping and day bags (which get returned to Lite n'Easy), which is good to see. You can also recycle your dinner trays and plastic containers, which hold the individual Lunches or Breakfasts – just remove any of the film lids first.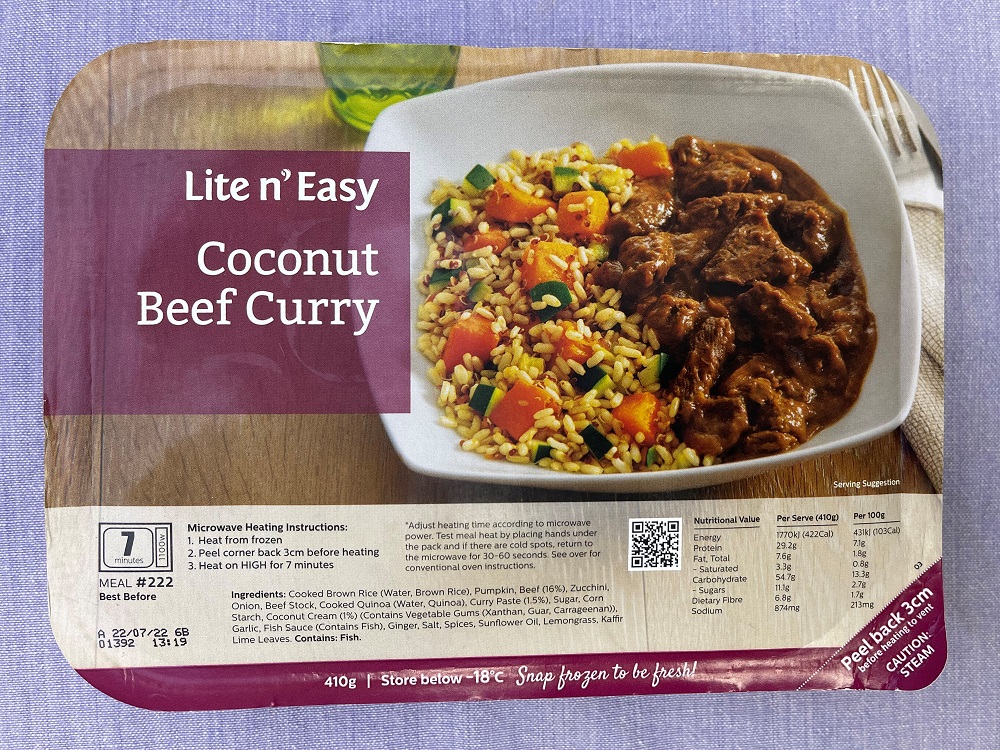 Overall score: 44 out of 50 or 4.5 apples
You'll find more details on their website.
The final word
I'd get these easy meals delivered again. They are best for busy people who want healthy convenience, or for those who need to lose weight, but want to do so in a way that's sustainable and nutritious long term. Yes, you could cheat and eat more, but why would you? With their motto of Healthy Convenience & Easy Weight Loss, it really is a breeze.
* You need to supply your own cup of skim milk each day (or 1.75 litres a week).