Barley+ vs BarleyMax?
I got confused by these similar-sounding terms so it's worth taking a moment to clarify. Barley+ is the range of products that contain BarleyMax and is the range I'm reviewing here. BarleyMax is the grain. It is a non-GM cultivar (strain) of barley developed by CSIRO scientists in the late 1990s. They were looking for a type of barley with a higher fibre content and extra nutrition benefits. After a number of human trials, they reported that their BarleyMax had a low Glycaemic Index (GI), meaning it was digested and absorbed slowly, the opposite of most refined carbs like potatoes and white bread.
BarleyMax is a wholegrain that delivers the three important types of fibre – soluble, insoluble and resistant starch. In fact, BarleyMax has the highest fibre content of any whole grain – even oats, rye and wheat - thanks to its resistant starch.
You can read about resistant starch on the website here.
The resistant starch in BarleyMax does four things. It:
has a mild laxative effect which can increase the bulk of the stool (like insoluble fibre).
supplies fuel for the friendly bacteria in the bowel which encourages their growth so they can reproduce and outnumber or 'dominate' the bad bacteria to keep you healthy.
produces compounds called short-chain fatty acids (in particular butyrate) which is good for your bowel.
maintains steady blood glucose levels by increasing the body's sensitivity to insulin.
Best of all, nutritionists recommend barley for better gut health which means it's good for your digestion and your overall health.
What Barley+ products are out there?
You'll be able to spot three types of products, located in the health food aisle of Coles supermarket (at the time of publication):
Mueslis – two flavours
Porridge
Bars – four flavours
Our panel of tasters chomped their way through bowls and bowls plus bars and bars during the course of this Review. Let's look at each of them in turn.
1. Barley+ Mueslis
You'll find two flavours of muesli:
Cranberry and Nuts
Pink Lady and Macadamia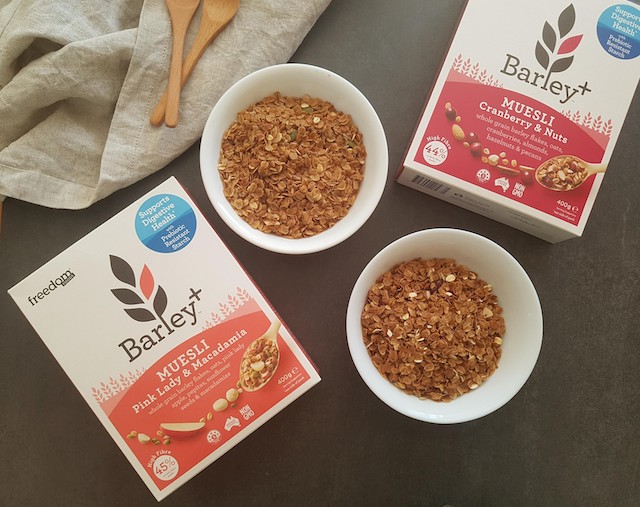 Both these mueslis were pleasant to eat but our panel's favourite was the Pink Lady as it was slightly sweeter and more interesting to eat. The panel rated it 3 out of 5 for flavour but only a 2 out of 5 for texture, as it had a slightly 'crisper' feel in the mouth. Our panel thought it could do with more fruit and nuts so, if this is you, best to add more of your own.
They all felt the muesli would work better mixed half-and-half with another cereal like a plainer muesli or into a bowl of lighter flakes or puffs.
One 50 g serve of the Pink Lady muesli provides a huge 13 grams of dietary fibre, which is almost half or 45 per cent of your day's suggested intake – wow!
This fibre is made up of 7.2 g insoluble fibre plus 5.5 g soluble (of which 2.3 g is beta-glucan) plus 0.8 g of the resistant starch
It has a GI of 40 which is pretty low (legumes are down in the 30s).
It gives you around 2 serves of whole grains – important as most of us don't get enough whole grain foods.
At only 10 mg a serve, there's hardly any sodium (salt) which is good.
Ingredient List for Pink Lady variety:
BarleyMax 73%, whole grain rolled oats 9%, pink lady apple 5% (food acid (ascorbic acid)), macadamias 3.5%, coconut sugar, canola oil, sultanas, pepitas 2%, sunflower seeds 2%, natural apple flavour, antioxidant (vitamin E).
2. Barley+ Porridge
Porridge is hearty and warming once the weather turns cold and this type of porridge won't disappoint. It's a mix of 51 per cent BarleyMax and 49 per cent rolled oats. It cooks up on the stove top just like a traditional oaty porridge but of course has those extra BarleyMax health benefits.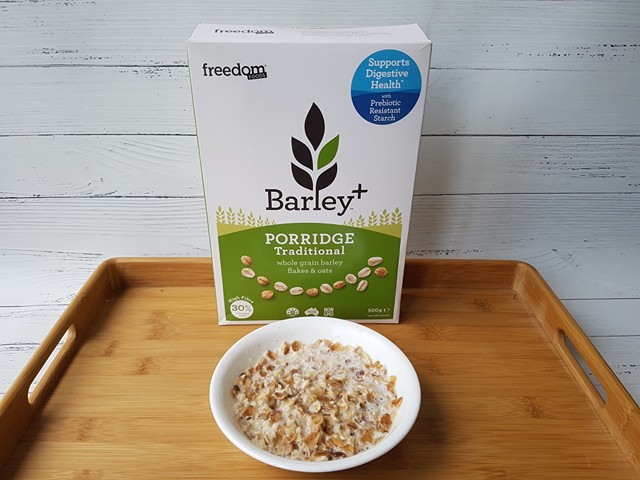 You can also soak it overnight and then microwave a single serve when you're rushed in the mornings.
3. Barley+ Bars
We taste-tested the 4 varieties of bars –
Cranberry and Almond
Pink Lady & Chai Flavoured
Wild berry & Yoghurt
Seven Seeds (which has no fruit at all)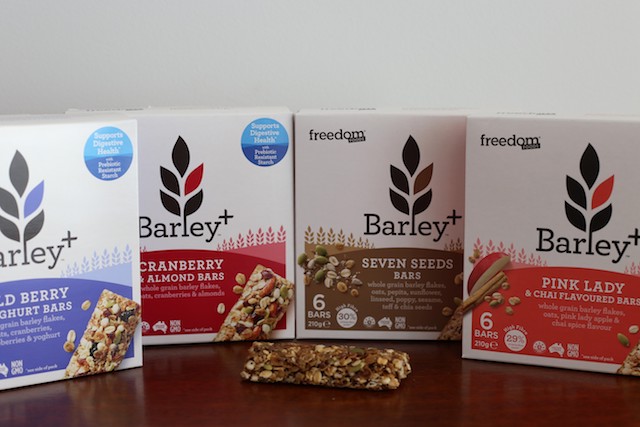 All weigh a satisfying 35 grams (not too big, not too small) and come in a pack containing six bars.
All are similar in appearance, having a glossy finish to their surface. The flavours are different and interesting. They are not too sweet which is good, with the Pink Lady ranked the sweetest and the Seven Seeds the least as expected.
Our tasters preferred the Wild Berry one followed by the Pink Lady for their taste, appearance and level of sweetness.
Using the Wild Berry bar as an example, one 35g bar supplies 536kJ (128 Cals), 3 g protein, 3.3 g fat including 0.7 g sat fat, 17 g carb include 5.9 g sugars, a huge 9 g fibre and only 15 mg sodium. Pretty impressive. See label image.
And good to know that the Seven Seeds variant won the Best Packaged Snack award in 2017 by the Healthy Food Guide magazine.
All bars had less than 600 kJ which is the official cut-off count for a sensible snack.
Like all bars, these Barley+ bars are convenient and easy to throw into a handbag, laptop bag or gym bag. They are individually wrapped, so portioned out to prevent overeating.
List of ingredients for Wild Berry andYoghurt Bar:
BarleyMax (whole grain rolled barley flakes 23%), chicory root fibre, whole grain rolled oats (15%), brown rice syrup, berries 8%, (cranberries 6%, blueberries 2%), pepitas, canola oil, puffed rice, yoghurt pieces 4%, humectant (glycerol), natural yoghurt flavour, natural blueberry flavour, antioxidant (vitamin E).
Allergens?
These products contain gluten, as all barley foods do, so would not be suitable for those with coeliac disease.
Who would these products be suitable for?
Anyone who doesn't have a lot of time but wants better health and convenience
I like that Freedom Foods has developed an easy 28-day Gut Reboot Plan to help you feel good. All you have to do is eat 1 serve (1/2 cup) of the muesli every day (or every second day if you think it's too much at the beginning). Plus one Barley+Bar at some point in the day as well as do some light exercise and eat an otherwise-healthy diet.
They warn you that during the first few days, you might feel a little extra gas in your gut which is a good thing! Despite being conditioned to think of 'wind' as bad, a little gas is an easy indication that the bugs are getting stronger and fighting back. It's something to be pleased about!
However, they caution you to introduce the barley fibre slowly at first. Just start with a little, say 1/3 cup of the muesli for 1 to 3 days, until your body gets used to it. That BarleyMax ingredient can cause tummy bloating, pain and wind if you're not used to it.
The final word
These are great products to introduce into your daily diet and they add diversity – I love them as they add another grain that's not wheat. With their special ingredients, they offer a hefty dose of fibre, as well as protein, B vitamins, phosphorus and other minerals, Plus you'll be boosting your whole grain intake. All good reasons to look out for them in the supermarket aisles.
Thanks to our tasters Dave, Annie, Munaiba and Lesley.
Thanks to dietitian Sophie Feng for the photographs of the product.