Product Review: Messy Monkeys
Launched in mid-2017, the Messy Monkeys range is a range of snack foods suitable for children. They claim to be lunch box friendly (so no nuts), gluten-free and good for them.
You've probably noticed the first in this series at your local supermarket. They are the little Messy Monkeys packs of whole grain snack bites. These snacks made the finalist list in the children's nutrition range of the World Innovation Awards 2018 in the UK.

This post has been sponsored by Freedom Foods.
They've added more to the range
Recently they've added some new bars and air-popped corn in individual packs to the healthy Messy Monkeys product range. So how do these stack up? And are they a wholesome snack you can pop into your child's lunch box or offer to them after school?
Note: we are not giving these a Rating and Apples as we usually do as they are such different products. One is a fruit-based bar, one is a popcorn snack in a pack, which are at complete ends of the spectrum. Both however are kid-friendly snacks which are made with nutrition in mind. Refreshingly nice!
Messy Monkeys Snack bars
We taste-tested two new variants: Strawberry and Apple, as well as Mango and Apple. Our taste-team liked these for two main reasons: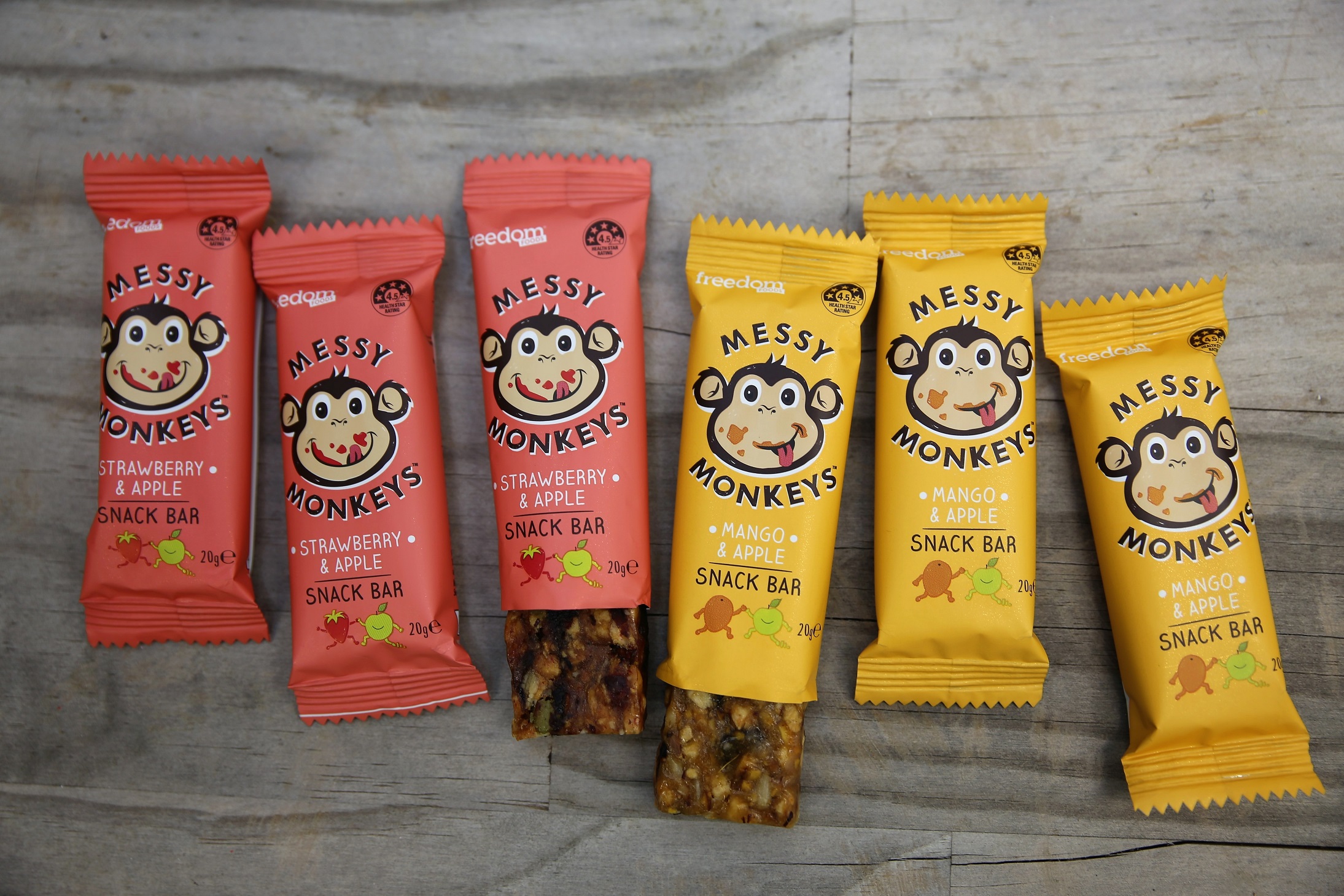 They are small in size. At only a small 20 grams a bar (half that of most other bars at 40 grams), you get THREE bites! So, they are unlikely to dent a child's appetite before a main meal nor do any real damage. They are truly an 'extra' – but a healthy one.
They genuinely had no added sugar yet tasted sweet and attractive. Yes, you got the natural sugars from raisins, apple and strawberries but that was it. Which is the same as if you'd packed your own raisins and dried apples as a snack.
Here is the list of ingredients in the Strawberry and Apple Bar:
Dried fruit (44%) (apple 25%, raisins [raisins, sunflower oil], strawberries 2.6%), soluble corn fibre, navy bean flour, pepitas, canola oil.
My hunch is that the soluble corn fibre helps with binding the ingredients as well as boosting the fibre content. This has been confirmed by Freedom Foods.
Taste is good
The bars are lovely to bite into. They have a good texture and held their shape, without crumbling everywhere as many others do. I ate one early one morning after arriving back from overseas when the cupboards were bare – they were delicious even though I'm not the target market (a school-aged child).
Note: I have found myself popping one in my handbag to eat later. I find them super-handy and perfect for a handbag or backpack.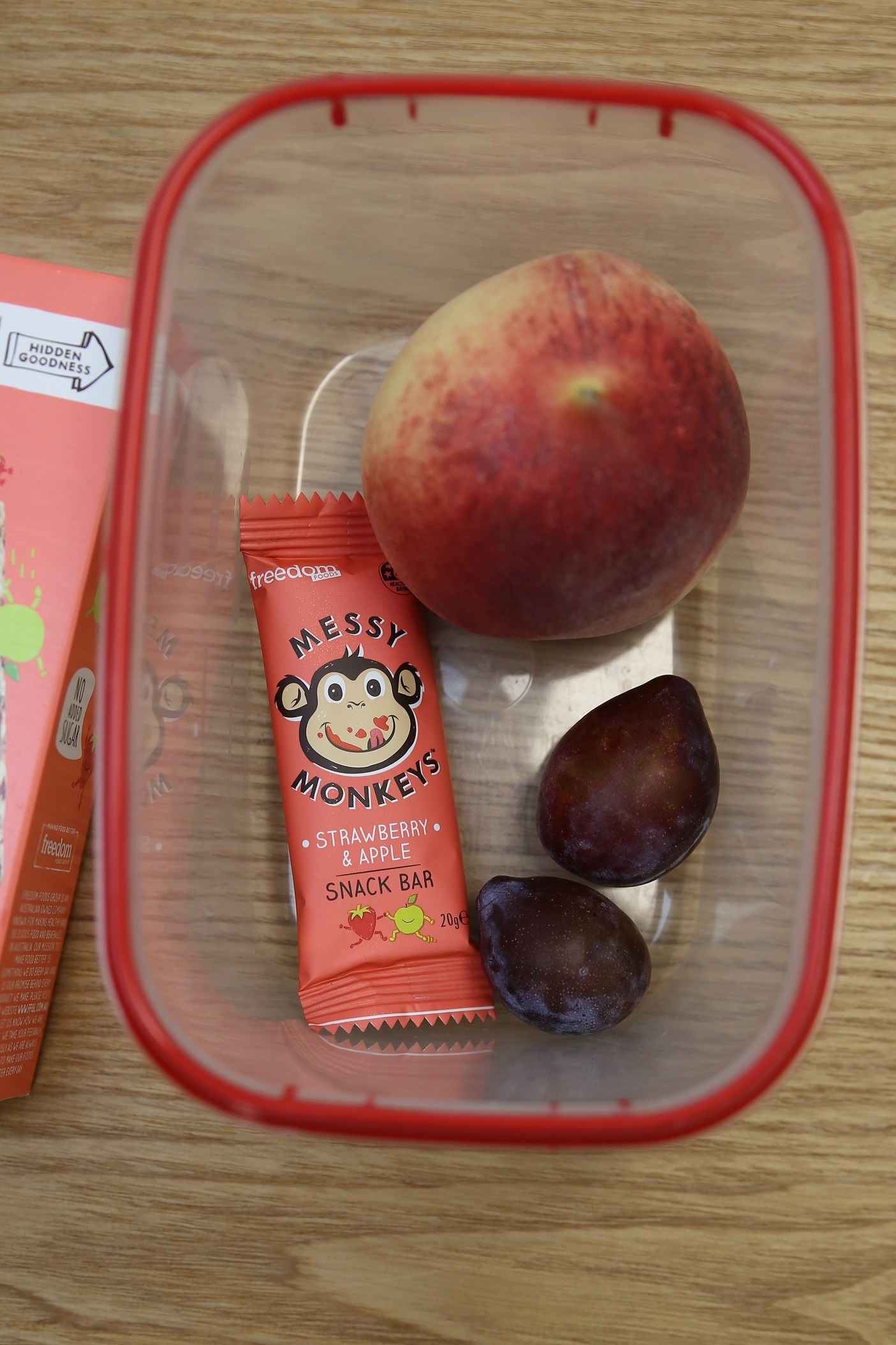 Packaging is easy to open
The packaging is easy to open, which is important for little hands in the playground. I loved the cute drawings of the faces of the monkeys on the outers. This would certainly be fun for kids too – and add to their appeal.
Nutrition is up to scratch
Being made from dried fruit with a little oil, fibre and flour to bind everything together, you'd expect these bars to be largely carbohydrate. Which they are – almost half at 46 per cent is carbs with 34 per cent being sugars.
There's 7 per cent protein, 9 per cent fat and a huge 23 per cent fibre, coming mainly from the dried fruit and the soluble corn fibre. This is way higher than raisins on their own (5 per cent) or dried apples (15 per cent).
One strawberry and apple bar supplies only 282 kJ (67 Cals) so it comes in under the popular and widely-advertised cut-off of 100 Calories. Plus, it has little protein or fat, and 9 g of carbs but a tiny 8 mg sodium.
A bar gives you 4.7g fibre, which is pretty high, about the same as from two slices of wholemeal bread, or two Weetbix. This is a great way to get fibre into a child who may otherwise be reluctant to eat that much bread or cereal.
Compared to a 150 gram apple, the bar gives you double the fibre, two-thirds of the carb and sugars for the same kilojoules or Calories.
What you lose are the water and water-soluble vitamins. Being a dried product, there's little vitamin C or folate but the upside is more fibre – and convenience.
Where are Messy Monkeys made?
Made in Australia - which is good as it means jobs - but from imported ingredients - which is not so good.
Nutrition information
Strawberry and apple bar
Serve size: 20g, 1 bar
| | | |
| --- | --- | --- |
| Component | Per bar | Per 100 g |
| Energy kJ/Cal | 282/67 | 1410/337 |
| Protein, g | 1.4 | 6.9 |
| Fat Total, g | 1.8 | 8.8 |
| Carbohydrate, g | 9.2 | 45.8 |
| Sugars, g | 6.7 | 33.5 |
| Dietary fibre, g | 4.7 | 23.4 |
| Sodium, mg | 8 | 38 |
Source: from side of pack
Mango and Apple bar
Overall the Mango variant is similar to the Strawberry one both in nutrition and ease of use. We prefer the Strawberry flavour but you may opt for a Mango taste for a change. Its ingredients are:
Dried fruit (44%) (apple 25%, raisins [raisins, sunflower oil], mango 10 %), soluble corn fibre, navy bean flour, sunflower seeds, canola oil.

Messy Monkeys Popcorn
I'm not normally a fan of popped corn but as far as healthy snacks go, these packets of ready-to-eat popcorn are just about perfect. You get 10 small, individual packs of popped corn within a multi-pack bag. One variant is the usual popcorn with a little dash of salt while the second comes with a dash of sugar in the Sweet Salty Popcorn.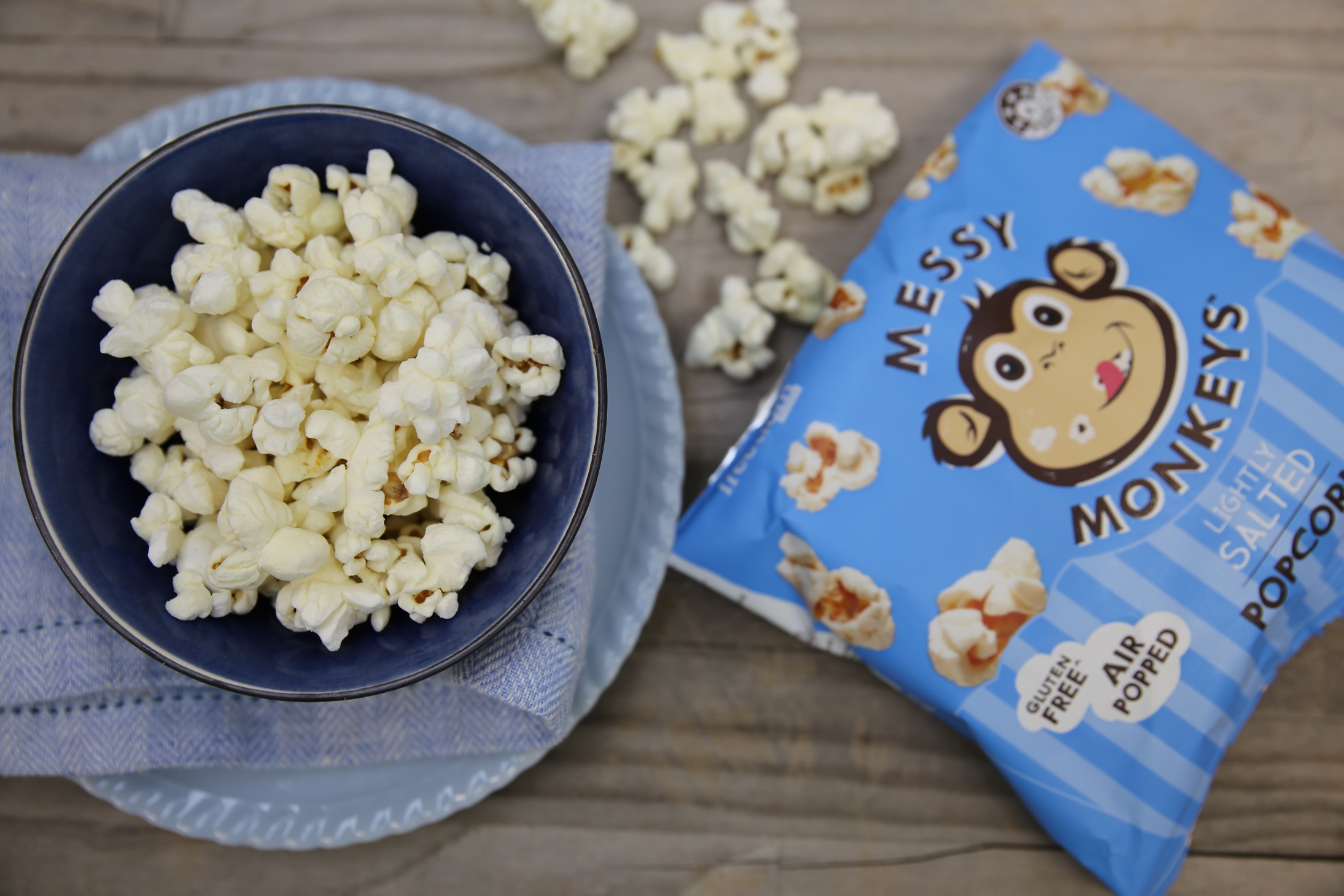 They are air-popped so you get a decent volume for a kid-friendly snack, even though each pack weighs only 13 grams.
Nutrition creds
They are whole grain so you get the benefits of fibre and the entire grain.
They make an easy and healthy snack to throw in a lunch box when you're in a hurry.
Yes, salt has been added but it's quite low – only 353 mg when the standard cut-off is under 400 mg per 100 grams. Compare this to pretzels (1900mg) or potato chips (600mg) and you'll see what I mean.
Yes, you can pop corn kernels yourself, but will you? And once you do this, you'll end up with a huge bucket which tastes nice fresh and hot but you'll have to bag it for later. And how will it stay fresh? I have an electric corn popper that's fun to watch but I only drag it out when visitors come. Truly.
Ingredients are minimal and recognisable
Here is the list of ingredients in the Lightly Salted Popcorn:
Ingredients: popcorn, canola oil, sea salt.
Lightly sweet and salty popped Corn
There is added sugar (8 per cent) but these snacks taste barely sweet and compare well with other salty-sweet snacks. Here is the list of ingredients in the Lightly Sweet and Salty Popcorn:
Ingredients: popcorn, canola oil, raw sugar, sea salt.

Sustainability
Good to read that they're made in Australia from 100 per cent Aussie corn and ingredients. That's top news.
Like me, your kids will love the cute illustrations on the packaging.
The bottom line
Both new Messy Monkeys products are winners from a perspective of nutrition as well as taste and convenience.
In an ideal world, we'd make all of our own foods to pack into our children's lunch boxes. However, busy mums need convenient snacks for their school-age kids. These ones fit the bill being free of nuts (important for schools) and gluten as well as being whole grain (popcorn) and smallish in size - one of my big themes for nutrition. I'd definitely buy the bars again for their good taste, nutrition benefits, small and convenient size. You'll find the Messy Monkey Snack bars in the health food aisle, not the snack food aisle, at the supermarket. This is because their nutritional profile is better than fruit straps and similar fruit products.
Thanks to Gordana, Dave, Guy, Mary and Susan for being part of the taste-testing team.
References / External articles