Product Snapshot: Olina's Snackers Crackers
We sampled Olina's latest offering in the seeded cracker range – called Olina's Bakehouse Seriously Seedy Snackers (which is a great name BTW). They come in four flavours: Barbecue, Chilli & Lime, Beetroot & Sour Cream, and Balsamic Vinegar & Caramelised Onion. Take a look at our verdict.
Four 'seedy' varieties
All four variants come in two stay-fresh packs inside which, despite the extra packaging, I think is great as nothing seems to stay fresh these days despite all my over-wrapping. The crackers come in squarish 140 gram pack. All four variants make similar claims:
5 out of 5 Health Star Rating
"Plenty of healthy, a lot of tasty"
Less than 3 g carbs per serve
Gluten-free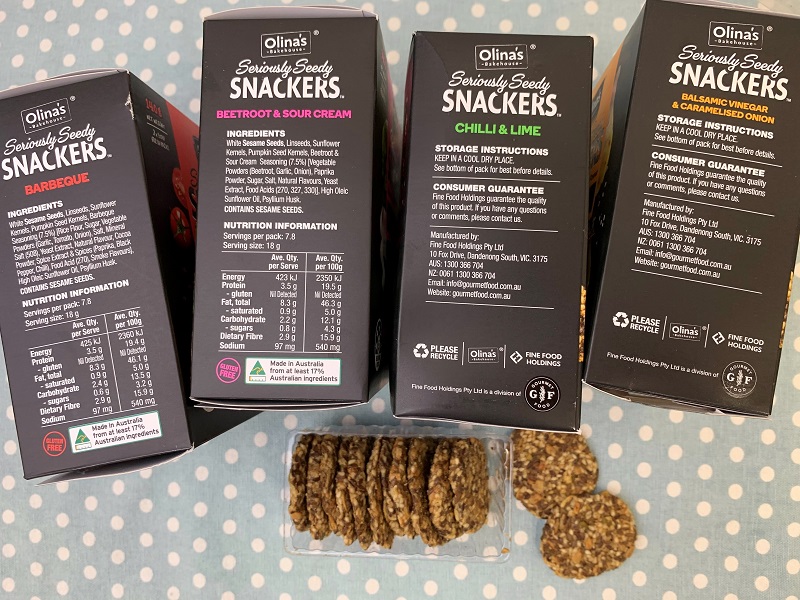 Nutrition numbers from one variant
Nutrition Information Panel: Balsamic Vinegar & Caramelised Onion
Serve size: 18 g (3 crackers)
No of serves: 7.8
Component

Per serve

Per 100g

Energy kJ

Cal

425

101

2360

562

Protein, g

3.5

19.2

Fat Total, g

8.3

46.0

Saturated, g

0.9

5.0

Carbohydrate, g

2.4

13.2

Sugars, g

0.7

3.7

Dietary Fibre, g

2.9

15.9

Sodium, mg

97

540
Ingredients (from Ingredient List on back):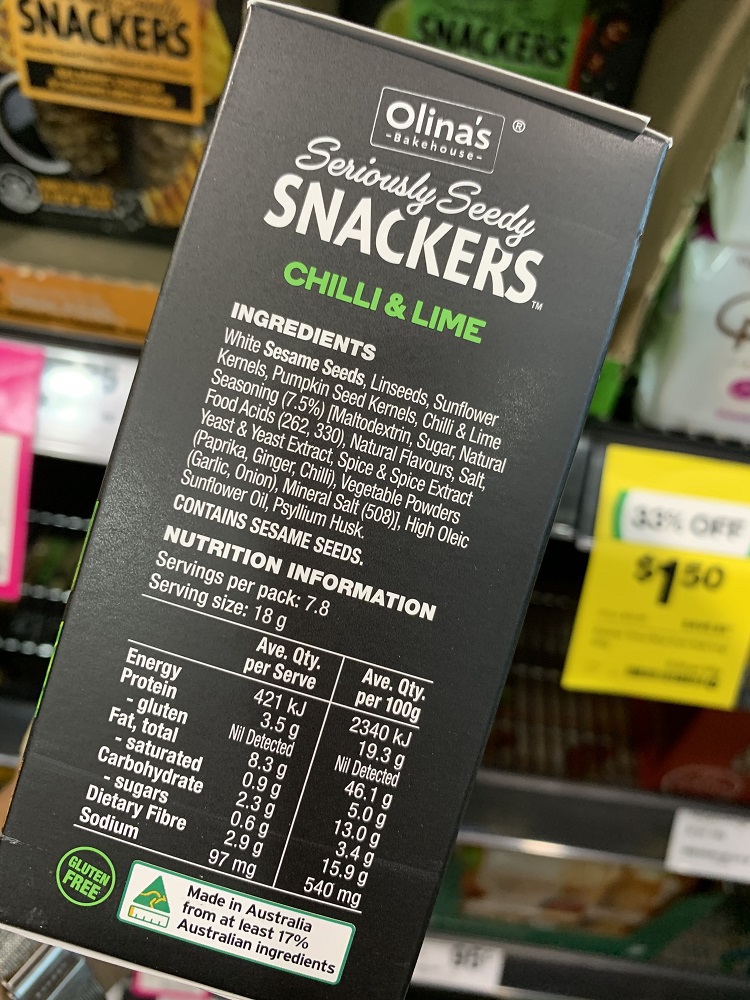 White sesame seeds, linseeds, sunflower kernels, pumpkin seed kernels, balsamic vinegar & caramelised onion seasoning 7.5% [onion powder, sugar, salt, natural food acid 330, balsamic vinegar powder, natural flavours], high oleic sunflower oil, psyllium husk.
Food acid 330 is citric acid which adds a tart or sour taste. This produces a pleasing flavour, balances out any sweetness and helps maintain a constant acidity level in these crackers.
Pros
Light and crispy in taste.
Definitely lower in carbs (under 3 grams a serve) as is claimed on the pack.
No nasties in terms of hidden additives such as preservatives and flavours.
Definitely boosts your intake of seeds from sesame, linseeds (also called flaxseeds), sunflower and pumpkin.
These were not expensive. At $4 per pack (an introductory offer from Woolworths), they made a great accompaniment to dips and/or soft cheeses. The regular price is around $5 a pack.
Naturally gluten-free as no flour nor wheat-based ingredients.
At 540 mg per 100 grams, lowish in sodium (a measure of salt or sodium chloride). Anything under 600 mg sodium per 100 g is considered low.
Compared to Jatz crackers (not shown), these Snackers have more protein, fat and fibre, but less carbohydrate and around the same sodium level. These Snackers had 300 more kilojoules (Calories) per 100g too as expected.
Two sealed packs maintains freshness

Cons
Not as tasty as Olina's Simply Seeds Crackers or Carmen's Super Seed & Grain Crackers, but I'm obviously biased as I prefer the plainer versions of everything - plain salt over barbecue flavour, for instance.
They could have given you an approximate number of crackers for the defined serve size. I had to count them. A serve was defined as 18 grams, which turned out to be about 3 cracker biscuits.
Only 17% Australian ingredients
The bottom line
Olina's Snackers are a great cracker if you're trying to eat more seeds OR cut your carb intake. You can find out more about them here.